90 Day Report
Education changes her world
October 28, 2014
Progress
This is the final update, there is no one-year progress report.
Sisters in Strength youth organizers, Tanzina and Ednica were trained on how to create media for social change by global action project. In June they screened a short Public Service Announcement they produced about how harsh discipline practices in school cause school pushout. Sisters in Strength held their annual graduation where they presented their Public Service media message and Participatory Action Research findings on school pushout to fifteen alumnae, thirty their family members peers, twelve staff/interns and offered alternatives to harsh discipline so girls of color stay in school.
Fifteen Sisters in Strength youth organizers started in September 2014. On October 10th Sisters in Strength alumnae from 2007-2014 gathered at Girls for Gender Equity to meet the new cohort of youth organizers and to bid a longtime staff member farewell. During the gathering ten alumnae committed to leading programming that will support the academic achievement of current Sisters in Strength and began plans for hosting a tri-state area college tour in 2015 since many alumni attend college locally.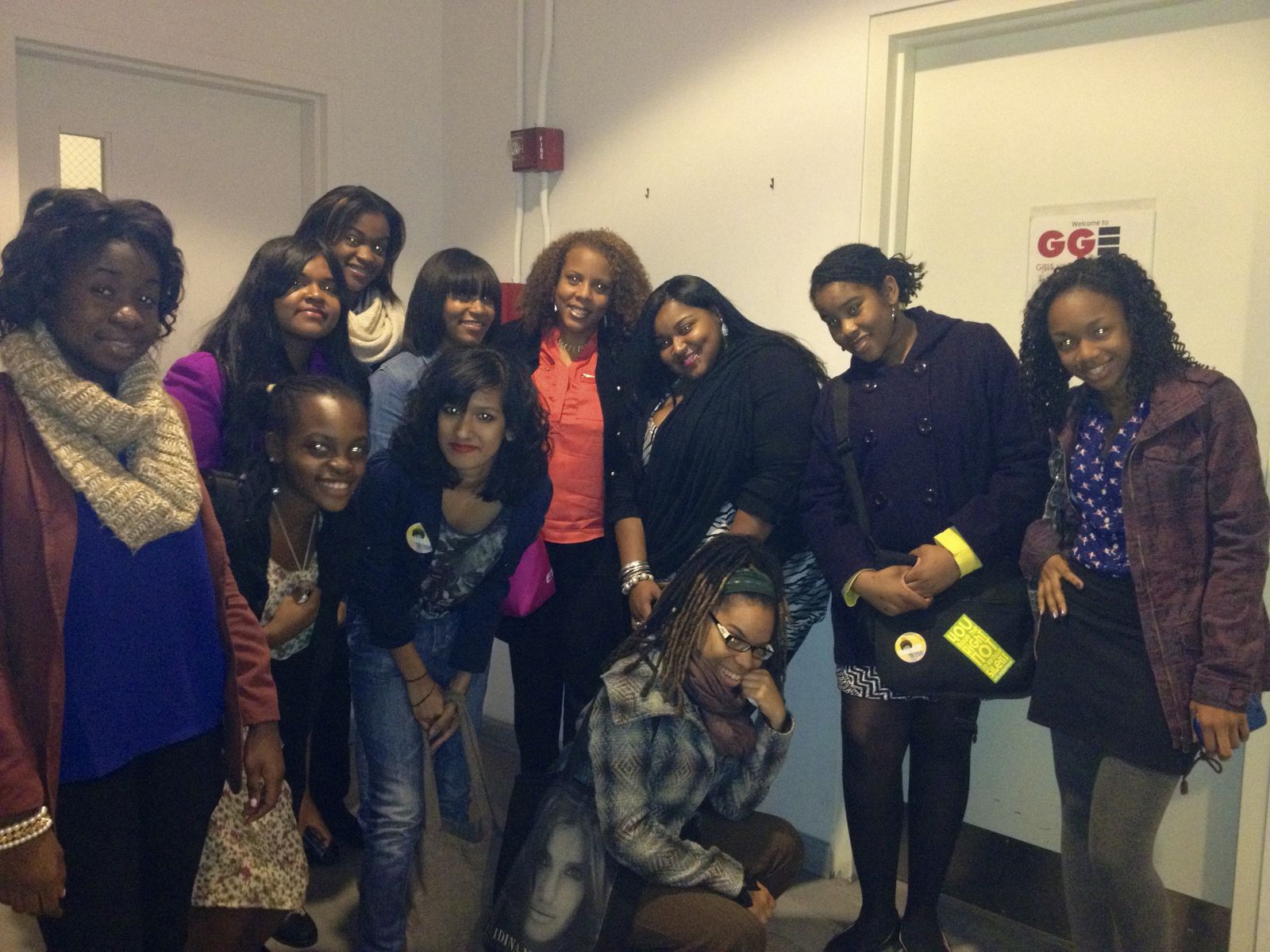 Risks and challenges
Providing Sisters in Strength alumnae with college scholarships that will impact their tuition is ideal so they don't fall through the cracks. Many times our girls receive passing grades and SAT scores, but need extremely high grades and SAT scores to receive academic scholarships and acceptance into an Ivy League college. The intense academic support begins in middle school, where New York City youth take placement tests for high school. Too often New York City high schools are over crowded and under-resourced, so non-governmental organizations like Girls for Gender Equity underwrite SAT test prep, tutoring, and college applications. Once the girls enter college that is a major victory but the scarcity of resources and academic divide continues.
Get personal
"I'm taking a stand for women's health, because I want to be a nurse, and for women's education, internationally. Currently, I'm fighting to get women included in My Brother's Keeper [President Obama's initiative to give boys of color better educational opportunities]. And I still volunteer at Sisters in Strength's public events." - Kisma Herman, 17
"I'm taking a stand against gender-based violence, school pushout, and street harassment." - Nathania Fields, 17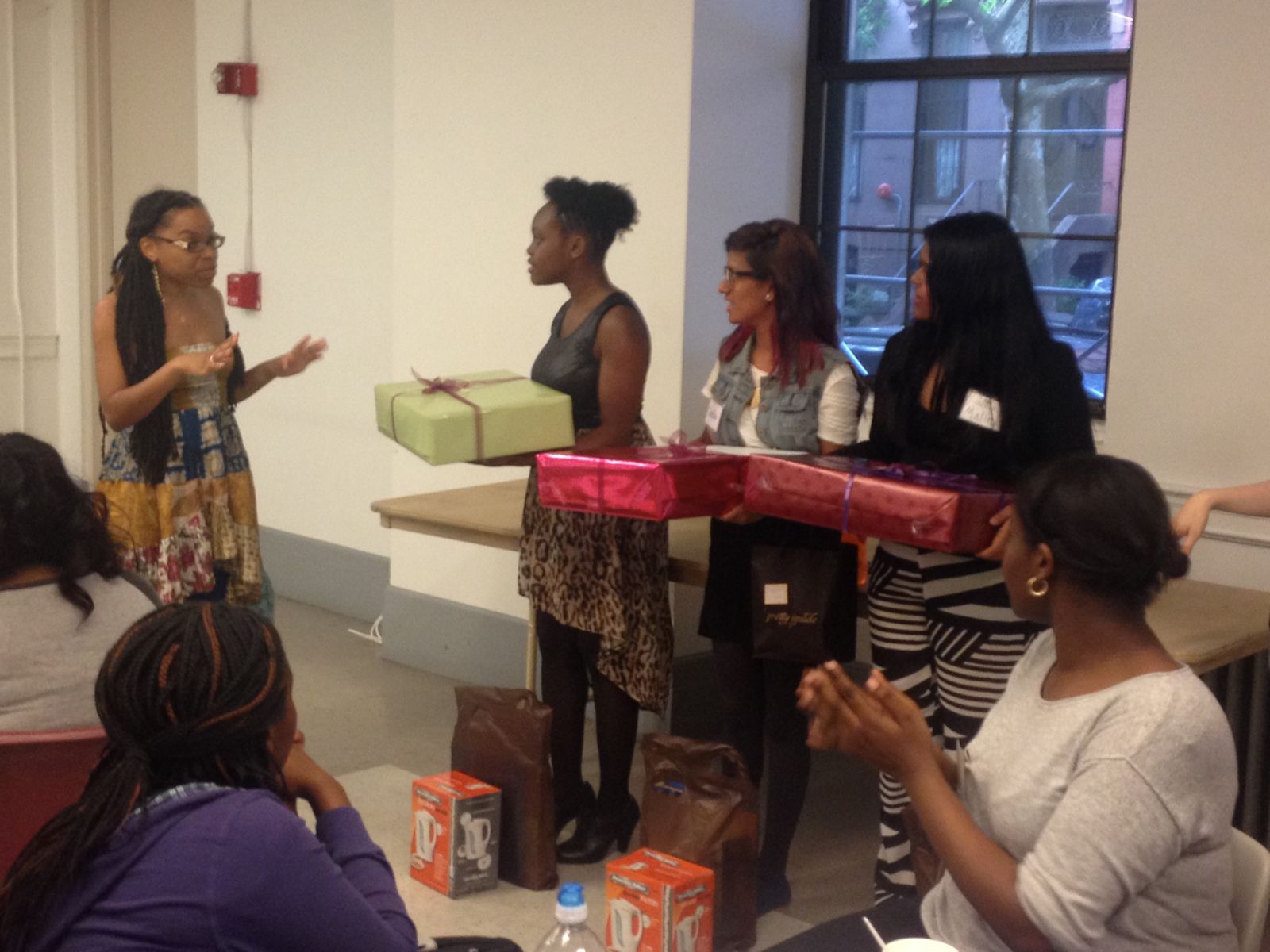 Next steps
We will hire a Project Coordinator to implement alumnae services and recruit twenty alumnae currently living in New York City. Alumnae will receive additional training in advocacy and organizing; group and individual mentoring from staff and our social work interns and deliver guest speaking presentations to current Sisters in Strength youth organizers. Services such as mentoring, college resource support i.e. books, applications, etc. will be provided to help the next generation of movement leaders succeed.
Further reading
Kisma Herman and Nathania Fields featured in Rookie Magazine, Stand for Something, Part 2 checking back in with the Justice League.
Additional support provide by Chime for Change co-founder Beyoncé Knowles-Carter:
http://www.blackgivesback.com/2014/06/beyonce-announces-grant-award-to-girls.html
http://www.gettyimages.com/detail/news-photo/founder-and-executive-director-girls-for-gender-equity-news-photo/495528095
While 80% of our Sisters in Strength high school youth leaders are accepted to colleges and universities across the country, it's a struggle for them to complete the four years.
Why we care: Sisters in Strength alumni are an integral part of the Girls for Gender Equity family; we must find ways to provide ongoing support so they don't fall through the cracks and disappear.
How we're solving this: Providing our former Sisters alumni with a continuum of critical services and resources to help them achieve their post-secondary goals.
Both current Sisters in Strength and our alumnae struggle regularly with family issues, poverty, homelessness, a dearth of positive role models and, most of all, a lack of fundamental support. They've identified GGE as the one safe space in their lives; at our annual alumni reunion, former Sisters said they sorely missed the community provided by their peers and GGE staff: "Every Wednesday I had a family to go to."
When asked how GGE could assist them now, alumnae cited mentoring; advanced training and participation in community organizing; regular meetings that would accommodate their new schedules; online resources that identify opportunities, and having access to technology to help them update resumes and complete job applications. They also requested guidance in navigating various social systems to effectively meet their needs. Many felt they were getting lost as they tried to locate programs and services, becoming discouraged and giving up. We can't let that happen. Help these brave young women stay in the game and achieve their goals.
Your support will enable us to hire a Project Coordinator, key to the successful implementation of this project, who will recruit up to 20 former Sisters currently living in NYC to attend six support meetings annually, scheduled around their college and employment activities, and monthly drop-in sessions as needed. Alumnae will receive additional training in advocacy and organizing; group and individual mentoring from staff and our social work interns; hear guest speakers on topics identified in pre-participation surveys; participate in self-care sessions; and have access to computers at GGE offices and a resource/referral database with relevant information about financial aid, scholarships, internships and jobs. The Project Coordinator will also provide assistance in navigating complex social systems to access critical resources like childcare and housing, implement and staff an Alumni Hotline (three-hours weekly) and facilitate a Community Service Exchange with other organizations in the community to increase capacity and offer maximum support.
Services such as the database, mentoring, and the hotline will be made available to approximately 50 alumnae from the past five years. In this way, we will provide past participants with an essential support system to help them succeed and prepare the next generation of movement leaders to end violence against girls and women.