1 year impact report
"My Mother didn't want me to join Young Voices. She was worried about what I would be expected to do and whether I would be able to cope…Now, she has seen how important our work is and the difference that it makes and is totally supportive...it's not just my words, I am backed up by many others. I feel now as though I can fight for anything."
Impact for girls & women
At the height of the project, the Young Voices groups in India had a total membership of 114 people across 5 groups, of which 33 were female (30%). This number is derived from monthly meeting minutes and attendance notes. At the end of the project there were a total of 94 members, of which 14 were female (15%). The change is due to some of the older members graduating from the groups at the age of 26.
Estimated girls & women affected
33
Broader impact
570 family members and 13,000 local community members. The number of family members has been based on an average of 5 people per family. The number of local community members is based on specific targeted meetings as well as radio/media estimates of engagement.
Estimated community members affected
13570
Making Rights a Reality
One year ago, you chose to support Young Voices in India, specifically 5 groups of youth campaigners, to promote disability rights and the voices of youth.
We have been working with Leonard Cheshire Disability, and with the support of Catapult funding, the Young Voices groups have received specific training on national laws as well as developed their skills in advocacy and campaigning. They have designed and executed local level campaigns effectively and addressed the issues of exclusion and discrimination with regard to accessing services, entitlements and facilities. For example, they have successfully campaigned for the provision of computers with screen reading software for students with visual impairments during exams; and challenged a large Indian company that prevented candidates with disabilities using scribes when applying for jobs. They also sought to make public transport more accessible and have achieved some triumphs, from the implementation of talking software at ticket machines in Delhi to audio signals at road crossings in Bangalore.
Ms Ashwini Angadi, one of the prominent female members of the India Young Voices groups, has helped raise the profile of disability rights and inclusion by participating in high level meetings; and more recently, she has been appointed as Co-Chair for the Children Crises Committee.
There is now also an advocacy toolkit that has been developed for the group to support more young people and disability inclusion going forward.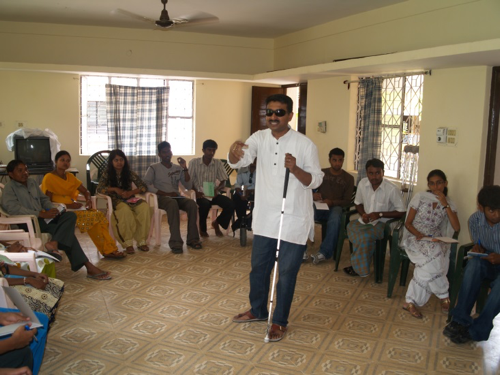 Get personal
Shalini Rana, a Young Voices member, highlights the change of attitude and support she has received from her family since being a part of Young Voices: "My Mother didn't want me to join Young Voices. She was worried about what I would be expected to do and whether I would be able to cope…Now, she has seen how important our work is and the difference that it makes and is totally supportive...it's not just my words, I am backed up by many others. I feel now as though I can fight for anything."
Risks and challenges
Leonard Cheshire Disability has incurred a few challenges such as the geographical spread of the five Young Voices groups across India. It has been difficult to coordinate and manage the groups and travel can be particularly demanding for female members. In order to overcome this, Leonard Cheshire Disability has attempted to share learning across groups virtually as much as possible.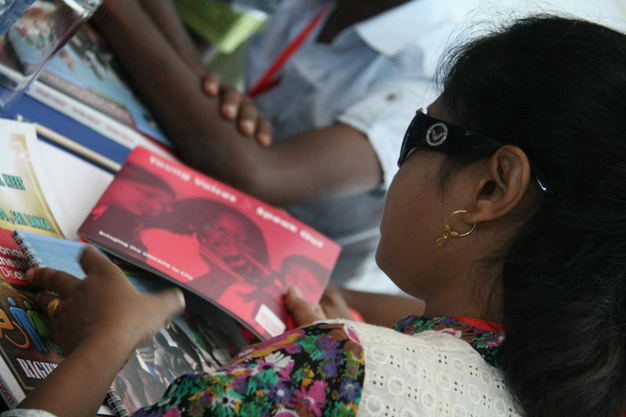 What we've learned
One of the most successful components of the project has been that it has enabled young persons with disabilities to organise themselves into groups and work towards the realisation of the UNCRPD, raising their concerns and voices at the various levels. Many of them demonstrated their abilities to coordinate and manage their respective groups and they have become leaders in their communities. Most of the members who are part of the initiative have increased their knowledge, perspective, positive attitude, experience and exposure to various aspects of disability and development.
Next steps
The Young Voices groups have demonstrated the place for youth to speak for their rights and highlight where they feel there are gaps and action needs to be taken. From this, some of the Young Voices are continuing their work to advocate for disability rights in India. Three of the groups are joining the National level DPO, Rastria Vikalanga Munch. Leonard Cheshire Disability is also looking to expand the programme to develop more Young Leaders.
Budget
We are grateful for Catapult's support - the budget for the project was $12,300 and we have allocated this effectively and spent $12,300
Line Items

Projected budget

Amount spent so far

Training

Transport

Per Diems

Campaigning Materials

Total

$2800

$3850

$1900

$3750

$12,300

$2800

$5,397.91

$1400.12

$2,701.96

$12,300
90 day report
Supporting 'Young Voices': A global network of young disability activists
September 3, 2014
Progress
We are working with Leonard Cheshire Disability to offer training programmes to differently-abled young people on how to make a difference. Leonard Cheshire Disability has established five Young Voices groups across India - totalling to over 120 young people. Thanks to your support, they have been able to organise training programmes for these groups. This involves teaching them about the essential background for campaigners (i.e. the UN Conventions on the Rights of Persons with Disabilities and specific Indian legislation on disability) and different types of advocacy, such as writing carefully-targeted letters. The sessions have also provided skills to find out and track government progress to meeting its responsibilities towards young people with disabilities. It is estimated that the project indirectly affects approximately 600 family members of young people with disabilities and their campaigning is likely to affect several thousand members of their local communities.
Risks and challenges
One of the main challenges in implementing the project is the necessary travel by public transport, as it is often inaccessible. However, in many ways this difficulty can inspire Young Voices to begin to campaign.
Get personal
Kartik, who has participated in Young Voices meetings for some time now, tells us that this involvement has "added a new dimension" to his personality, and broadened his horizons.
Next steps
In terms of next steps, this year Leonard Cheshire Disability plans to focus the Young Voices groups campaigning for the International Day of People with Disabilities in early December. We also intend to carry out some training for Young Voices in different media (i.e. through video), which would add a new dimension to their campaigning by enabling them to make short documentary films.
Budget
The budget for the project is $12,300. So far we have spent $4,000. We anticipate that the balance of funding will be spent by the end of the calendar year 2014, as the focus of the Young Voices' groups campaigning in 2014 is expected to be on the International Day of People with Disabilities in early December.
Line Items

Original budget

Amount spent so far

Training

Transport

Per Diems

Campaigning Materials

$2,800

$3,850

$1,900

$3,750

$1750

$1050

$550

$650
Of the 57 million children who have no place at primary school, a third are children with disabilities.
Why we care: Every child has the right to go to school. But for children with disabilities - and particularly girls - this right is still all too often denied.
How we're solving this: Training differently-abled children to tell the people in power about the difficulties they experience.
Ashwini Angadi is an inspiring young woman who was born with 100% visual disability in a poor rural community in India. Ashwini overcame incredible odds to graduate from Bangalore University with outstanding grades in three disciplines, all while also campaigning for better assistive technology and physical access for disabled students there. She then took up a great job with an IT firm and became Young Voice's leader in India.
Ashwini now devotes herself entirely to campaigning for the rights of young people with disabilities, especially girls like her. She was recently awarded the Youth Courage Award by Gordon Brown, UN Special Envoy for Global Education during the Malala Day celebrations in New York. The award recognized her amazing leadership of Young Voices in India, and her perseverance in standing up for the right to education.
Of the 57 million children who have no place at primary school, a third are children with disabilities. In India, children with disabilities are 5 times more likely to be out of school. They can be isolated, abused, humiliated and treated as a burden on their families when money even for food is scarce. Illiteracy rates are up to 75% among disabled people - and so their voices are lost.
Since it was created in 2005 by the NGO Leonard Cheshire Disability, Young voices has developed into a global network, with 50 Young Voices groups active in 21 countries. Not only does it give its members the valuable opportunity to come together and share their experiences, it also trains them to effectively campaign for their Human Rights.
Your donations will go directly to help train other young people like Ashwini on how to make a difference. They will be taught--in trainings across Bangalore, Ranchi, Bhopal, Delhi and Mumbai--how to lead groups, to build teams and how to make their voices heard by using the internet, music and film. The skills and materials they acquire will enable them to become highly capable human rights advocates for inclusive education, especially for girls, throughout India and beyond.
Specifically, your donations will:
Support 5 groups of Young Voices in India (160 young people in total) to attend 2 training sessions and a campaign planning meeting over a period of 3 months. The training will include the topics of team building, leadership, campaigning, media and communication and be conducted by local facilitators accustomed to working with youth.
Provide local transport for Young Voices to attend the training and planning meeting. Public transport will be used where it is available and accessible, and private taxis will be required for some participants.
Cover other costs such as meals and refreshments by a modest per diem of $3 (2 days for each participant).
Provide campaign materials that will include leaflets and banners for public awareness campaigns around the International Day of Persons with Disabilities (December 3).
A World at School, the digital mobilization initiative that advocates at the highest levels for education for all children, is proud to support the important work of Ashwini and Leonard Cheshire Disability Young Voices as they fight for quality education for differently-abled children in unbiased, accessible environments.