1 year impact report
Our clients have been delighted with their worm bins as the compost really helps their plants thrive. Many women have told us how much fatter and greener their veggies are now.
Impact for girls & women
We have set up 46 worm beds for 46 women maintaining Vertical Gardens
115
46
Broader impact
Each of our clients on average is part of a family of 5. We multiplied 46 by 5 then divided by 2 to get the number of girls and women indirectly affected.
230
Worms for Health!
It's been a year since you pledged your support so that women in our communities could learn a new technology in order to make their Vertical Gardens more sustainable.
In the last year we've set up 46 worm beds for women in six of our community sites. We conducted trainings for all of the women before they received their vermi beds, and distributed a handout detailing best practices for maintaining the bins and maximizing the vermi-compost they could harvest. Our VG staff person checks on the gardens and meets with the women monthly in order to address any concerns or help fix any problems that come up.
Our clients have been delighted with their worm bins as the compost really helps their plants thrive. Many women have told us how much fatter and greener their veggies are now.
Another outcome we've been really excited about is that we've been able to help women generate income using their vermi-composting. Some of the women's worms have reproduced must faster than others, and the women have been able to sell their excess worms to us for other women's worm farms. This has meant more money going to the communities, which has been great. Some women have also produced so much compost that they have extra stores beyond what they need for their own gardens. We've been able to buy these as well, and use them for our Vertical Garden program. We are thrilled that we've been able to buy from some of our clients and have helped them generate some extra income.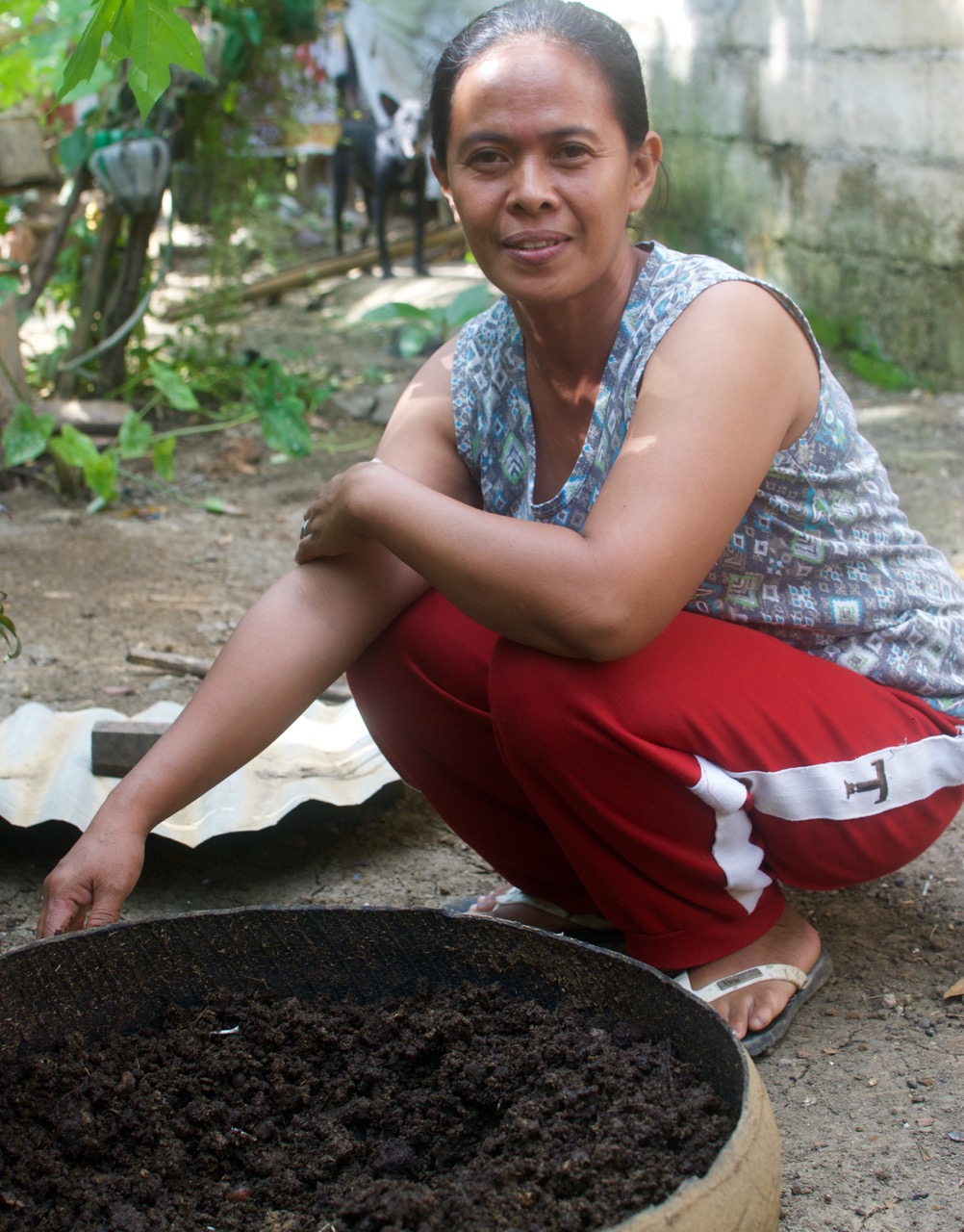 Get personal
Judith lives in Busngol, our most isolated community. Because they are so isolated, residents grow a lot of their own food. Since Judith started generating vermi compost with her worms, she's seen her plants thrive. She sells some of her produce to her neighbors to generate income. She spoke so highly about the vermi-compost that many of her neighbors also signed up for their own bins. She's happy she's been able to share the worm love.
Risks and challenges
One major risk we've faced is that many things can very quickly wipe out a worm bed. Heat, chickens, mice and even ants can spell doom for worms.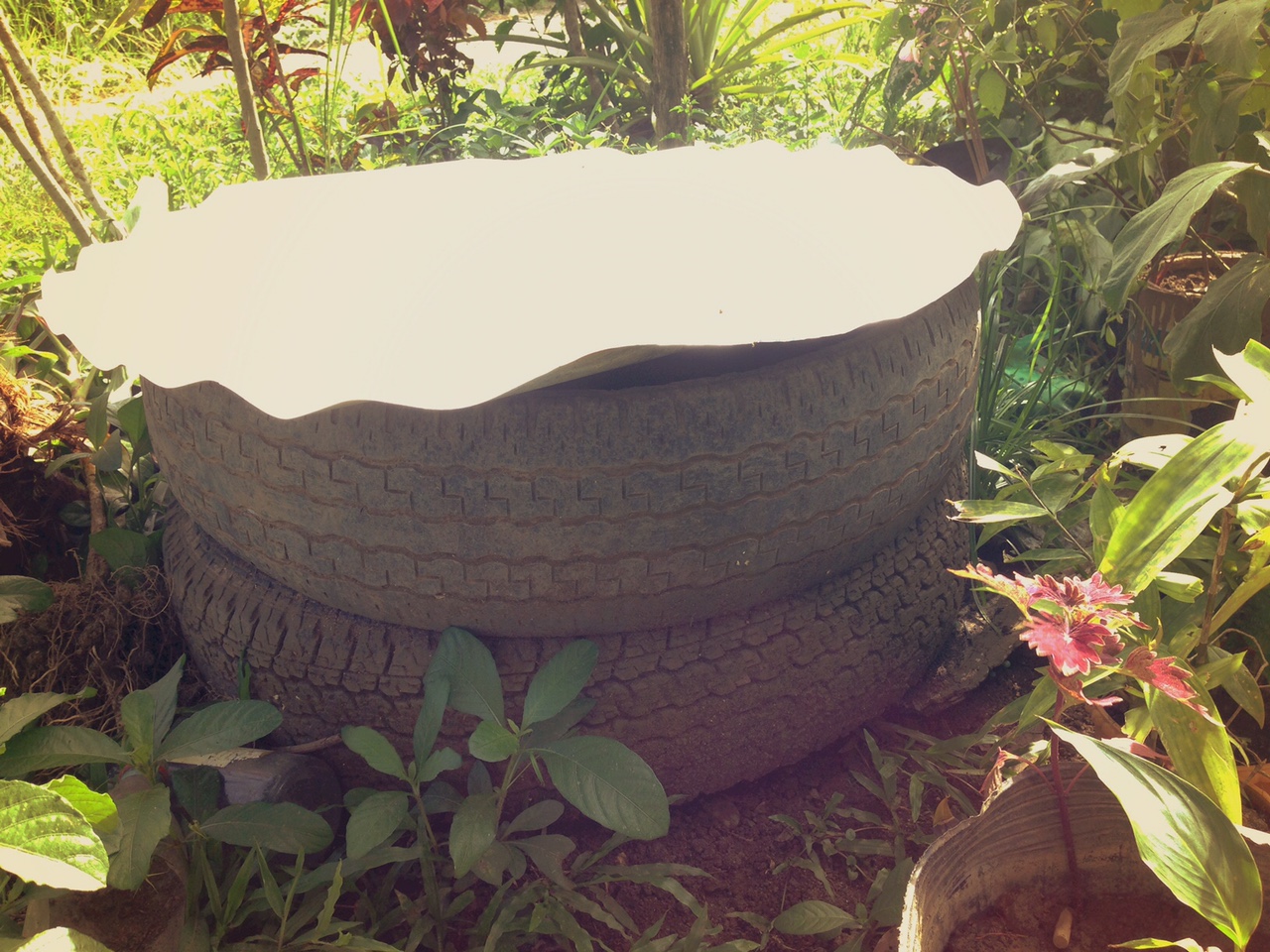 Some challenges included that we had to build worm beds with two tires rather than with one as we'd calculated. We managed to only go over budget by a bit but this was partly because we were able to find some used tires for free, but we are a bit over budget.
A more major challenge is that worms can really be misunderstood. A lot of the women we work with didn't want to set up vermi bins because they thought the idea of handling worm poop was too gross. We were able to change some hearts and minds but a lot of women were a hard sell.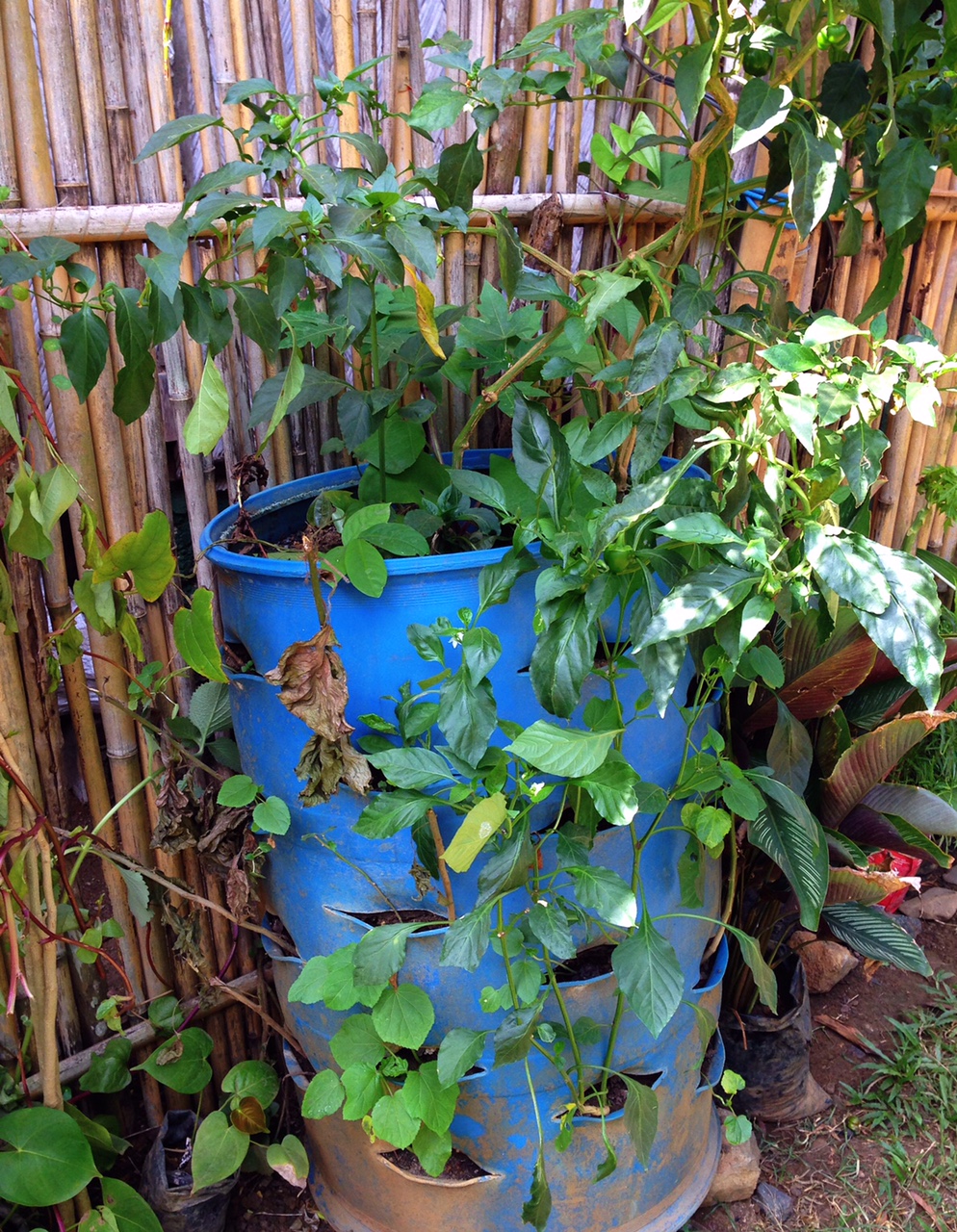 What we've learned
We learned that some worms can multiply faster than we had expected. We also learned that our original idea of having a single tire as the worm bed wasn't effective, but that two tires stacked over one another works very well.
Next steps
We will continue supporting our clients' vermi beds until the close of 2015, when this project will officially wrap up.
Budget
We went a bit over budget as we had budgeted for 1 tire to use for each worm bed but had to double this and have two tires for each worm bed.
Line Items

Projected budget

Amount spent so far

Construction and set up

Management and Administration

Transportation

Training sessions

Vermi-bin materials

Worms

Total

$818

$341

$227

$273

$339

$568

$2,566

$815

$350

$230

$260

$400

$540

$$2,595
More information
Please see rootsofhealth.org for more information
90 Day Report
Worming our way to better health!
October 27, 2014
Progress
In the last 90 days, we've made worm bins and bedding and started teaching women in our communities about vermicomposting. We bought sawdust and manure to mix and age to use as bedding for the worms. We decided to start with a group of thirty women who are currently our Community Health Advocates. We held a training and taught them basic worm biology and how best to manage the worms to produce compost. Of these thirty women, ten signed up for worm bins and have served as our pilot group. We set up the ten bins in four of our communities and have been monitoring them and conversing with the women who maintain them. We've also created a best-use handout that we'll give to women who get worm bins in the future. The handout contains all the information we include in the training, with the benefit that women can refer to it at any time.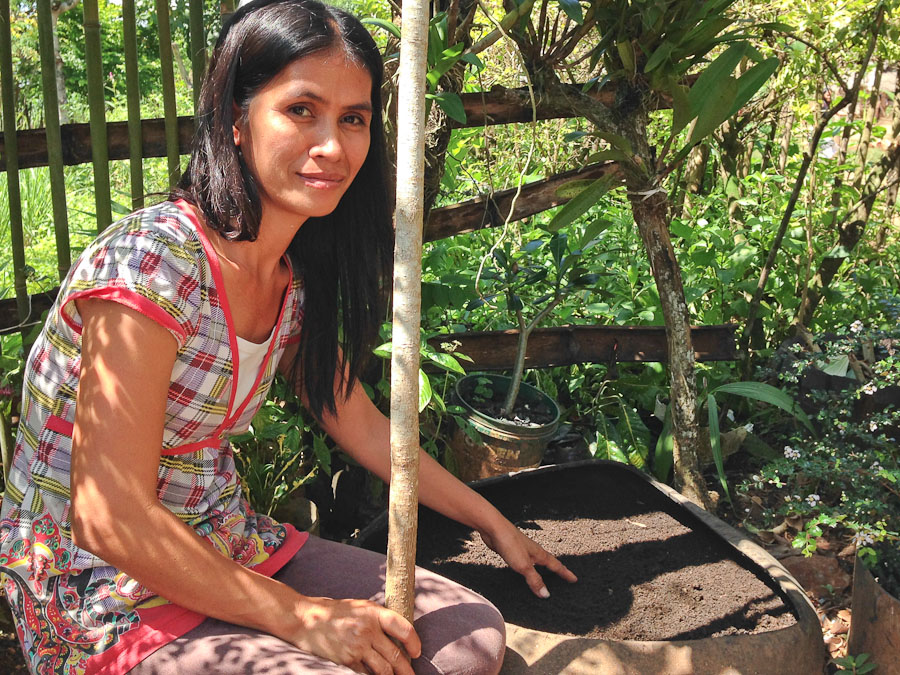 Risks and challenges
What we've learned is that one tire on its own is a little small. So we've been busy making larger bins by stacking two tires so that women who successfully manage these small tire bins can graduate to a larger wooden bin. A downside to using tires in the tropics is that if they are in full sun they get too hot and the worms leave to find a more comfortable home. Another challenge has been chickens. Yes, chickens. Many people in our communities keep chickens and as many of you know, chickens love worms and will decimate a bin in no time if they can get the roof off.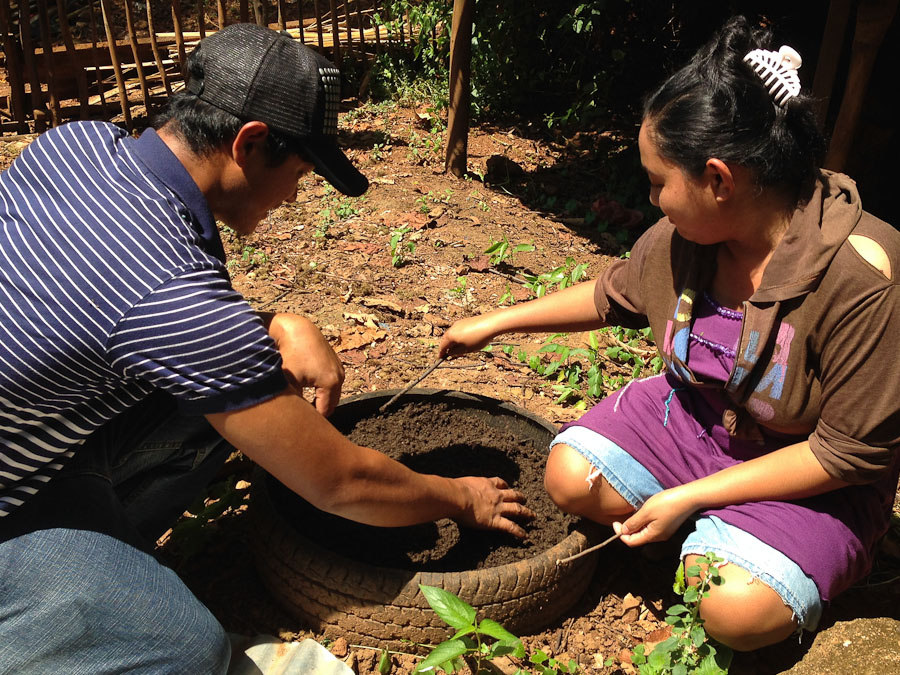 Get personal
Eileen has a vertical garden and also keeps two pigs in her backyard. She used to dispose of the pig manure. Now that she's got a worm bin, she's learned that her worms like manure. So now she can use her vegetable scraps to feed her pigs, use the pig manure to feed the worms, and use the worm manure to feed the vegetables.
Next steps
We are now ready to roll out the double tire bins en-masse and will be holding trainings in each of our seven communities to offer the bins to women who desire them. We will continue to monitor these bins and to upgrade the women who manage their worm bins well to bigger wooden bins.
Budget
Line Items

Original budget

Amount spent so far

Construction and set up

Management and Administration

Transportation

Training sessions

Vermi-bin materials

Worms

Total

$818

$341

$227

$273

$339

$568

$2,566

$205

$85

$52

$45

$71

$63

$521
Further reading
For updates on our work, please see rootsofhealth.org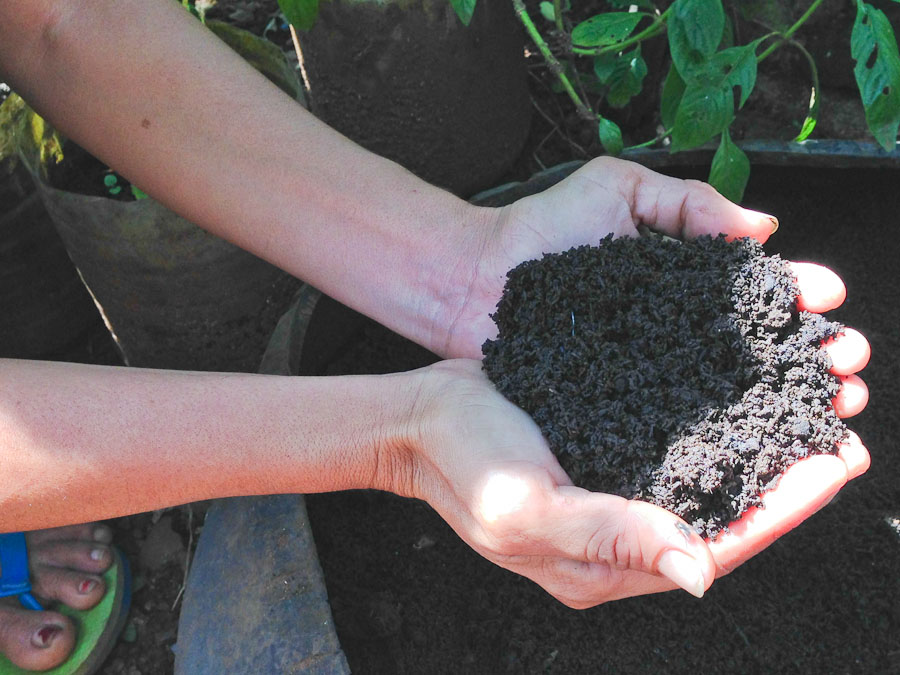 Teach women to make their own compost and grow fresh vegetables.
Why we care: Because poor nutrition affects everything in a person's life, from health to education.
How we're solving this: By training women to make their own compost, so that they are able to ensure the productivity of their gardens for years to come.
We've constructed 120 Vertical Gardens in two communities, Aplaya and Magsasaka, Philippines. The gardens are popular, and the women are growing all kinds of vegetables. However, after multiple harvests, the nutrients in the soil are becoming depleted, which leads to smaller harvests. We're providing extra compost to re-fertilize the soil, but this is not sustainable.
We'll teach women how to use compost worms to create their own vermi-compost, since most of them do not have the space needed to create traditional compost. Vermi-composting is a method of making compost that uses a special type of earthworms to enrich the soil.
We'll provide a recycled car tire and fill it with a mixture of manure, sawdust, and worms. Women will add kitchen waste, animal manure, and garden debris to the bin. The worms eat the decaying matter and create their own worm manure, which acts as a slow release fertilizer and is more potent than regular compost. The best thing about this project is that it can be done with limited space, and a vermi-bin takes up very little room.
Another element that makes vermi-composting easier than traditional composting is that the worms come to the surface to deposit their manure, which makes it very easy to harvest. Our clients can then use the compost to sustain their own vertical gardens or sell it to neighbors.
Your support will cover construction, transportation, and training costs. We'll train our Community Health Advocates first, as the pilot group. Once they have mastered the skills needed, we'll expand the program to all the women with Vertical Gardens. Our advocates will then be able to support and provide advice to the other women in the communities. They'll be supported by our Vertical Garden Coordinator who will be in constant contact with all the owners of Vertical Gardens.
Help us empower women to sustain their Vertical Gardens.