1 year impact report
"This year, girls worked in radio doing public service announcements on issues that affected them, such as alcoholism and domestic violence."
Impact for girls & women
This is the number of girls who participated in our course and learned essential skills.
Estimated girls & women affected
28
Broader impact
Each girl touched members of their families and community members.
Estimated community members affected
250
Girls step forward
Our goal was to train girls from rural areas in Guatemala and Honduras in job and leadership skills through media, technology, and design, in order to give them a path out of poverty. We spoke of our work in Honduras in our 90-day report (see below), so here's our update about what we've been doing with for girls in Santiago Atitlán, Guatemala.
This year, girls worked in radio doing public service announcements on issues that affected them, such as alcoholism and domestic violence. They used their skills in design and photography to participate in two week-long internationally mentored workshops with professionals from Europe and the United States. In January, the girls learned more advanced photoshop and lightroom techniques and put together portfolios. Then, in June, in the second workshop, they designed a logo and labels for a rural organic coffee producer. This workshop covered topics such as how to interview a client to assess their needs, and designing, producing a mock-up, writing copy, and giving a power point presentation to the client. One of the girls' label and logo were even chosen for production to represent the brand.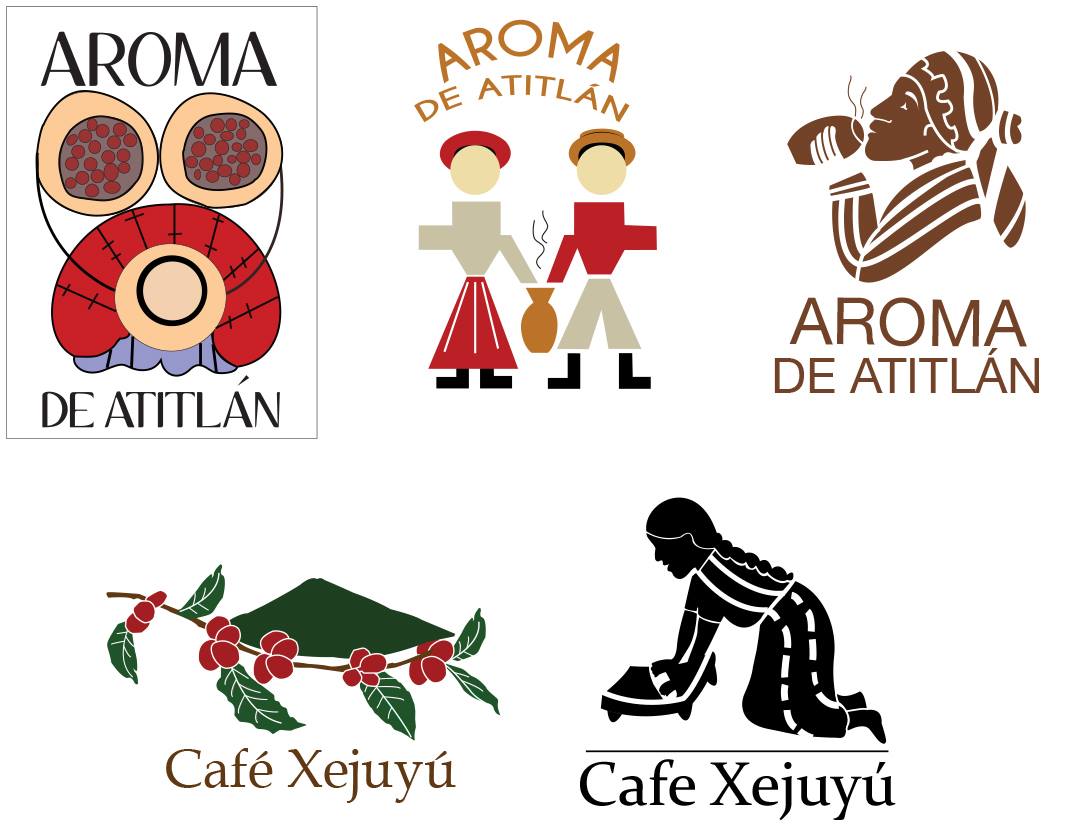 In an informal talk, the girls spoke of discrimination and lack of opportunities, and how to change attitudes. In a resulting brain storming session, they decided to gather more girls in the fall and create a board game aimed specifically at illuminating the problems they face as women in a macho society. The game will then be given to younger kids, who are 11 and 12 years old, to play at home with the aim of raising discussion points and gradually change attitudes.
Get personal
"If I pass this course I won't have to go back to living in misery, and serving coffee in a dive," said one of the students who lives in a very poor barrio of Guatemala City. The girls gave a separate presentation of their coffee logos and labels to their mothers making the moms so proud! One of the girls, whose mother had chastised her for "wasting her time" going to the design/photo workshop, told us that now her mother says, "get ready you are going to be late for your Fotokids class!"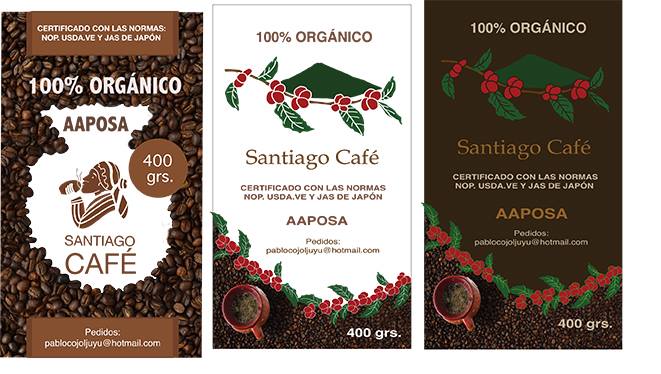 Risks and challenges
In Honduras ,we couldn't find a professional woman who could spare the time to give classes in a relatively remote area two times a week. We originally thought to train the older girls, graduates of our original photo program, to teach gender and photo classes, but found they were deficient not suited due to attitudes similar to their macho male counterparts.
In Santiago, girls are expected to put family responsibilities first, babysitting, or working to help support the family.There is also a belief that if you didn't earn money via physical labor you were somehow "lazy." We have overcome much of the mothers hesitation by inviting them to see the work and providing a stipend recognizing the value of their daughters work.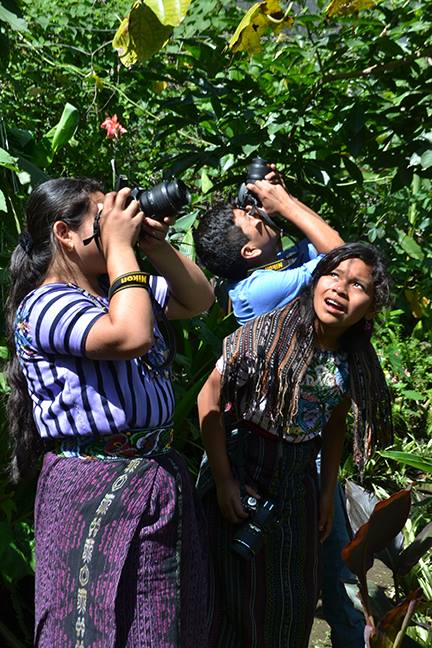 What we've learned
If we did this program again we would concentrate on just one region in rural Guatemala. We are also adding a boys class because the boys need to change their attitudes in order for the system to work. We may separate design and photo skills as two separate learning modules, as some find one or the other too difficult or frustrating.
Next steps
We're excited to continue our program. Also following the Santiago girls' lead, we will work next year (pending funding) on creating the board game that will lead to attitude changes and more opportunities for girls.
Budget
There were no major variations in our budget. We didn't spend as much on travel as anticipated, so we used that funding to produce portfolios and on photographic excursions.
Line Items

Projected budget

Amount spent so far

2 DSLR cameras

5 Laptops

2 Audio recorders

3 Hard drives

Salaries for 4 teachers

Transportation for 4 teachers

Food, bus & lodging for 15 girls

$1,500

$6,000

$600

$300

$4,400

$1,500

$700

$1,500

$6,000

$600

$300

$4,400

$650

$700
90 day report
posted Oct 28, 2013 by Alyssa Tartaglione
Progress
We initiated our Fotokids Save Girls expansion program in the jungle community of Las Mangas, Honduras, pop. 300, bordering the Pico Bonito National Park. Experienced Guatemalan technology/gender teachers Evelyn and Linda took the 15 hour journey there. Goals included:
1. Find, hire, and train two teachers who would lead the girls in gender discussions, teach photography and design
2. Begin classes with girls ages 15-18, establishing a base line in critical thinking, gage interest, motivation and media/writing skills
3. Observe teachers in training while they were auditing the class, looking at their attitudes and interaction with the girls, and for them to observe our teaching style.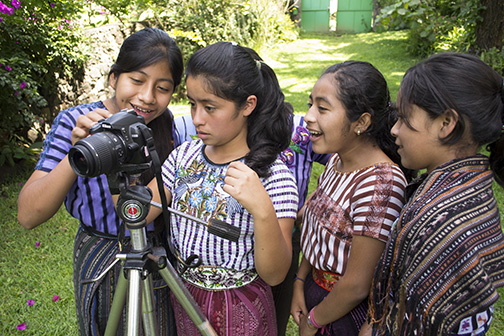 Workshops content: Short written discussion points were asked of all the girls:
1.Define gender
2.Describe 5 differences between men and women
3.Describe 5 roles women preform
4. Same for men
5. What is a symbol?
6. Draw symbols to describe your family members.
This was followed by a writing exercise,1 paragraph, completing the phrases:
If I were President, When I'm an adult, My father/mother is, and I am sad when…What experience do you have with art? What have you done in terms of experimenting with your own creativity?
In Santiago Atitlán we will start with girls 14 -16 years old. We are currently interviewing for the teacher positions.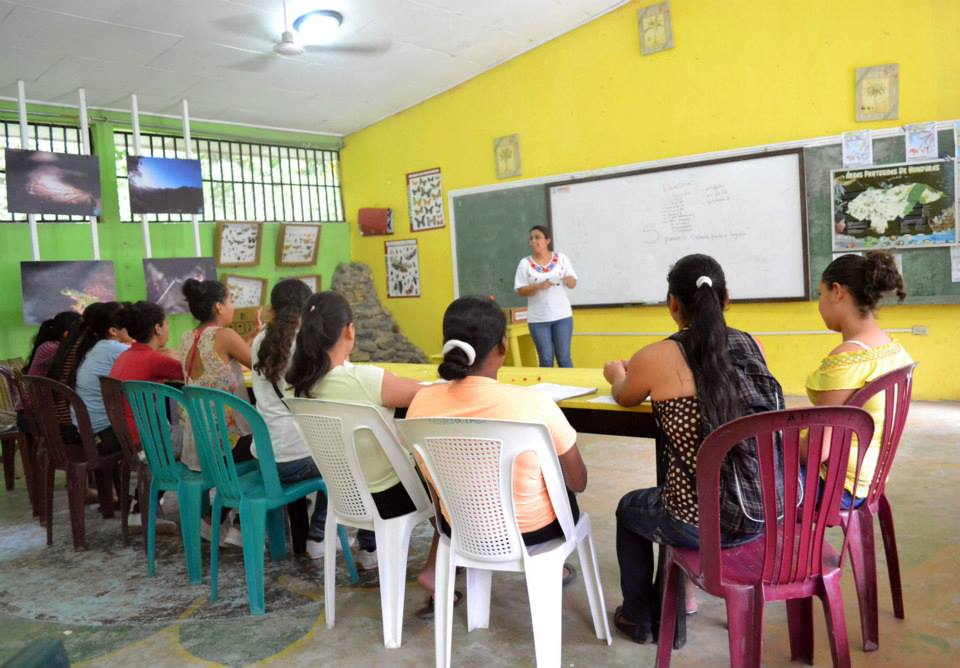 Risks and challenges
The absolute key to success for these two projects, is finding the right teachers, a young woman who is an example for the girls in terms of personal growth and vision. The status quo in both rural communities is an early marriage/pregnancy combined with a lack of opportunities and dreams. In Honduras we had thought we would hire young women from the community who had been through the Fotokids program, as we have in Guatemala. Finding two inspiring women (ages 24-30) who value/have attained a higher education and who know a bit of photo/design has been difficult.
We found during observations and interviews stereotypical gender beliefs and a lack of interest in learning new photo/design techniques. Another challenge is the rainy season with landslide and road dangers delaying the normally 15 bus hour trip to Honduras. In the two communities electricity and water are at times unpredictable.
In Santiago Atitlán, the challenges we anticipate will be in addressing avoiding early pregnancy and the lack of educational opportunities for girls in Santiago unless you go away to school (frowned upon as leading to early pregnancy!)
In both places we are extending our searches to find a woman who is a leader but who can relate well to teenage girls. It may take some time, but experience has shown us it is worth the wait to find the best candidate, and meantime Evelyn and Linda will continue the teaching.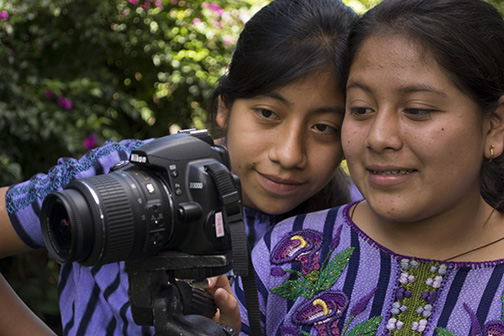 Get personal
After reading the girls interview answers I can honestly say we have a lot of gender work to do. Here are some of the responses, some good, others not.
Describe 5 differences between men and women:
One girl's response: "Women: in charge cleaning the house cooks, has the most responsibilities, gives the home life and warmth, serves as an example. Men: works, is strong , more reliable, are lazy, and stingy with money for the household."
A response from another girl: "Women: weak, amorous, can do two things at once, cares for the family Can give life. Men: strong, angrier, do things one by one, macho"
Another response: "Women: difference; Mentality, their voice, character expressiveness and more reliable Men; macho, immature, inability to understand, selfish."
And finally, a last example response: "Women: give birth, detailed person, decorative, Can do 2 things at once, communicative with her children. Men: aggressive, macho, physically stronger, don't spend much time with their kids, they are liars and black mailers."
Maybe we should be working with the boys!
Next steps
Find and train teachers- continue teaching the technological skill set and gender studies that are woven throughout the program.
Santiago - photography/design classes October - January.
In January and June the girls will participate in an internationally mentored workshops on digital photography, preparing a photography portfolio - producing design for a client.
January -June girls work at producing professional quality work in Adobe Illustrator/Photoshop
Honduras:
Photography/design classes October - December
December- January teacher training in Guatemala
January - August- student exchange program in Guatemala for Honduran girls- completion of Save Girls Manual in Illustration/ advertising design.
At both locations there will be a portfolio presentation in August.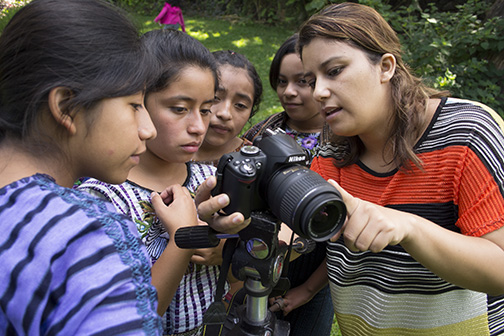 Budget
So far we have spent $2300 on computers, $1200 on cameras, and $375 for transport/lodging to both locations. The school year here is January to November. When the school year starts up again in January is when we will be spending the majority of the budget. During vacations, the students work to support their families.
Training girls from rural areas in Guatemala and Honduras in job and leadership skills in media, technology and design to give them a path out of poverty.
Why we care: Poverty, gang violence, and a lack of role models and training programs gives girls little chance to realize their full potential.
How we're solving this: Providing a year of free job training in photography, graphic design, technology and leadership to give girls a competitive economic edge.
Fotokids empowers young women by complementing their traditional education with training in leadership, gender issues, critical thinking and creativity using digital arts. In our program these girls learn photography, Photoshop, graphic design, web design, writing and customer service skills. Students leave the program equipped with a professional portfolio, intern experience and confidence which helps them achieve success at university and land jobs using these valuable skills
The funding for this project will expand our program to two communities of young women in Santiago Atitlán, an indigenous village in Guatemala, and in Las Mangas, an isolated jungle village in Honduras. The program will be offered to thirty young women in each village. Both communities offer no extended education for girls and few job-training opportunities. Your donation will also help fund 15 girls to participate in our Design4kids annual weeklong workshop with professional design and photography mentors in Antigua or Santiago Atitlán Guatemala.
In order to expand our programs to these communities, we will train a group of six ambitious young women who have participated in our program to instruct the participants in media, technology and design skills. After they are trained, the teachers will work in teams of two, a designer and photographer, and will go back to their communities or nearby villages to offer the program. In Honduras, we will start teacher training by bringing the young women to Guatemala. We will use the teachers we have trained in Guatemala, most of them having grown up in Fotokids with over 18 years of teaching experience, to conduct this training.
Previous graduates of our program have gone on to receive university degrees in law, education, design, social work, journalism and architecture. Many past participants now work in our design studio Jakaramba or professionally in photo, design and video with clients.