1 year impact report
"At first I didn't know that there was a lot of child trafficking in the United States, but I learned that it has been reported in all 50 states."
Impact for girls & women
This number represents the combined media impressions and girls and women reached by in-person and online trainings (divided in half).
Estimated girls & women affected
300,000
Broader impact
It is difficult to estimate how many people were directly affected. Awareness raising activities often have ripple effects within communities; one person hears a message or participates in an event, and then shares this information with their family and friends.
Estimated community members affected
300,000+
Your impact to end trafficking
Our End Trafficking Project raises awareness and engages the American public in the fight to end human trafficking in the United States and abroad. Thanks to your support, we launched a successful public awareness campaign in January of 2014. Through this campaign, we: garnered over 616 million media impressions; engaged Angie Harmon (an American actress and model) on a field visit to Nicaragua; received over 6,000 page views on 10 blogs; received over 25,000 views of our Public Service Annoucements on YouTube alone; and, we were featured on the homepages of Flipboard, Reddit, and Upworthy. Supporters wrote over 3,700 letters to Congress demanding stronger anti-trafficking legislation. Through 77 events and eight Google+ Hangouts, with partners like International Justice Mission, Fairtrade America, and the Junior Leagues, we've engaged over 8,459 people on the issue of trafficking.
Get personal
"Thank you for taking your time to be here today with us, not only did we learn about child labor, child trafficking, and UNICEF, but we also learned that you help make change in persons and we look forward to be the change." – Mamadi
"At first I didn't know that there was a lot of child trafficking in the United States, but I learned that it has been reported in all 50 states." – Joselyn
Risks and challenges
We hoped to be able to address the issue of labor trafficking, as well as sex trafficking in our Public Awareness Campaign. However, finding a labor trafficking survivor who was willing to be interviewed and filmed proved a challenge.
What we've learned
We are adapting the campaign to reach out to a larger variety of organizations that work with survivors to ensure that we present issues around trafficking in a balanced way. With limited time to locate and film spokes people, we struggled to achieve this.
Next steps
With further funding, we can continue to extend the reach of this awareness campaign.
Budget
All of the money raised was used to help film and distribute videos, garner media placements on billboards and digital and print ads, and conduct 77 in-person and online trainings for over 8,000 people.
Further reading
Huffington Post: http://www.huffingtonpost.com/2014/01/22/human-trafficking-graphic_n_4645227.html
Upworthy: http://www.upworthy.com/i-just-wanted-to-die-and-maybe-i-deserved-this-are-words-a-child-should-never-have-to-say
90 day report
You are helping the U.S. Fund for UNICEF raise awareness about Trafficking of Women and Girls!
posted Nov 20, 2013 by Sue Lee
The following are reactions and comments from participants of an End Trafficking Campaign film screening, discussion and workshop for a group of middle and high school students:
"[...your workshops] made me realize that there are many problems in the world that I can help change."
- Eimy
"Thank you for teaching me about human trafficking and empowering me to do something about it."
- Nicole
"Now that I know what trafficking means, I want it to stop soon."
- Cynthia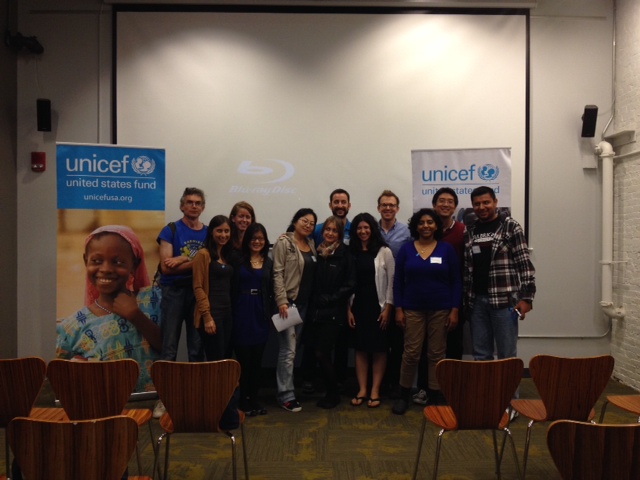 Progress
The U.S. Fund for UNICEF's End Trafficking project raises awareness and engages the U.S. public around the fight to end human trafficking in the US and abroad. Thanks to your support: We are gearing up to launch a new public awareness campaign in January 2014. In preparation, over the last 90 days we have been: - Developing concepts for TV and radio PSA - this includes interviewing potential spokespeople to participate in the PSA; - Working with leading national and state-level partners to develop a legislative advocacy campaign to influence policy and positively impact child victims of domestic trafficking. - Holding panel discussions in partnership with the Junior Leagues, United Way Worldwide student chapters, college and high school students; - Conducting film screenings and Google Hangouts on topics such as Fair Trade products and child labor, culminating in a discussion on how youth can get involved in fighting trafficking.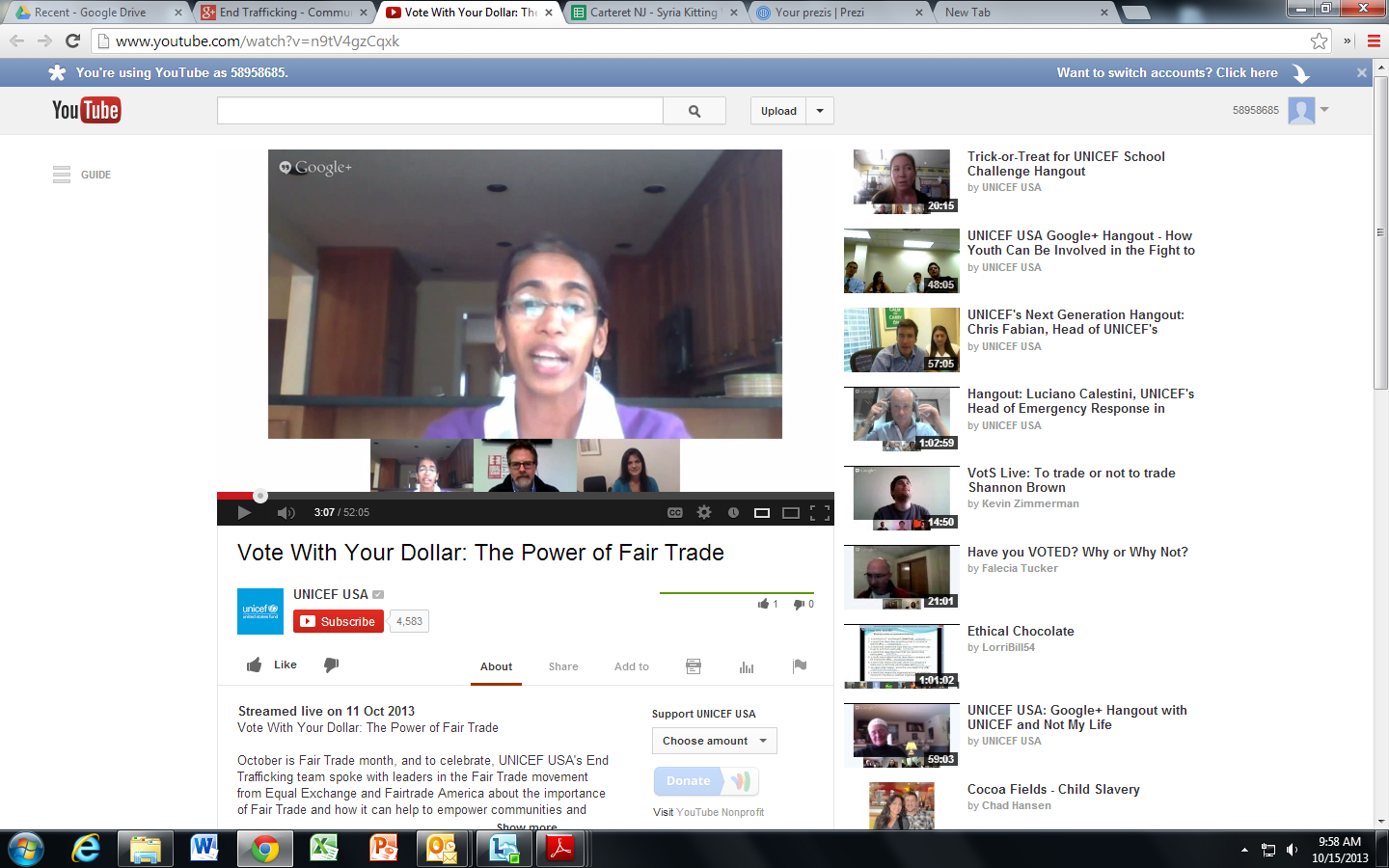 Risks and challenges
Successful public awareness campaigns require reaching out to and engaging new audiences, educating these audiences about human trafficking, and motivating them to get involved and act. Finding the right spokesperson to participate in this campaign and effectively reach new audiences has taken longer than anticipated.
Next steps
Over the next 90 days, the U.S. Fund will: - Film and finalize PSAs, print and digital ads and secure placements for them; - Host monthly Google Hangouts to raise awareness and help people take action in the lead up to National Human Trafficking Awareness Month in January; - Coordinate with partners in the creation of advocacy tools for grassroots volunteers around anti-trafficking legislation.
Around the world today, the estimated number of trafficking victims ranges from 20-30 million; about 75 percent are women and girls.
Why we care: There have been reports of human trafficking in all 50 US states. The US is considered one of the major destinations for trafficking victims.
How we're solving this: The U.S. Fund for UNICEF is raising awareness through documentary screenings, Google+ hangouts, tv/radio announcements, print ads, and social media.
The U.S. Fund for UNICEF is uniquely positioned to educate the American public, especially young adults, with the understanding of their inter-connectedness with the world's peoples. We believe our commitment and action to build a movement to combat child trafficking will have a significant impact in "moving the needle" to increase the U.S. public's awareness and response to child trafficking.
Since launching in early January 2012, the End Trafficking campaign has garnered a significant amount of attention for the issue of child trafficking and UNICEF. Currently, 300 malls around the country are carrying the message that UNICEF believes in ZERO exploited children. Student clubs at over 400 schools are using UNICEF's End Trafficking toolkit. More than 500 million impressions have been garnered to date for the End Trafficking campaign, including those featuring UNICEF Ambassador Angie Harmon on End Trafficking. Believe in ZERO ads are running on a wide variety of sites including MSN, iVillage, Rodale, Yelp and BuzzMedia websites.
This project is raising funds to continue to raise awareness in eight cities: Atlanta, Boston, Chicago, Houston, Los Angeles, New York, San Francisco, and Washington D.C. Awareness raising events that include the Not My Life documentary screenings will be held in these eight cities, along with tv/radio announcements distributed to the top 150 TV outlets and more than 9,000 radio outlets.
Administrative costs for this project include salaries, rent, supplies, and evaluations.