1 year impact report
"I will now be able to save lives confidently."
Impact for girls & women
This represents the number of Ugandan female nurses and midwives who were trained in HBB+ through our project.
Estimated girls & women affected
139
Broader impact
This number represents the number of women indirectly affected (above) in addition to the number of male babies born and the number of males in an average family.
Estimated community members affected
29,444
Helping Babies Breathe + Gives Ugandan Nurses Skills During the First Golden Minute and Beyond
One year ago, you generously chose to support the training of nurses and midwives in Helping Babies Breathe to help reduce neonatal asphyxiation and death. The foundation for the trainings was initiated in the first three months of this project. The project leads developed the team of partners (Mbarara University of Science and Technology (MUST), Healthy Child Uganda, Massachusetts General Hospital Center for Global Health, and two Seed/Peace Corps US nurse educators), designed and mobilized the budget, and developed the scope of work.
Over the subsequent 6 months, our team of 4 Ugandan master trainers held 7 training sessions to teach the HBB+ curriculum and skills to 153 nurses and midwives from across 40 health facilities in Uganda. The team procured over $4,000.00 worth of supplies including learner workbooks, ventilation bags, suction bulbs and NeoNatalies (mannequins) and delivered them to MUST. Each session was documented through photos, qualitative assessment and reports.
During the last phase of the project, our Ugandan team collected data to establish the impact numbers. Health facility registrars at each of the 40 sites combed through registration books and computer data to collect the numbers of women who gave birth and number and gender of babies delivered. Almost 30,000 people were indirectly impacted by this training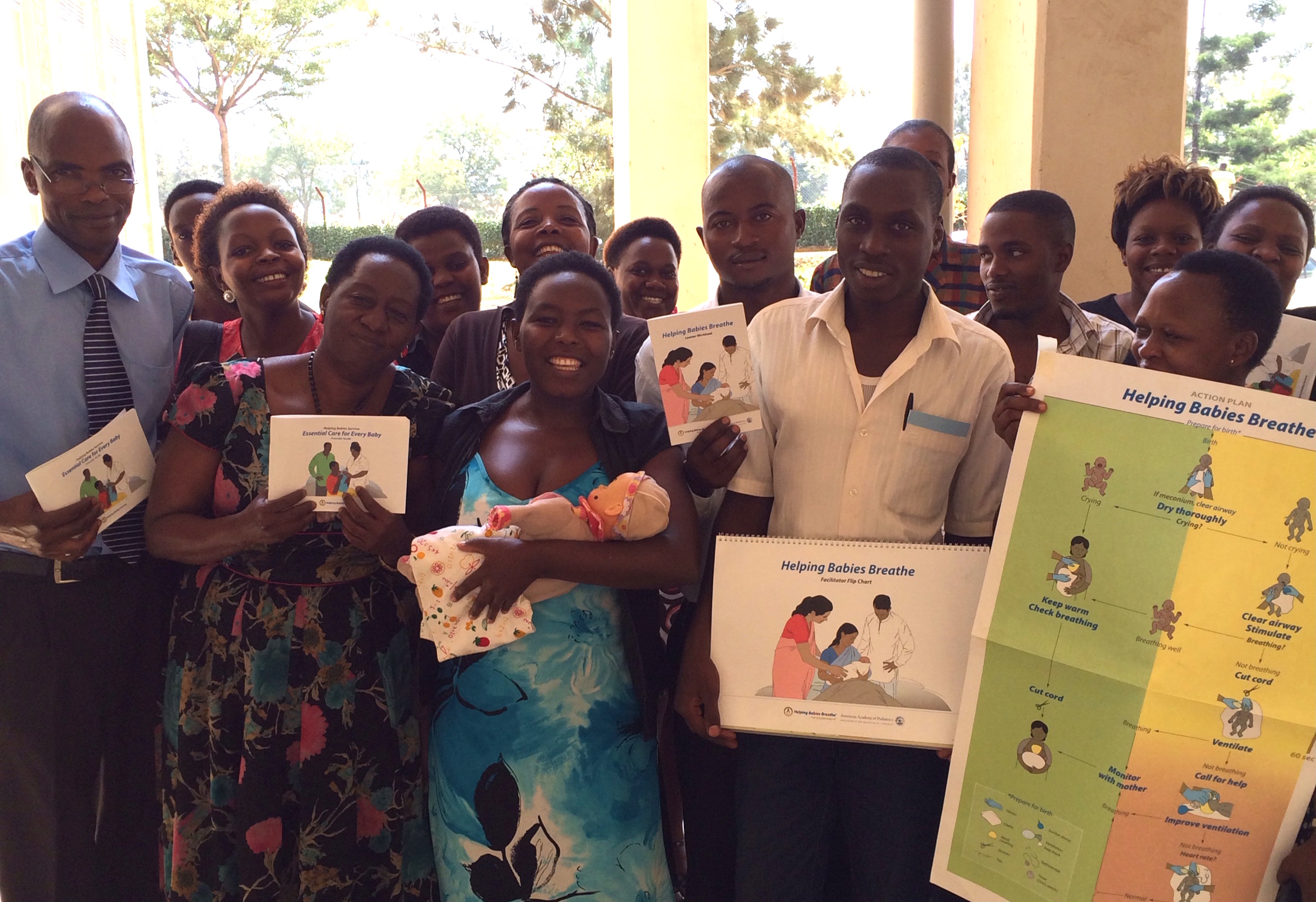 Get personal
Below are quotes from nurse/ midwife participants: "I have had over 20 resuscitations of babies. We used to bag the babies [too] fast. Today I learned the right way." "We were so traumatized before. It was like a daily prayer. We were told to suction every baby without question. Now I know which babies need it, how to do it and why. " "We also learned about a new culture of telling the mother what we are doing. We never knew to do this." "I will now be able to save lives confidently."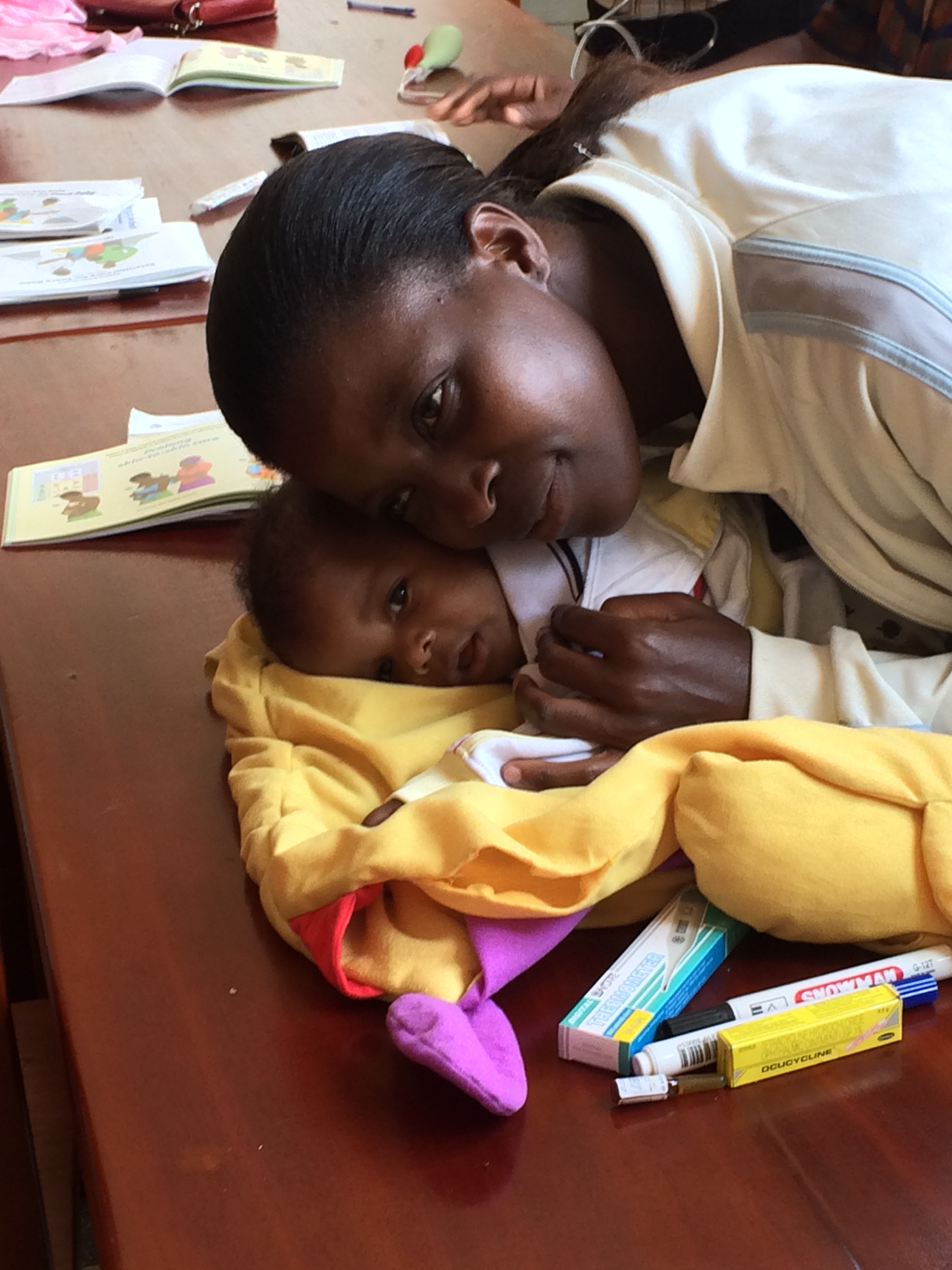 Risks and challenges
We are grateful to our partners for carrying out this project so smoothly with minimal risks and challenges. During the initial phase of this project we learned that the Ugandan government newly requires the traditional Helping Babies Breathe (HBB) training to include an additional day and material on Essential Newborn Care (titled HBB +). Adjusting for additional costs, we reduced our target number of trainees to 140. We are proud to report that we exceeded this target, training 153 nurses and midwives. Each additional nurse trained means one more who will share their skills with other nurses and midwives. As a hospital Principle Nursing Officer stated so well, "I want to help teach nurses who may not have the proper skills."
p>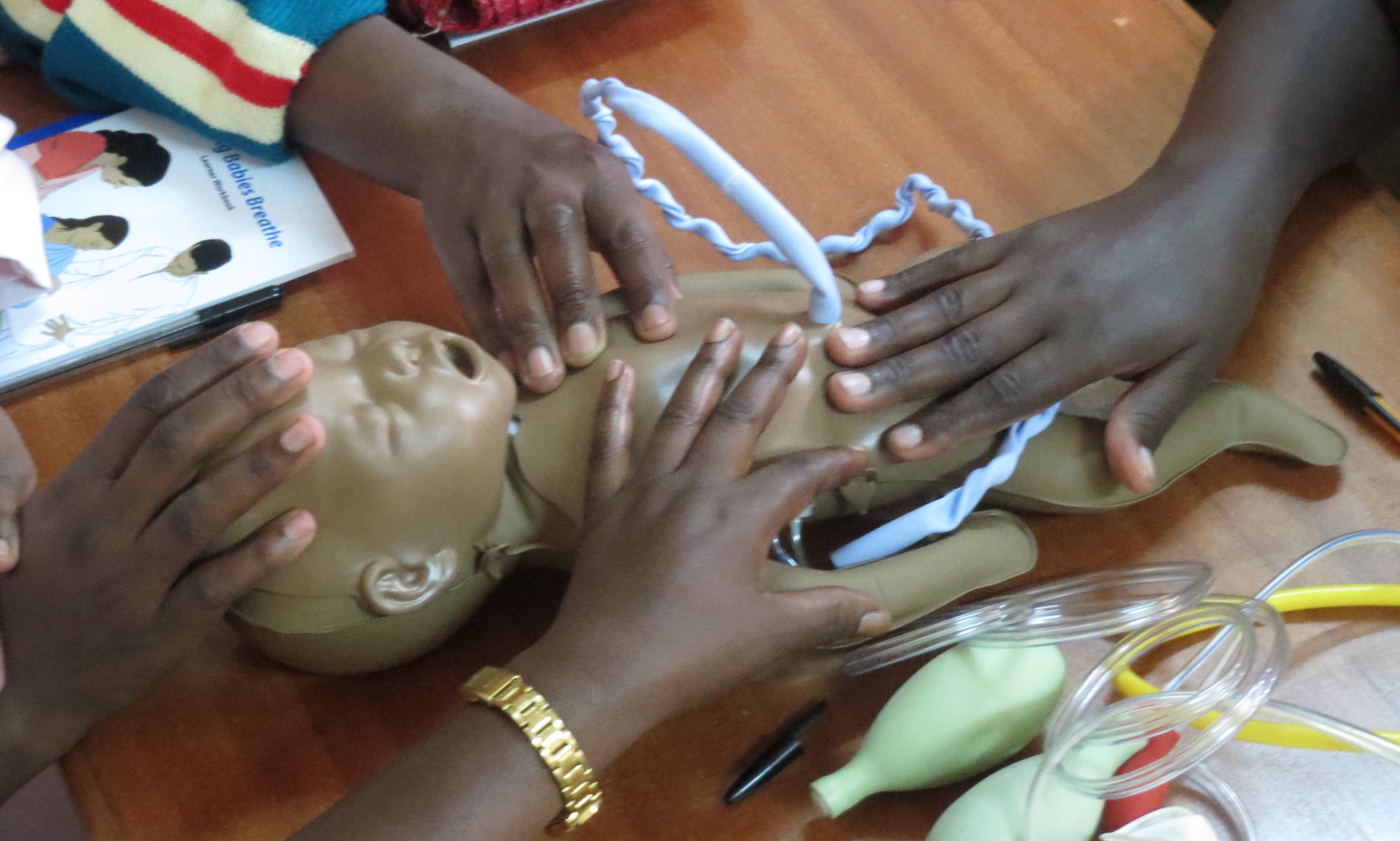 What we've learned
We learned that teamwork, combined with skill and dedication, is the reason this project was so successful. Our Ugandan team demonstrated skill as HBB+ trainers and a true commitment to newborn survival in the first Golden Minute and beyond. We had a Ugandan lead who smoothly managed the project and a grant office which effectively distributed funds to cover local training expenses. Additionally, Massachusetts General Hospital Center for Global Health provided administrative support and staff who helped transport the training materials to Uganda during their routine trips. As we ended the project, we asked our Ugandan team, "If we could do it over again, what should we do differently?" One response was, "If we could do it again, we must."
Next steps
The HBB+ trainings met a critical need for the nurses and midwives at the front line of newborn care. One midwife stated "It was a challenge to hear that the way we [traditionally] learned how to hold a baby upside down and slap the feet isn't proper when the baby isn't breathing. We learned how to properly resuscitate a baby. We have to teach others to do the same thing and that is a challenge." Seed is actively seeking opportunities to continue our support for HBB+ training in Uganda.
Budget
We had a small variation due to the generosity of the MUST Department of Nursing who donated space for a portion of the trainings. As a result we had extra funds which were used to purchase more supplies.
Line Items

Projected budget

Amount spent so far

Teaching and facilitation

Simulation model and devices

Teaching materials including workbooks, facilitator sets

Venue, transport and access for attendees

Total

$16,420

$2,950

$2,190

$8,440

$30,000

$16,420

$3,110

$2,190

$8,280

$30,000
More information
We are inspired to that the 153 nurses and midwives who have completed training in HBB+ can share their new knowledge and skills to their nurse colleagues and nursing students. This ripple effect can help to improve health care delivery today and strengthen the health system, and the future of Uganda, tomorrow.
Further reading
Intrahealth International Blog, "Investing in Health Workers Today Means More Lives Tomorrow" http://www.intrahealth.org/blog/investing-health-workers-today-means-more-lives-tomorrow#.VWYN7ItlxvB
90 day report
Helping babies breathe plus give Ugandan nurses skills during the first golden minute and beyond
September 3, 2014
Progress
Since being fully funded, we have been actively building the foundation upon which the Helping Babies Breathe (HBB) trainings will begin. Our efforts are in collaboration with Mbarara University of Science and Technology (MUST) in Uganda, Massachusetts General Hospital (MGH) and Healthy Child Uganda. At Mbarara University, we have received support from university leadership and stewardship by a faculty member and Helping Babies Breathe Master Trainer, to lead and oversee the project on the ground. Additionally, we are directly supporting the project through two volunteer nurse educators based at Mbarara University who will help train in neonatal resuscitation and maternal care alongside MUST faculty HBB trainers. Massachusetts General Hospital staff provide project support through budgeting and grants administration as well as Helping Babies Breathe training by a Master Trainer based at Mbarara University. Lastly, Healthy Child Uganda will be supporting our project through logistics coordination. Supplies have been purchased and delivered. Let the trainings begin!
Risks and challenges
We began planning only to learn from the Mbarara University project lead that Uganda had changed its Helping Babies Breathe training requirements to include an additional day and material on Essential Newborn Care (Helping Babies Breathe Plus). The extra training is evidence of Uganda's commitment to reduce infant mortality and includes education in breastfeeding, thermal protection, clean cord care, and early identification and management of infections and low birth weight. Factoring in the costs associated, we estimate that we can train 140 nurses comprehensively. However, nurses will complete the training in how to prevent newborn asphyxiation in the first Golden Minute, and promote newborn health thereafter. Importantly, these nurses will go on to train others.
Get personal
"The Helping Babies Breathe training is most important to health workers to help them acquire the skills to help babies breathe in the first Golden Minute. When we train, we are polishing our own skills and helping others learn. This way we are helping to contribute to reducing neonatal mortality from birth asphyxia" - Maternal Child Health Lecturer, Mbarara University Science and Technology University, Department of Nursing.
Next steps
Now that the foundation for the project has been built, we can proceed with implementation of the training. There will be several trainings, each with 20 nursing participants, that will occur over the remaining period of this project. We will be collecting feedback, photos and stories from the trainings to capture the incredible work of our training team and the nurses who will be utilizing and teaching their new skills on the front lines.
Budget
We have purchased supplies from Laerdal including simulation models, suction bulbs, facilitator sets and workbooks for a total of $1,515.
Line Items

Original budget

Amount spent so far

Teaching / facilitation

Simulation model and devices

Teaching materials including workbooks, facilitator sets

Venue, transport and access for attendees

$16,420

$2,950

$2,190

$8,440

0

$1,145

$370

0
More information
Seed Global Health's mission is focused on education and training with the belief that it empowers health providers both to provide care but also to be able to continue training. This investment is not only in those we train but in a future generation of providers who will be trained by them. Our goal is to improve health one nurse, one student, one patient at a time, until the population is covered.
Further reading
As we have just completed our planning phase we have not yet developed materials. We will be doing so soon.
Seed Global Health brings educators to Uganda, to teach nurses neonatal resuscitation techniques that radically improve the chance of newborn survival.
Why we care: Newborn babies represent almost 40% of estimated 9.7 million deaths of children under age 5 and nearly 60% of infant deaths globally.
How we're solving it: Sending nurse educators to the Mbarara School of Nursing in Uganda to train 200 nurses.

During a year at faculty—with in-country peers—the nurse educators will offer hands-on training on newborn care and resuscitation, both in the classroom and at the bedside. Mbarara nursing faculty partner in this simulation-based approach, teaching the initial steps of resuscitation in the first 10 minutes of a newborn's life. In addition, nurse educators will emphasize the assessment of every baby, temperature support, stimulation to breathe, and assisted ventilation as needed, all within "The Golden Minute" after birth.
Seed Global Health works to reduce the devastating global shortage of nurses and doctors and to reduce heartbreaking avoidable deaths. This partnership between Mbarara School of Nursing, Seed Global Health, the Mass General Hospital Center for Global Health, and Healthy Babies Uganda, helps prevent newborn deaths and disability for generations to come while reducing devastating global shortage of nurses. Nurses will be trained to deliver better care and also train future nurses, dramatically extending the impact of this investment.
Neonatal death is devastating emotionally and physically for any woman and should not be a cruel accident of geography. A training model that educates and empowers nurses to improve the lives and health of women through safer deliveries and child survival is a positive change for women, girls and communities.