1 year impact report
Thanks to your support, we gathered interested students from public high schools to train as Student Health Advocates.
Impact for girls & women
This is the number of girls who were part of the groups and benefited from the training.
Estimated girls & women affected
29
Broader impact
Each of the girls in the Student Health Advocates program shared knowledge, ideas, and attitudes with four other people.
Estimated community members affected
120
Students for sexual health
A year ago you supported our efforts to bring down the rate of unintended pregnancies among teenage girls in Puerto Princesa, Palawan, Philippines by contributing to our Student Health Advocates Training Program. With your help, we gathered interested students, both girls and boys, from the classes we were teaching in public high schools. We did this in two different high schools, meeting the students after class hours on their own campuses. Our goal was to train them to serve as peer advisors to their classmates and friends. We wanted to arm them with sound, scientific information on sexual health to counteract the misinformation they had been gaining from other sources. But first, we spent some time getting to know them and their concerns. Some of them shared stories of dysfunctional families or difficult problems with friends, but they were all eager to learn and be empowered by the idea of being able to help their friends!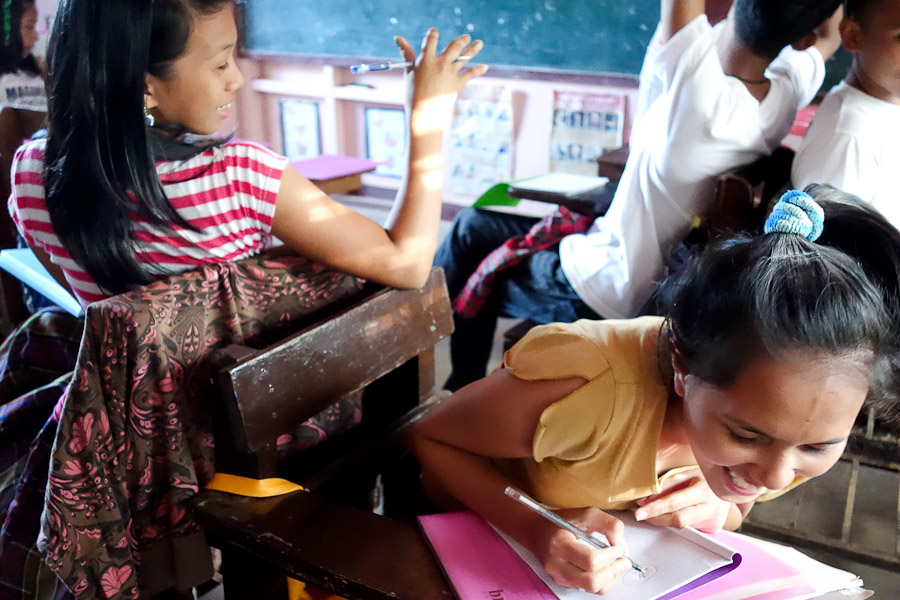 From within the larger groups of young people attending our gatherings, we selected a smaller core group of seniors at one school, and provided them with more extensive leadership and health advocate training. Both these seniors and the larger group with less training profited from our sessions and are now able to be better advisers to their friends and classmates. A new school year has just started and we will meet many of these same students in the coming weeks and months. We'll be providing more in-depth training to more individuals. Thanks for your support!
Get personal
Amie, one of our teachers, got to know the members of her Student Health Advocates group so well that she worried about them way beyond office hours. They knew she was only a text message away and she would counsel them at midnight if that was when she was needed! Many of the seniors invited her to their graduation last March, and she attended - even bringing high heels to the office for the occasion! She was so pleased to see one of the girls she had counseled receive her diploma – pregnant, but now a graduate!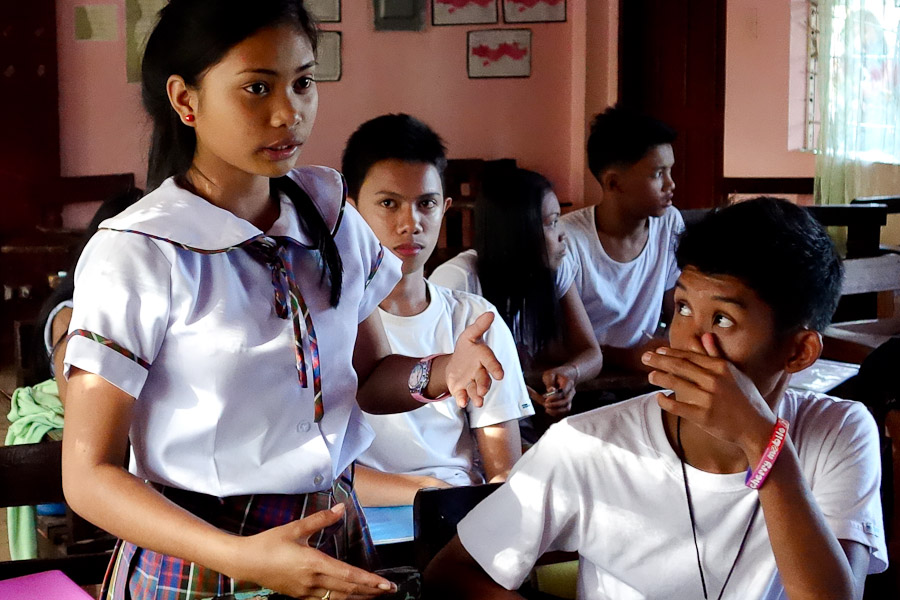 Risks and challenges
Our high school students have many demands on their time, and some are required by their parents to go directly home after school has ended. School officials too sometimes require students to do other things after or during school without prior notice and the students generally feel they have no choice other than to do as they have been told. There are also still some suspicions about any group that wants to teach sexual health to teenagers – sex is generally still considered a taboo topic. But the saving grace in this situation is always the students themselves, who meet us with eagerness and enthusiasm, and appreciate our attention so much!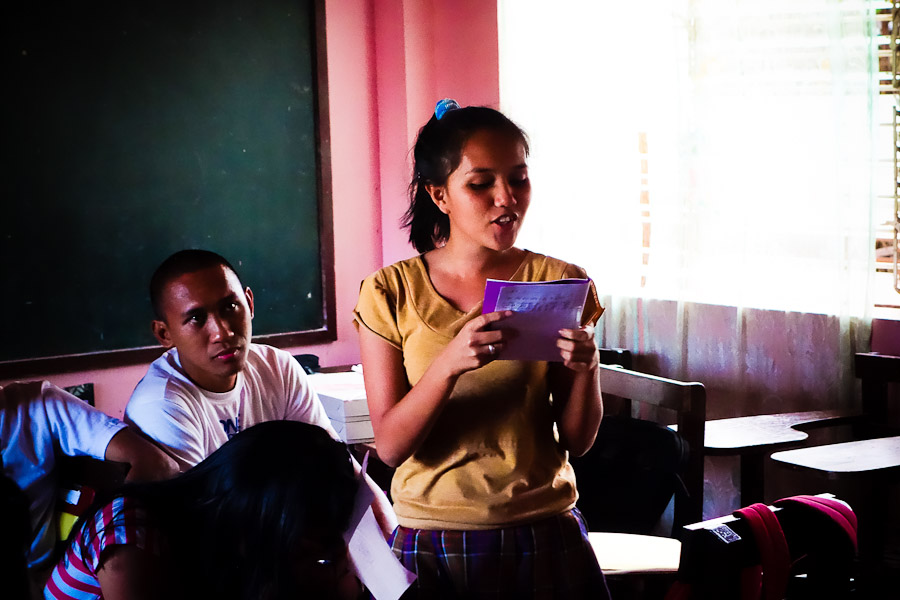 What we've learned
We've learned that our students live in a very complex world, in which they feel more pressures than we had imagined. Philippine society can be very conservative, and both Church and family weigh students down with conservative values. We are often surprised that they have such a paradoxical view towards many things. They will say they think premarital sex is wrong, but later tell us they are pregnant. Girls may dress in revealing clothes, but if we say boyfriends should NOT dictate what they wear, that they must make their own free decisions, they say no, they should do what their boyfriends want! We have learned that we can't make changes very quickly – but we can question, force them to think, and little by little see positive changes.
Next steps
Classes started about six weeks ago in the Philippines but we have already started gathering two groups of students in two different schools. We see that starting the programming early in the year will give us the time we need to lead these young people into good discussions and get to know them very well before starting the official more in-depth Student Health Advocate training. We plan to have a total of three groups this year.
Budget
Line Items

Projected budget

Amount spent so far

Administration

Equipment

Food

Incentives

Materials

Trainers

Transportation

Total

$90

$200

$120

$190

$240

$2,100

$40

$2,980

$85

$215

$150

$170

$255

$2,100

$45

$3,020
Further reading
For more information, please see rootsofhealth.org
90 Day Report
Empowering Youth for Improved Health
posted Jan 6, 2014 by Rati Bishnoi
Progress
Our teachers are now working with a pool of 50 students in two high schools. This is a new program, and the teachers have tried various methods to encourage students to join. They are now meeting these students in three different groups, and have been encouraging others to join. They have a Facebook page where activities, schedules, and even requests for advice are posted. They are also following a system similar to Girl Scout Badges – they get points for attending a certain number of meetings, encouraging friends to come, learning specific areas of the Reproductive Health curriculum, etc. When tasks are done, there are small rewards – badges, pens, tshirts, etc. In both schools, they are meeting on the school grounds to eliminate transportation costs and/or problems. First off, the students participated in an activity which involved discussing virtues such as honesty, intelligence, integrity, responsibility, and compassion: all desirable qualities of Student Health Advocates.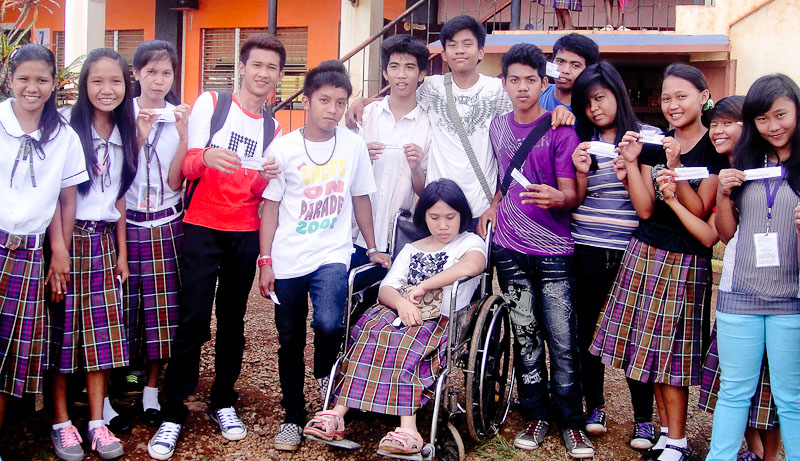 Risks and challenges
Students have many pressures on them: In Philippine culture they must defer to their families, and some are required to go home right after school and help in the house. The Philippines is very bureaucratic and school officials may resist letting us invite students to join us outside of class, for fear of bureaucratic disapproval, parental suspicions, or the anger of a religious group. Although the Philippines has a very high rate of unintended teenage pregnancies, there is a lot of reliance on abstinence-only education. One way we have worked to get around bureaucratic disapproval is to present our case directly to the Department of Education and get official approval to continue this programming.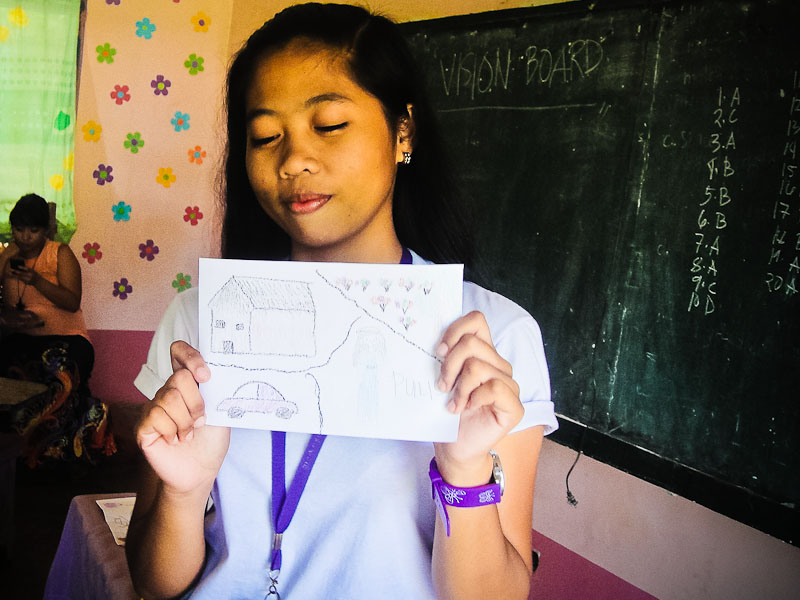 Get personal
Our teachers have noticed that the students who are most open and vulnerable in class are often the ones who opt to join the program. One boy in particular who brought tears to the eyes of teachers and fellow students when he spoke about the criticism he absorbed for being gay is one of our most avid participants. Teachers are happy to have students with all varieties of sexual orientation included in the group, so that they can learn about each other's points of view and gain understanding.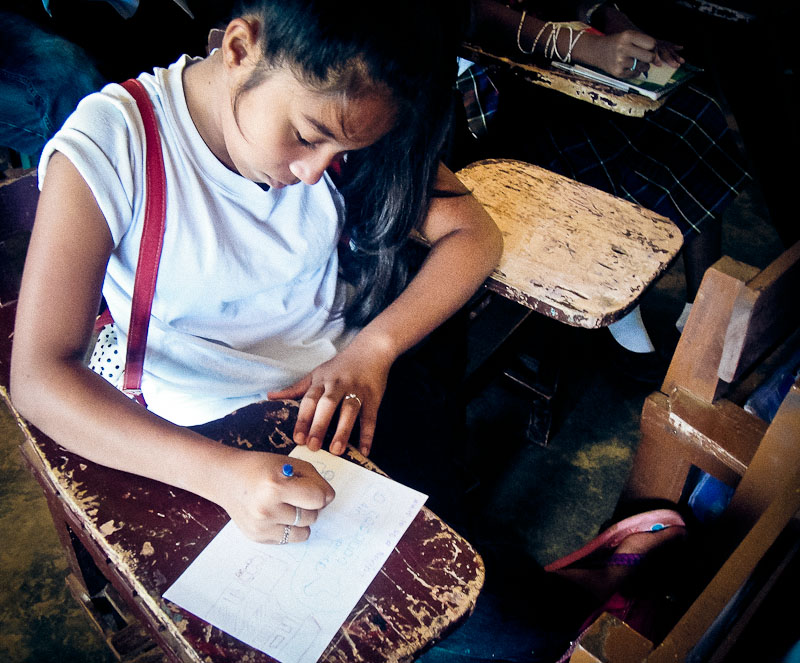 Next steps
Teachers will continue working with the students from the two schools, continuing their reproductive health education, and encouraging them to spread the word of the value of healthy sexual health and behaviors to their classmates. When we begin classroom sessions in other schools, the teachers will set up SHA programs in those schools as well. We hope to encourage the original SHA participants to motivate new membership among younger students so that the program will be on-going.
Budget
$2,980
Line Items
Original budget
Amount spent so far

Administration

Equipment

Food

Incentives

Materials

Trainers

Transportation

Total

$90

$200

$120

$190

$240

$2,100

$40

$2,980

$23

$50

$26

$0

$1

$525

$3

$628
Student Health Advocates provide their peers with trusted information in reproductive health, as well as life skills, to guide them through the difficult times they face in their adolescence.
Why we care: In addition to all the other worries high school students have to face, girls in Palawan are often forced to drop out of school due the alarming number of unplanned pregnancies.
How we're solving this: Roots of Health recruits and trains Student Health Advocates to be peer resources and to promote knowledge in reproductive health, as well as life skills, such as standing up to peer pressure, identifying risky behaviors, and engaging in healthier and more positive decision-making.
Am I popular? Could I be gay? Does my partner love me? Am I normal? Could I be pregnant? Do I have a STI?
There are so many things to worry about in high school! Things you can't tell your parents – boys, girls, pimples, strange feelings, peer pressure and fitting in.
An added concern is an unplanned teenage pregnancy – which forces young girls to drop out of school and happens alarmingly often in our community in Palawan, the Philippines. We provide reproductive health and relationship classes and basic information on health to high school students, between the ages of 12-16 years old. In the classroom setting, students feel shy tend to open up less about their concerns. Instead, we encourage and foster small groups and conversations with their peers to help these teenagers speak more freely.
In order to better support these young people, we have designed a Student Health Advocate program for the high schools we work in. Our staff and the teachers at the schools will identify interested students, and in turn we will provide in-depth training on health information as well as life skills, such as standing up to peer pressure, identifying risky behaviors, and engaging in healthier and more positive decision-making.
In training several young people and providing them with information, including how to access health services, we will be providing the students with trusted sources of information within their peer groups. In addition to supporting their friends, these Student Health Advocates will be able to advise other young people on when they should see a doctor, go to the Roots of Health office, or seek other professional help.
Your support can help young people in Palawan to have the support they need to stay healthy and in school, ensuring brighter futures.