1 year impact report
"Being able to see my daughter and her peers group grow into young ladies who believe in themselves is priceless."
Impact for girls & women
This is the number of girls who participated in our sports-based leadership development program.
Estimated girls & women affected
30
Broader impact
This is the number of teammates who participated with these 30 girls and the many volunteer coaches and event leaders that helped shape the girls' experience.
Estimated community members affected
100+
Soaring into leadership: The power of sports and girls!
Thank you! With your donation just one year ago, you said "Yes!" to the transformational power of sports in girls' lives. Our shared goal was to reach 30 girls, offering them the life-changing experience with some of Seattle's most innovative sports-based leadership development programming. We are happy to report this project was an incredible success. AGE UP, Girls on the Run, Skate Like a Girl and Somali Youth & Family Club were our partners in this work. Each of them provided distinct programming to reach girls in key areas of their personal growth. Over the past year, AGE UP grew its unique approach, engaging both boys and girls, so that boys become better champions for girls' leadership. Girls on the Run grew its programming to new sites hosting over a hundred teams of girls. All of our partners reached girls who otherwise wouldn't have the opportunity to participate in programs like these.
Even better, these four partners and other girl-serving organizations have come together over the past year. We have been inspired by local leaders who have stepped up to provide forums for the girls to come together and for staff to network and share ideas, resources, and best practices. There was a State of the Girl Summit hosted by another local partner, Girl Scouts of Western WA, and our local women's basketball team, The Seattle Storm, hosted a cross-collaboration bringing together girls from these and other programs to engage in active, sports-based leadership development.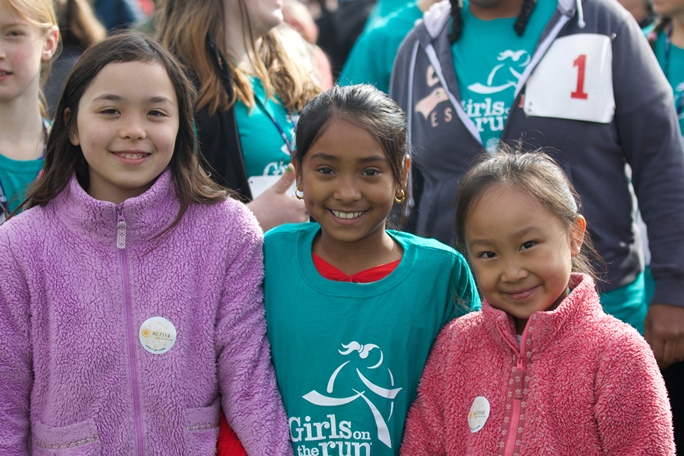 Get personal
"Being able to see my daughter and her peers group grow into young ladies who believe in themselves is priceless. I cannot express the joy I felt listening to my daughter tell me about her next goal of playing basketball. Hearing the confidence in her voice empowered me to be a better running buddy. Thank you for all your program does...On behalf of the running buddies, mothers, and girls everywhere, Girls on the Run is so much fun!" –Parent and Volunteer
Risks and challenges
It is a constant challenge for our partner programs to balance sustaining themselves and growing, both in terms of quality and the number of girls served. Some of them are primarily volunteer lead, so having smart strategies and capacity to serve girls well, while also evaluating impact and engaging in fundraising, is a challenge. Keeping large volunteer bases engaged is a key to the success of these programs, and it means a continual cycle of team recruitment and training.
What we've learned
If we were to do this project over again, we might leverage the Catapult support with an external matching component. We might also build the project around unique, one-time needs or areas of growth for our partners –which would perhaps draw additional donors and increase overall support for the project.
Next steps
While this project itself was successfully completed, each of our partners continue to shine and serve girls across the greater Seattle area. Women's Funding Alliance continues to help connect these partners with resources and funding, sometimes through our own granting program, as well as through external individual and institutional resources. Some of our partners, Girls on the Run for example, have posted their own projects on Catapult over the past year!
Budget
| | | |
| --- | --- | --- |
| Line Items | Projected budget | Amount spent so far |
| $3,750 = 30 girls' participation in these programs $1,250 = Costs to put on summer soccer program for Somali Girls | $5,000 | $5,000 |
90 Day Report
One girl. One practice. One leader at a time
Progress
We are excited to announce that these four sport based programs are in action and the fall season is up and running! Girls on the Run is preparing for their winter 5K run where 10 weeks of programs exploring leadership, self-efficacy and health culminate to girls crossing their very first finish line. Another highlight is the unique approach AGE UP has taken to engaging boys in their mission to empower girls as leaders. In this innovative approach, they position girls as leaders for boys during sessions created to shine a spotlight on what's possible when girls and boys stand together for all girls.
Risks and challenges
A challenge for our partners is all about pacing growth. With their innovative approaches, sometimes growing quickly can be challenging - sourcing enough volunteers and partners to keep up even as they grow. Locally, there are many girls not being served by programs like these and funding sources can be limited. This is why your support is especially important and appreciated!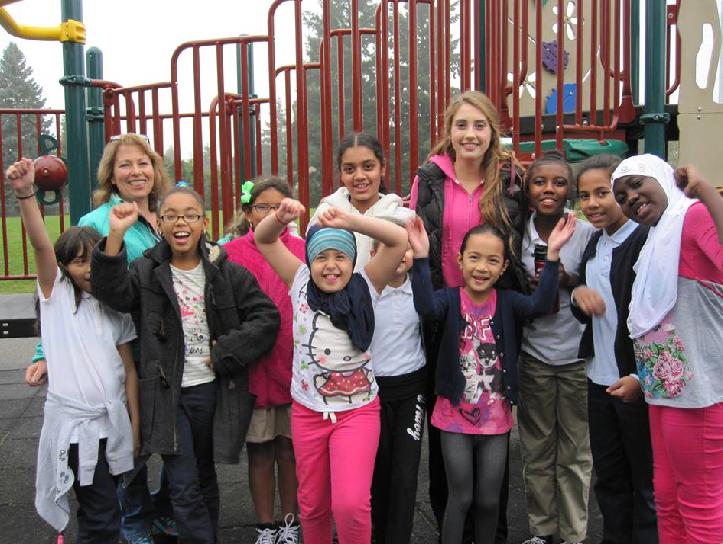 Get personal
"She said that sometimes she doesn't believe that words like beautiful and smart apply to her, but she realized after hearing her teammates say them that they might really be true." - Girls on the Run
Next steps
Next actions and activities will center around: effectively serving more girls, sustaining newly funded staff positions and building deeper connections among girl-serving organizations.
Help four programs in Washington State build opportunities for girls to be healthy, happy and successful.
Why we care: Participating in sports is not only important to a girl's physical and mental well-being, it also develops critical leadership skills for a promising future.
How we are solving this: Women's Funding Alliance is helping 30 girls participate in leadership-based athletic programs and seeding the costs of a new summer soccer program. The positive impact of girls participating in sports has been documented; including improved health, better body image and elevated careers.
We know that across the United States fewer girls participate in sports than boys. As they enter high school, the rates for athletic participation plummets. Further, not all girls have equal access to resources to participate. Supplies, transportation, and even coaches can be costly, creating additional barriers. We are not okay with that!
Women's Funding Alliance is collaborating with four organizations--AGE UP, Girls on the Run of Puget Sound, Skate Like a Girl, and Somali Youth & Family Club--dedicated to building leadership through physical activity and sports. Each program offers a unique athletic opportunity ranging from running, skateboarding, soccer, to Ultimate Frisbee. Each program offers an innovative approach to inspiring self-esteem, leadership, and the confidence to make a difference.
By funding this collaborative effort you will expand the reach of these programs. Your investment ensures more girls have the opportunity to participate, reach their full potential, and change our world.
Women's Funding Alliance has a long standing reputation in Washington State as a philanthropic leader. For 30 years, Women's Funding Alliance has maximized investments through community partnerships. Leveraging the newest philanthropic tools and resources, Women's Funding Alliance moves the needle further faster on the issues that matter most to women and girls.
For every dollar donated to reaching the project goal, Women's Funding Alliance will match one to one—doubling the impact of your gift and supporting a total of 60 girls participation in these programs!