Women and girls text their way to literacy!
posted Nov 11, 2013 by Marie D'Angelo
Progress
This is the final update, there is no one-year progress report.
The Afghan Institute of Learning (AIL) has always been innovative it is approach and adaptive to changes in the learning environment. AIL provides literacy training to thousands of women and girls each year and as an adjunct to its literacy curriculum started using mobile phones and texting to accelerate literacy acquisition. These classes have been hugely popular and effective, with students advancing to higher grades in a much shorter than usual time frame. The girls love texting and often send many more texts than required by the teacher. Through Catapult, AIL has funding for 21 mobile literacy classes. So far AIL has started five new mobile literacy classes at 5 of its Learning Centers in Herat Province for 175 students.
Risks and challenges
AIL staff have not reported any problems with the project. Two of the centers were offering mobile literacy for the first time, and as with any new project, the staff was careful to fully explain the purpose of the class and how it would run. This helped to get parents on board with the idea of having their teen girls using mobile phones and overcome any parental reservations about appropriateness.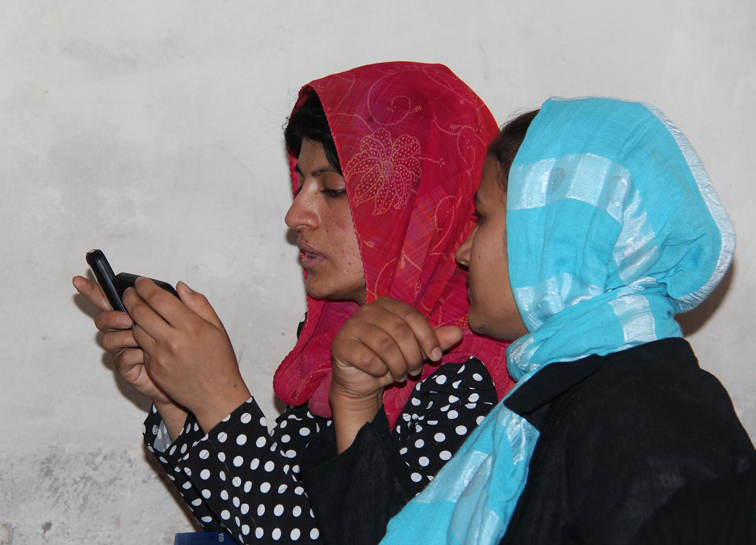 Get personal
All the participants are grateful to be in the mobile literacy class as it is fun–what teen does not like texting? They also know that practice makes perfect and that applies to literacy too, and they will advance in literacy class more quickly with this tool.
One participant said, "My name is Adela. I am 22 years old. In this class, I learned to compose health, social, moral and entertainment messages. Before coming to this class I didn't imagine I would be able to read and write once, but AIL proved to me that believing in one's abilities is the key to success and achievement. It is a thing of pride for my family and me that I can read and write. My father owns a small shop, but he is uneducated. At night when he is home, I help him with accounting and recording goods he buys and sells. I am very happy with my friends then because I own a cell phone and I can use all the options on it. At the end, I want to thank AIL for giving me this great chance to change my life in four months."
Next steps
AIL will continue to offer Mobile Literacy classes as they have proved effective in accelerating literacy and fun for students keeping them engaged in learning. AIL will continue with this work so long as the communities want this sort of educational offering.
Additional resources
Huffington Post: Literacy and Networking for Afghan Women Through Texting
Using phones and texting to accelerate literacy for Afghan girls and women.
Why we care: The literacy rate of Afghan women is 12.6%, one of the lowest in the world.
How we're solving this: Launching an innovative, 5-month mobile literacy program for women and adolescent girls in learning centers in Herat Province.
The literacy rate of Afghan women is one of the lowest in the world, 12.6%. With this in mind, the Afghan Institute of Learning, an Afghan women's non-governmental organization founded in 1995 by Dr. Sakena Yacoobi, is always searching for new ways to teach women and girls to read - and to teach them quickly.
In late 2011, the Afghan Institute of Learning launched an innovative, 5-month mobile literacy program for women and adolescent girls in two learning centers in Herat Province. In the first month, the students learned the Dari alphabet. The students were then given a cell phone and taught to use it. The teachers texted questions to the girls, who were to text back the answers in addition to writing them down in a notebook.
The phones were used to reinforce everything the girls were learning in class using the regular literacy textbooks, while giving them an incentive to practice reading and writing on their own. Completion of one level of Afghan Institute of Learning's literacy course generally takes about nine months, but using the new technology to reinforce the coursework, 83% of the women were able to test into the third level of literacy courses after only five months.
The Afghan Institute of Learning has had many requests for the class and is looking to expand this successful program. One class costs $8,000 or $267 per student. We invite you to invest in accelerating the rate at which 30 Afghan women and girls learn to read and write by donating to this project.