1 year impact report
"We the women of Mukula village in Gayaza Sub County are so happy that we now benefit from ARUWE programs since they can now reach our area with its van."
Impact for girls & women
This data is still being collected, and will be added to the project as soon as possible.
Estimated girls & women affected
?
Broader impact
This data is still being collected, and will be added to the project as soon as possible.
Estimated community members affected
?
Increasing skills and knowledge in rural communities
Thanks to your support, we were successful in obtaining a field van. This allowed us to improve our work with the community and implement activities such as community trainings, mobile community health clinics, and transporting the sick to health facilities in case of emergencies. The van enhanced our ability to get staff out into the field and improved our delivery of services to rural and remote communities. Previously, there would be delays and sometimes failure of staff to reach certain areas. Now we are able to increase the number of trainings and the number of communities we reach, thus increasing women's rights awareness, education, and work-force training in our region. Recently our trainings have focused on: food security, nutrition, income generation, rights awareness, leadership education, health promotion, environment protection, and water, sanitation, and hygiene.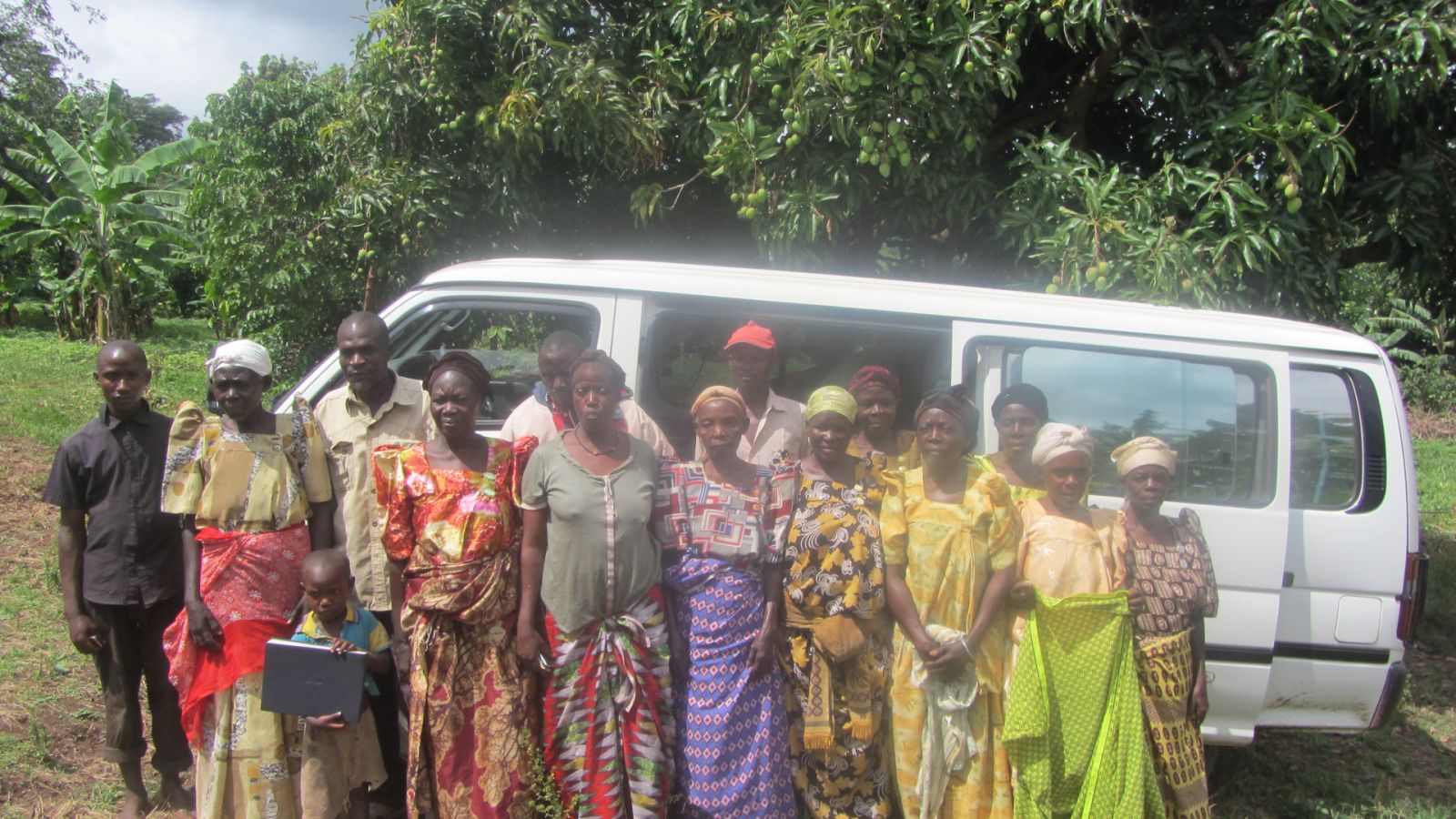 Get personal
Mrs. Mukasa, the leader of Mukula women's group says, "We the women of Mukula village in Gayaza Sub County are so happy that we now benefit from ARUWE programs since they can now reach our area with its van. Given the remoteness of our area, we could not receive the support we needed especially in our agricultural work through trainings and monitoring visits. We have been continually empowered through the knowledge and skills in agriculture and our yields are even increasing".
Risks and challenges
Unfortunately there was a high increase in fuel prices, which we did not anticipate. This negatively affected out internal budgeting of activities.
What we've learned
We learned that it was important to work with funders to implement projects that have multiple levels of benefits. By working with Catapult and the Global Fund for Women, we were able to acquire a van that not only helped us reach more vulnerable community members, but also helped us build our organizational capacity.
Next steps
We are working to expand our services to promote greater community empowerment by increasing rights awareness and hood governance. We hope that our communities start to demand more social services and accountability from local governments.
Budget
Line Items

Projected budget

Amount spent so far

12-seater mini bus

Supplies

Car log book

Other expenses (bank services, transportation, etc.)

$15,510

$0

$0

$0

$14,105

$1,250

$140

$45
On the road again!
Progress
ARUWE used the funds to purchase a field van. The new vehicle has eased the staff movements to the field and it has improved their efficiency and delivery of services to the target communities given the poor state of the road infrastructure and the remoteness of the target communities. As a result, there is now timely delivery of our community services that include trainings for women groups. Majority of the trainings during the recent past have focused on ARUWE operation areas including food security, nutrition and income generation, right awareness and leadership education, Water, sanitation and hygiene in households and health promotion campaigns.
Risks and challenges
Rural poverty is more eminent and it is increasingly becoming so difficult for the rural poor especially women to fulfill their basic needs. Currently, ARUWE is meeting less than 10% of the requests to support women both for agricultural services and access to financial services. Some community beneficiaries do not know how to read and write records keeping for their farms and small businesses. During this year, Uganda's inflation went up to 28% from less than 12% at that time of the project write-up. There was a high increase in fuel prices and this affected a lot on internal budgeting of activities. It has been a difficult financial management year.
Next steps
ARUWE would want to improve its community development programming by implementing what is now termed as sustainable Model Villages. This is a holistic approach to household and community interventions. It is envisaged that if all aspects of basic individual and households needs are addressed in a more sustainable way with potential to expand to other potential beneficiaries, a model home and village can be achieved.
Budget
ARUWE received funding of $ 15,510 which was used to purchase a vehicle Toyota Hiace 2006.
ARUWE has had to cancel vital trainings held in rural communities because their minibus has broken down.
Why we care: Many women in rural Uganda struggle to grow enough food and lack training on strategies to improve their quality of life.
How we're solving this: ARUWE's trainings help provide women agricultural training to earn their livelihoods and support themselves and their families.
"Before the project, my family used to have only one meal. I was so amazed by the bountiful harvest of maize I got with the support of ARUWE through trainings and acquisition of better seed varieties. I am now able to feed my family with two meals a day and vegetables to balance our diet. I can't say enough to express my gratitude..."
–Veronica, ARUWE beneficiary
Florence Nakazibwe is 56 years old and lives in Mulagi, 100 miles away from the nearest city. For 54 years, Florence lived on less than $1 a day, like thirty-eight percent of her fellow citizens. Two years ago, Action for Rural Women's Empowerment (ARUWE) arrived in her village and set up a learning center where she acquired a loan, bought maize and bean seeds, and learned about sustainable agricultural practices that enabled her to always have enough food to feed her family, while also earning a profit from her crops. With ARUWE's support, Florence saved $400 and is now constructing a new house for herself and her five grandchildren!
ARUWE travels those 100 miles to hard-to-reach villages like Florence's to work with women and girls who spend their entire lives working the land to provide food for their families and obtain income by selling what remains. The majority of the women ARUWE is working with have limited formal education, and they are dependent on this work to support their families. ARUWE has worked side-by-side with these women to:
Form five women farmers' groups

Train over 200 women on improved agricultural practices

Integrate gender-based violence awareness into high school education, training 162 girls over five sessions

Increase access to clean water for 600 people

Conduct hygiene and sanitation trainings at five schools and 200 households
ARUWE has proven that by providing women with the right resources, women themselves will end the cycle of poverty that engulfs them and become successful farmers, breadwinners in the family, and leaders in their communities.
ARUWE's critical trainings have been possible because of one thing: a small minibus. ​ARUWE staff need reliable transportation to cover long distances and difficult roads to reach rural communities. ARUWE's minibus has not only been the means to attaining critical training and income for the women ARUWE works with; it is their lifeline. ARUWE transported 88 women and children to hospitals saving their lives in emergencies. It now faces a huge crisis because its 1996 minibus has broken down and is irreparable. ARUWE has had to cancel vital trainings held in rural communities. In the meantime, ARUWE has hired a minibus and driver, costing this small organization three times as much as the cost of owning a vehicle.
Our staff cannot reach the beneficiaries that we seek to assist. We have to cancel critical trainings, and cannot provide assistance to sick women in accessing healthcare because we do not have reliable transportation. (ARUWE staff member)
With your help, ARUWE will:
Provide more women farmers with knowledge and skills in sustainable agriculture practices

Develop community model farms

Increase the capacities of local agricultural trainers

Increase farm yields and family incomes from agriculture

Increase household food security, nutrition, and family income

Assist women farmers to initiate new income generating activities