1 year impact report
"Emily was delighted when our Vertical Gardens Coordinator installed a vertical garden for her and her family. Now, she is growing bok choy and other greens, which provide a nutritious addition to the meals she serves her family."
Impact for girls & women
We provided vertical gardens to 41 women within Magsasaka proper and installed another 9 vertical gardens just outside Magsasaka community limits, helping a total of 50 women provide fresh vegetables to their families.
Estimated girls & women affected
50
Broader impact
The 50 women who received vertical gardens have families who are directly impacted by their ability to cultivate fresh and nutritious vegetables. We multiplied 50 women with an average family size of five to get to 250.
Estimated community members affected
250
Vertical veggies for Magsasaka mamas
One year ago, you provided support for the creation of 50 vertical gardens in the community of Magsasaka, Philippines. Since then, we have widened the catchment area in which we installed these vertical gardens. In Magsasaka proper, we provided 41 women with vertical gardens, and we installed another nine vertical gardens just outside that community. Over the last year, these gardens have allowed the women of Magsasaka to grow their own fresh greens and other nutritious vegetables. Despite the mountainous terrain of Magsasaka, with house lots that do not have enough space for traditional gardens, the vertical gardens are helping women in Magsasaka effectively grow greens and vegetables to feed their families. Now, these women are feeding their families healthy and nourishing food, and are even able to share the surpluses with their extended relatives, neighbors, and friends.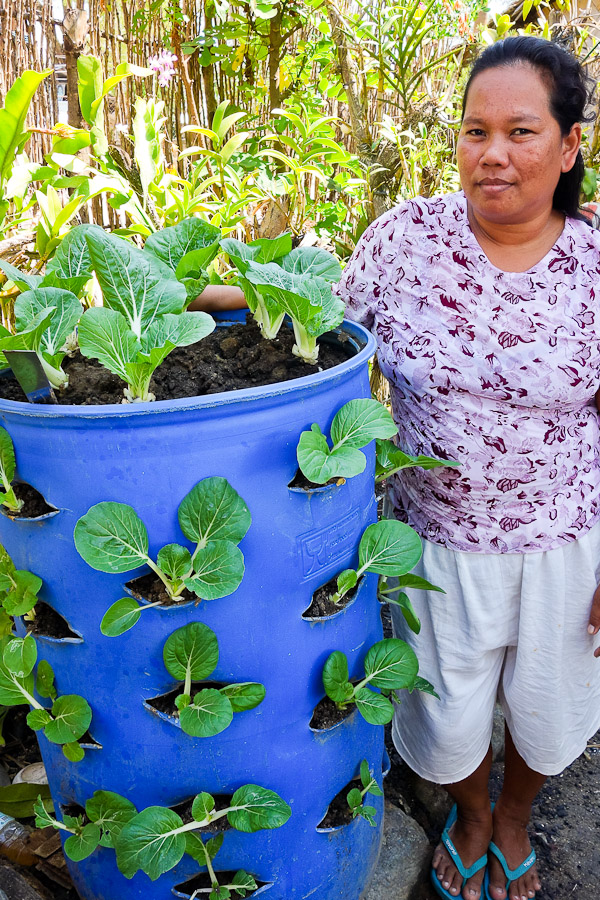 Get personal
Emily's family lives on a tiny plot of land that slopes downward, making planting a traditional garden nearly impossible. Emily was delighted when our Vertical Gardens Coordinator installed a vertical garden for her and her family. Now, she is growing bok choy and other greens, which provide a nutritious addition to the meals she serves her family. At first, her children did not want to eat the "green stuff," but now they love munching the greens that are growing in the vertical garden!
Risks and challenges
All gardens need certain things to grow well – enough water, sunshine, nutrients in the soil. When we install the vertical gardens, we provide soil that is mixed with compost to ensure it will be a rich environment in which the plants can grow. In addition, our vertical gardens are designed to maximize water retention. We have discovered, however, that sometimes the gardens become less productive due to dry soil. We recognize that especially during the hotter months, keeping the garden adequately watered is hard, and we are working closely with the owners of the vertical gardens to tackle these issues. Our Vertical Garden Coordinator visits Magsasaka often to provide advice and implement solutions to the problems that arise.
What we've learned
This past summer has been fiercely hot, and the soil has been dry and unyielding. The women in our communities are noticing that the soil in their vertical gardens seems to be exhausted, as recent yields have somewhat diminished. When the summer season is upon us, we have learned that it is important to implement sustainable solutions to keep the soil in the vertical gardens from becoming depleted of nutrients, as it is not feasible for us to continually purchase mass quantities of compost. In May, we started teaching our Community Health Advocates to grow worms, which will produce vermi-compost (compost from worm poop). This solution will help women sustain their gardens, preventing decreased yields during the unforgiving summer heat.
Next steps
We're thrilled that the Catapult community just funded our continuation project to roll out our vermi-compost training to all our clients. After their training, we'll continue to provide maintenance support to the garden owners. Every few weeks, our Vertical Garden Coordinator visits the women in Magsasaka to check-in and address any concerns. We will continue this oversight to ensure that the vertical gardens continue to yield fresh and nutritious vegetables for the families of Magsasaka.
Budget
Line Items

Projected budget

Amount spent so far

Compost

Drums

Labor

Materials

Soil

Soil Amendments

Transportation

Total

$115

$1,125

$250

$35

$360

$60

$170

$2,115

$131

$1,060

$278

$27

$390

$69

$185

$2,138
Further reading
Please see rootsofhealth.org for additional information.
Magsasaka goes vertical
posted Jan 6, 2014 by Rati Bishnoi
Progress
We are very happy to announce that we have already set up 33 of the 50 Vertical Gardens that we proposed for this year. The women in Magsasaka have been very excited by the gardens as most of them live on very small pieces of land -- the average lot is 1,000 square feet. The gardens have allowed them to grow more food than they would have otherwise so they've been very well received.
Risks and challenges
The biggest challenge so far has been making the gardens fast enough for the number of women that have ordered them. It takes about two hours to complete a garden and our Vertical Garden Coordinator has been very busy constructing them. Another challenge is finding good suppliers of seeds. The better quality seeds on sale are hybrid, which produce good yields. The drawback of hybrid seeds is that women cannot save their seeds for the next harvest because the plants will not be remotely uniform. We are trying to find open pollinated seeds or at least cheaper hybrid seeds to improve the sustainability of the project.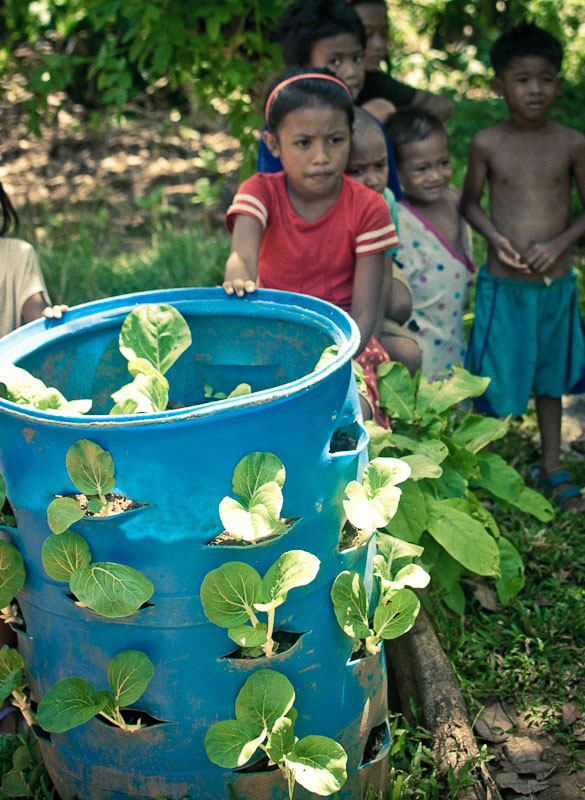 Get personal
Jennifer used to plant vegetables in the shell of a discarded refrigerator. The space was limited. Soil fertility and lack of drainage was a problem. With her new vertical garden though she is astounded at how big and leafy her bokchoy is. She is now producing more than she can eat, so she has started a business selling excess greens to her neighbors.
Next steps
There are still more women in Magsasaka who have ordered the gardens, so we plan to keep constructing and distributing them in the coming weeks and months.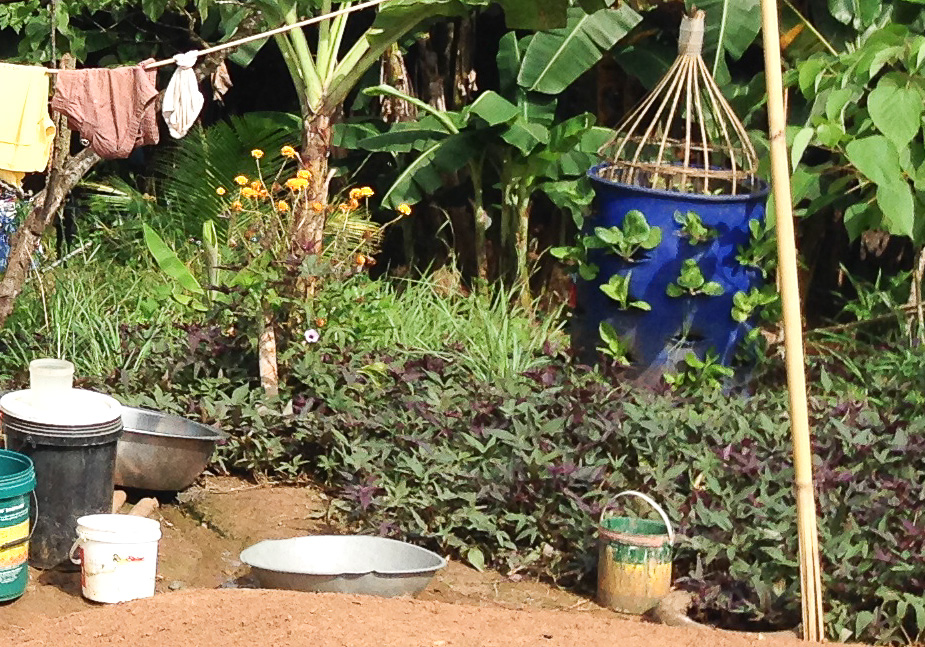 Budget
$2,115
Line Items
Original budget
Amount spent so far

Drums

Soil amendments

Soil

Compost

Materials

Labor

Transportation

Total

$1,125

$60

$360

$115

$35

$250

$170

$2,115

$677

$42

$84

$79

$11

$165

$108

$1,166
Vertical Gardens help boost the health of families who don't always have enough money to buy nutritious food.
Why we care: The majority of families subsist on shells that they collect in the nearby mangrove areas. Many can only afford luxuries such as fruit once a week.
How we're solving it: Providing Vertical Gardens so our clients can grow vegetables for their consumption--some enterprising women have even used their gardens for extra income.
Palawan is a beautiful island on the western side of the Philippines, but many people there are hungry, and many more do not eat very nutritious food, nor give optimal diets to their growing children.
But five communities in and around Puerto Princesa, Palawan, are already dotted with tubular blue storage drums overflowing with green leaves. The drums have a series of moon shaped openings in them, and they are filled with an incredibly rich mixture of soil and compost, but need little water (always scarce in these communities) – but families with one of these vertical gardens eat fresh and healthy vegetables regularly.
Vertical Gardens are recycled containers into which we make holes on the sides for plants to grow through, but that don't allow the soil to fall out. We fill the Gardens with soil mixed with compost, carbonized rice hull, bat guano and rock mineral mix to increase fertility and encourage healthy plants without the use of chemical fertilizers or pesticides. The Vertical Gardens take up less space than conventional gardens, and allow women to grow vegetables even when they live in crowded conditions with no green space. With these gardens, our clients can grow vegetables for their consumption, and some enterprising women have even used their gardens for extra income.
Now we want to share the Vertical Gardens with the people in our newest community, Magsasaka. This village is up in the mountains, and the houses hold tight to the downward slopes; few have space for full gardens. But the vertical gardens can go anywhere, will fit on one square meter of land. When we teach nutrition, we put up a garden in a public space, fill it with soil, and demonstrate its use. Then we are overwhelmed with orders, and we make and deliver and install as fast as we can.
Help us help the people in this mountain community to grow and eat fresh, nutritious vegetables!