1 year impact report
"We were fooled in the past by conservatives who placed religion as an obstacle to our participation in the community. Now that we know our rights and the laws that protect us, we will put an end to this discrimination."
Impact for girls & women
This data is still being collected, and will be added to the project as soon as possible.
Estimated girls & women affected
?
Broader impact
This data is still being collected, and will be added to the project as soon as possible.
Estimated community members affected
?
Building women leadership
Thanks to your support, ASFED was able to promote the political participation of women in Mauritania. For the past year, we have:
Conducted several awareness workshops with local leaders on the importance of the project
Led workshops on effective advocacy techniques in the capital, Nouakchott, which included many participants from outlying rural areas
Conducted training sessions for female potential candidates from several regions
Organized conferences and debates with women leaders, community and religious leaders, and women's groups on topics related to women's rights under the personal status code and other constitutional articles
Led discussions on the high rates of school dropouts, as well as female genital mutilation and the need to advocate for the abandonment of these practices.
Members of the community, particularly women leaders and opinion leaders, were made aware of the country's commitment toward Millennium Development Goals by 2015. Women have realized that there are laws that protect them and guarantee their rights in health, political participation, etc. Recently, we have witnessed a real surge in the democratic presence of women and all peaceful means were used to assert the rights of women. Moving forward, we must continue these advocacy efforts to achieve legislative reforms to adopt a law that establishes the quota of 33% women's participation as an intermediate step in order to achieve parity.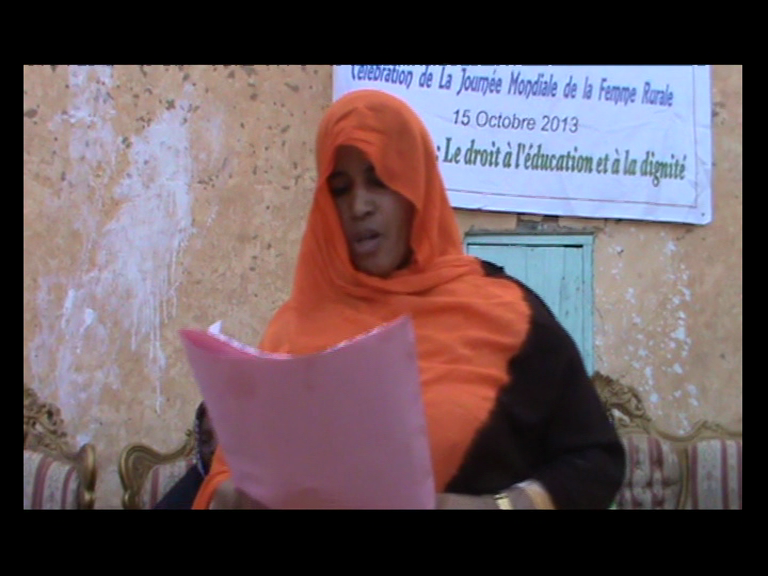 Get personal
One of our female participants said, "We were fooled in the past by conservatives who placed religion as an obstacle to our participation in the community. Now that we know our rights and the laws that protect us, we will put an end to this discrimination. We have decided to reclaim our rights and will no longer accept that others speak and act on our behalf."
Risks and challenges
Negative attitudes toward women's political participation posed a challenge, but we are pleased to say that these attitudes have changed thanks to our efforts. The communities where the project was held showed an increase in women's participation as well as women who were elected into leadership positions in local commissions or municipal offices.
What we've learned
We learned that it is important to focus on capacity building of women leaders on gender issues.
Budget
Line Items

Projected budget

Amount spent so far

Staff

Facilities maintenance

Equipment

Educational materials

Workshops/Training

Transportation

Conferences/Meetings

Media coverage

Phone/internet

Monitoring & Evaluation

$1,500

$0

$0

$1,000

$7,000

$0

$3,000

$3,000

$0

$1,500

$1,200

$0

$2,600

$1,700

$7,000

$2,400

$1,400

$200

$100

$0
90 Day Report
60 new advocates and a renovated health station
Progress
We prepared awareness materials and training tools (banners, posters, training manuals, brochures). We organized several workshops on effective advocacy techniques simultaneously in Nouakchott as some of the internal, rural areas are in accessible during the winter season. More than 60 participants from the internal regions and Nouakchott itself benefited from these workshops. We began some renovation work on the Health Station built in 2003 to connect it to water networks and electricity as well as repair the tiling and the fencing.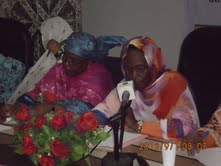 Risks and challenges
The first challenge is to change the negative ideas associated with women's political participation. The second challenge is to be able to reach the beneficiaries before the municipal and legislative elections scheduled at the end of November 2013.
Get personal
Participant: Thanks to these awareness campaigns and training workshops, we are able to become candidates even if we are illiterate.
Next steps
Organizing conferences / debates and training of potential women candidates in target sites and followup activities.
Women's voices and perspectives are scarcely heard in decision-making spaces, even within their communities.
Why we care: Women are underrepresented in politics in Mauritania, and rural women are not aware that they have the right and power to vote and run for office.
How we're solving this: Training rural women to lift up their voices, know their rights, and run for national and local offices.
In Mauritania, women hold only 19 percent of National Assembly seats and 17 percent of Senate seats. Women's voices and perspectives are scarcely heard in decision-making spaces, even within their communities. Due to isolation, discrimination, and fewer opportunities, rural women have difficulty accessing information about how they can become involved in the affairs of their communities and nation. However, opportunities are in sight: Mauritania will hold legislative and municipal elections this September 2013 and women are determined to be included.
Assistance aux Femmes et Enfants en Difficulté, or Assistance to Women and Children at Risk (AEFD), was ranked as the number one non-governmental organization in Mauritania for advancing women's political rights last year. AEFD works closely with the national government to successfully develop awareness and advocacy campaigns aimed to bring more women into politics.
Now with increased momentum, AEFD will educate 1,000 underprivileged rural women and their communities (Nouadhibou, Aleg, Boghé, and Kaédi) on the need for more women to run for political office and vote for candidates that will uplift their voices and rights. Women who show exceptional motivation and leadership will participate in four workshops on public affairs management, political communication skills, and developing advocacy campaigns. These women will have the opportunity to run for local offices and ultimately prioritize a political agenda that bolsters women's rights.
Many other women participants will take part in two workshops and discuss strategies for ensuring that more women take on decision-making positions. Women will also learn about legislation and international treaties ratified by Mauritania that hold the government accountable for enforcing women's rights. Alongside trainings, AEFD will organize public debates and conferences with local elected officials and community and religious leaders to mobilize support for women candidates.