1 year impact report
"Thanks for a great job to stop sexist ads. I turn 18 in November and have been struggling with anxiety and self-hatred all my life. It doesn't get better by me and millions of other girls being force-fed with images of how a woman should look and be for achieving so-called perfection. So thank you!" – Woman, 17 yrs old

"When I saw the campaign, I realized that I'm not the only one affected by advertising and who feel bad about myself. Everyone should join the campaign!" – Woman, 15 yrs old

Impact for girls & women
78 % of the 12 000 people who have joined our campaign and movement #Reklamera via Facebook and Instagram are women. Most of them are between 18-34 years old, but we have supporters in all age groups and from all over Sweden. 6 500 people visited our webpage about the campaign during the year. According to Google Analytics, half of them are women. 500 people, mainly students and journalists, attended our seminars during the year. A majority was women. 5 teachers ordered our learning material about sexist ads and talked about it in their classrooms. This way, we reached 150 students aged 13-17 years. Half of them were girls. We have used statistical online tools such as Google Analytics and Facebook.
Estimated girls & women affected
10000
Broader impact
550 000 travelers in the Stockholm subway system saw the campaign during the two weeks. Half of them are women and girls.
Estimated community members affected
550000
Feminist revolution against sexism in public space!
One year ago you helped us reclaim the Stockholm subway system. Since then we have continued our work for a public space free from sexist advertising. We have reached out through media, seminars and lectures and engaged people to act against gender stereotypical advertising. Together with our 12 000 followers at Facebook and Instagram we continuously report sexist ads and campaigns to the Swedish Advertising Ombudsman. Thanks to our campaign, the amount of ads reported to the Ombudsman is increasing heavily. The number of ads being convicted for sexism has been raised by 30 % during the last year. (Statistics at their website: http://reklamombudsmannen.org/ro__ron/statistik) We also engage in dialogue with companies and advertisers. Several companies draw back ads that we reported during the year. We have held numerous lectures about the campaign for students, journalist and the public and several news and debate articles have been published about Reklamera. News about the campaign has reached international as well as Swedish and European media. We have kept pushing the Government for a law against sexist advertising. We have met with the minister for Consumer Affairs as well as the minister for Gender Equality. The Government recently said that the issue of sexist advertising is one of their priorities and that they will initiate dialogue with the advertising industry. We will make sure they live up to their promises!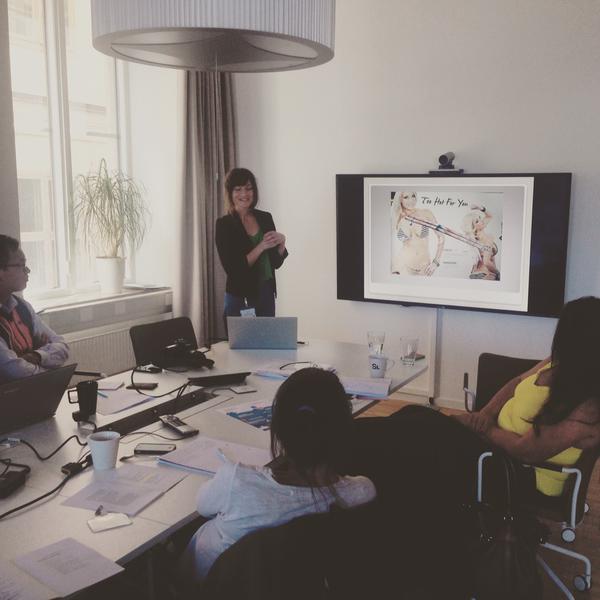 Get personal
"Thanks for a great job to stop sexist ads. I turn 18 in November and have been struggling with anxiety and self-hatred all my life. It doesn't get better by me and millions of other girls being force-fed with images of how a woman should look and be for achieving so-called perfection. So thank you!" –Woman, 17 yrs old "When I saw the campaign, I realized that I'm not the only one affected by advertising and who feel bad about myself. Everyone should join the campaign! " – Woman, 15 yrs old
Risks and challenges
The advertising industry is not our usual target group. It has sometimes been difficult to reach out to advertisers since some companies and advertisers are reluctant to take in our message. It has been necessary to adjust and adapt our communication and the way we frame the issue when we have been in contact with different types of business. There are strong commercial interests in the advertising industry and they have a lot of resources compared to a non-profit organization like us. Some companies have worked hard to keep us quiet. Luckily we have their costumers on our side – Reklamera is a movement that keeps getting bigger. We cannot be stopped.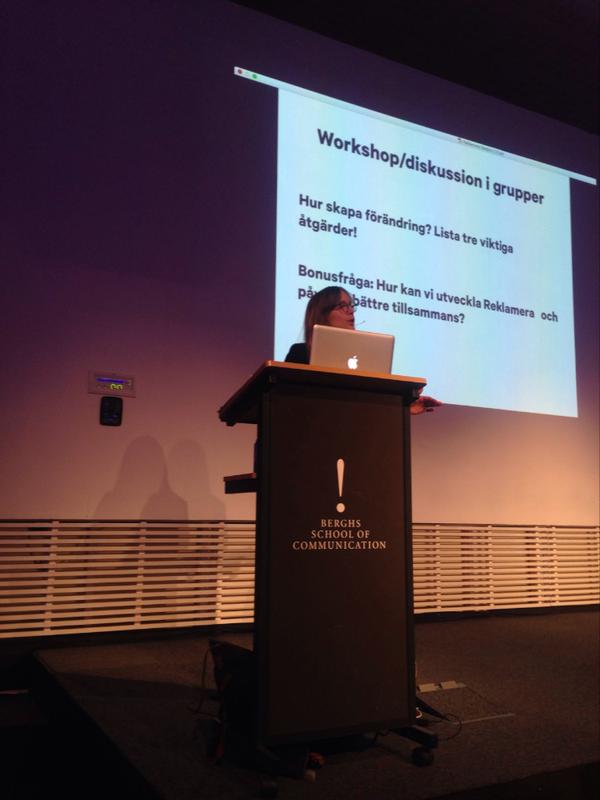 What we've learned
Sexism in advertising is a structural and global issue that cannot be changed overnight. A long and thorough work is needed. Our campaign has started a societal and political debate in Sweden but more action is needed. In order to create long-term change, more work and resources are needed. All parts of society an must be involved – from teachers in pre-school to CEO:s at large companies. This should not be a task for non-profit organizations – it is a political responsibility. The Swedish Government has ratified CEDAW, and is obliged to combat sexism in advertising and media. It has been very successful working with individuals and the general public. But more work has to be directed toward and inside the advertising industry itself.
Next steps
We recently recieved funding for a common Nordic project in order to continue the project on a regional basis. Similar campaigns are starting up in our neighbor countries Norway and Denmark. We will continue with lectures for PR students, agencies and companies. We will continue advocate for a law against sexist advertising and to influence the advertising industry. Reklamera won't stop until sexist ads are a mere memory!
Budget
Line Items

Projected budget

Amount spent so far

Cost of graphic designer to design ad

Publication in Stockholm transit system

Total

$1,000

$14,000

$15,000

$1,000

$14,000

$15,000
More information
We encourage individuals and organizations all over the world to take the fight against sexist advertising. Our campaign has showed that it is possible to create a change and make politicians and advertisers listen.
Further reading
National newspaper DN: http://www.dn.se/nyheter/sverige/reklambild-pa-nakna-kvinnor-anmald-till-reklamombudsmannen/ National newspaper DN: http://www.dn.se/ekonomi/tallink-silja-fallt-for-sexistisk-reklam/ National newspaper Expressen: http://www.expressen.se/nyheter/vill-locka-manliga-lopare--med-tjejer/ The largest newspaper in Argentina, Clarin: http://www.clarin.com/sociedad/Escandinavia-Suecia-modelo-sueco-padres-hombres-mujeres-igualdad_0_1379862088.html
90 Day Report
Space no longer reserved for naked, airbrushed girls!
November 19, 2014
Progress
With your help we reclaimed the Stockholm subway system. For two weeks, pictures of half-naked women were replaced by messages like "Space reserved for naked airbrushed girl" and "What would the subway be without naked female bodies?", together with information on how sexist ads affects us and how to take action against it. Twenty-eight billboards were taken in possession and more than 550,000 travelers were reached. Thousands of people participated in our campaign by sharing our message and by reporting sexist ads to the Swedish Advertising Ombudsman. The #reklamera campaign currently has over 6,000 followers on Facebook and 5,000 on Instagram. A debate about sexist advertising has taken off in media and amongst politicians. A special thanks to all of our donors! The fact that many of us are so fed up with sexist ads that we actually donate money to avoid seeing them – this is a powerful message to the advertising industry and politicians. You helped us put the issue on the political agenda!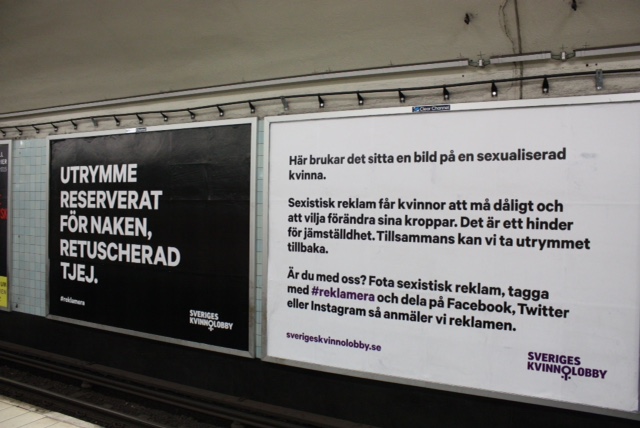 Risks and challenges
Working for women's rights always seems to upset some people. The Association of Swedish Advertisers claims that our campaign is threatening the freedom of advertising. Their criticism has created a debate about whose interests should be at focus, women's rights or the commercial interests of the advertising industry. The Swedish general election took place two weeks before our campaign. Even though the two parties in the new government have recently stated that they want legislation against gender stereotypical ads, there is still a resistance against a law among the majority of the parties. With the help of #reklamera followers we are certain that the government won't be able to resist much longer.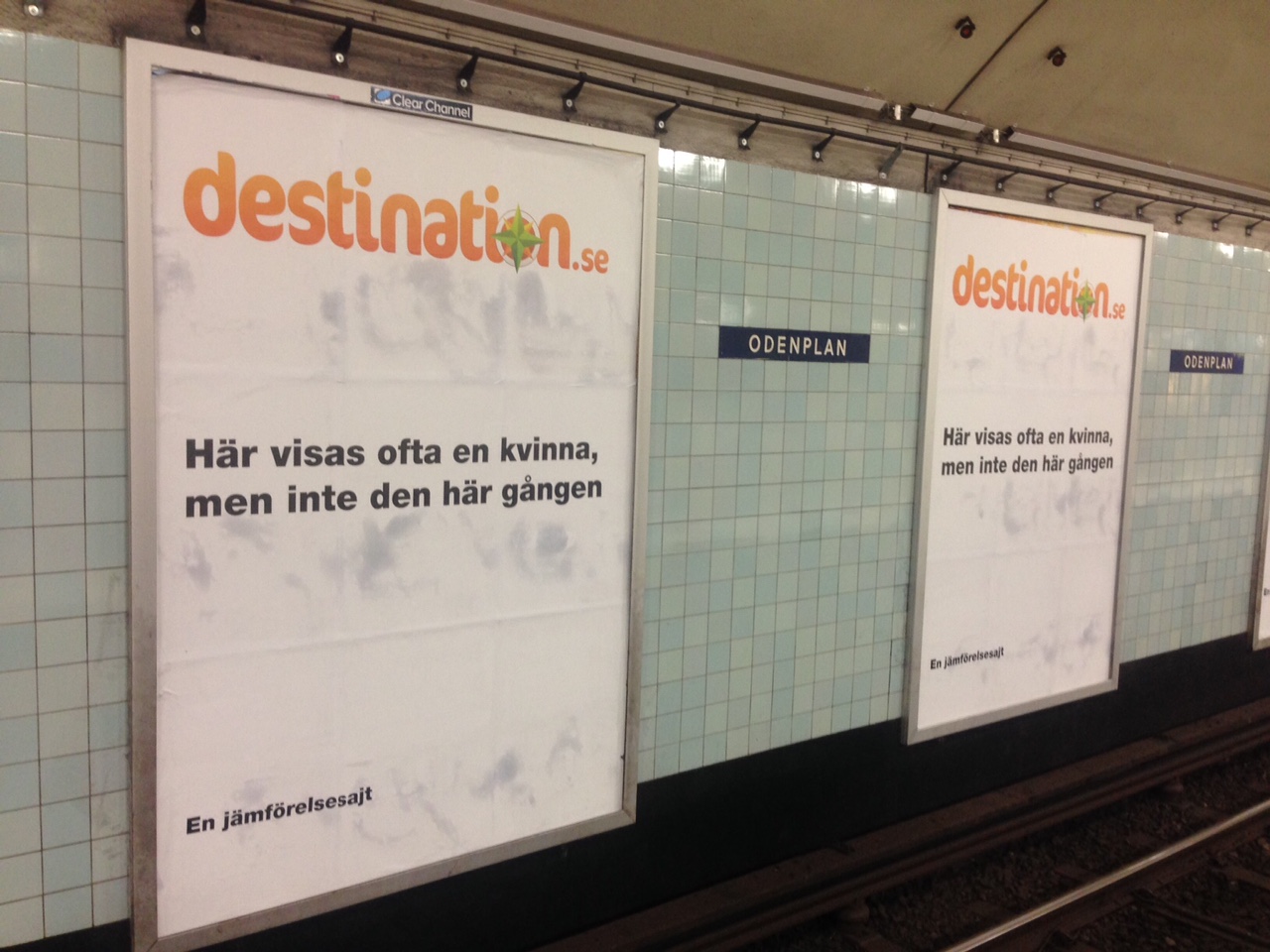 Get personal
"This campaign reveals the absurdity in the messages we're fed with everyday." - Young woman
"The campaign against sexist ads in the Stockholm subway system is important, direct and clear. Reclaim the space!" - Anna Hedh, Member of the European Parliament
"I've been waiting for something like this. I've had enough of female bodies being exploited" - 80 yr old woman
"I hope this campaign results in a discussion on how democratic the public space really is, and who truly owns it." - Young man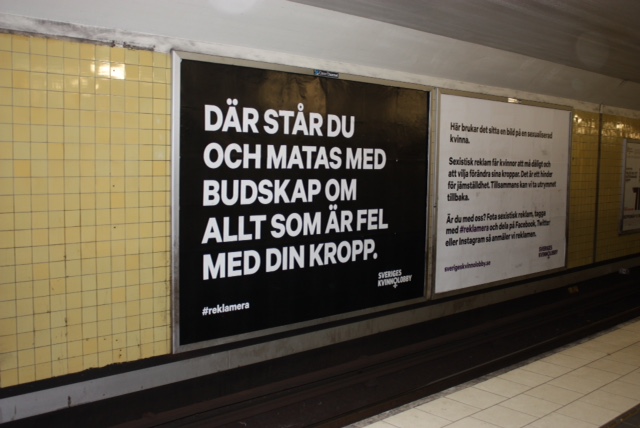 Next steps
During and after the campaign we have received a lot of lecturing requests and we are currently looking at how we can continue with gender equality education for Public Relations students, agencies, and companies. To meet the great interest in the campaign, we have applied for project funding. This way we can carry out a more thorough and effective work, so keep your fingers crossed! We are also meeting the Swedish minister for Consumer Affairs to push for legislation.
Budget
When we got the opportunity to carry out the project, we wanted to do it big! We got a good deal with the ad space owner and were able to expose our message to twenty-eight large billboards at fourteen central subway stations in the span of two weeks instead of one. This upgrade in ad quantity and size, and the fact that we could place the ads where there are usually gigantic pictures of women's naked bodies, made it possible for us to reach far more people than calculated.
Line Items

Original budget

Amount spent so far

Cost of graphic designer to design ad

Fee for publication in Stockholm public transportation system.

$1,000

$14,000

$1,000

$14,000
More information
As the campaign was coming to an end and our ads were being replaced, one of our followers snapped a photo reminding us that the fight against sexist ads is not over. Our campaign was replaced by….an ad for a travel agency with a half-naked woman. But the story doesn't end there. Two weeks later, the travel agency came out with a new campaign, clearly inspired by ours, with the text "There is often a woman on display here, but not this time". We hope that more companies will follow!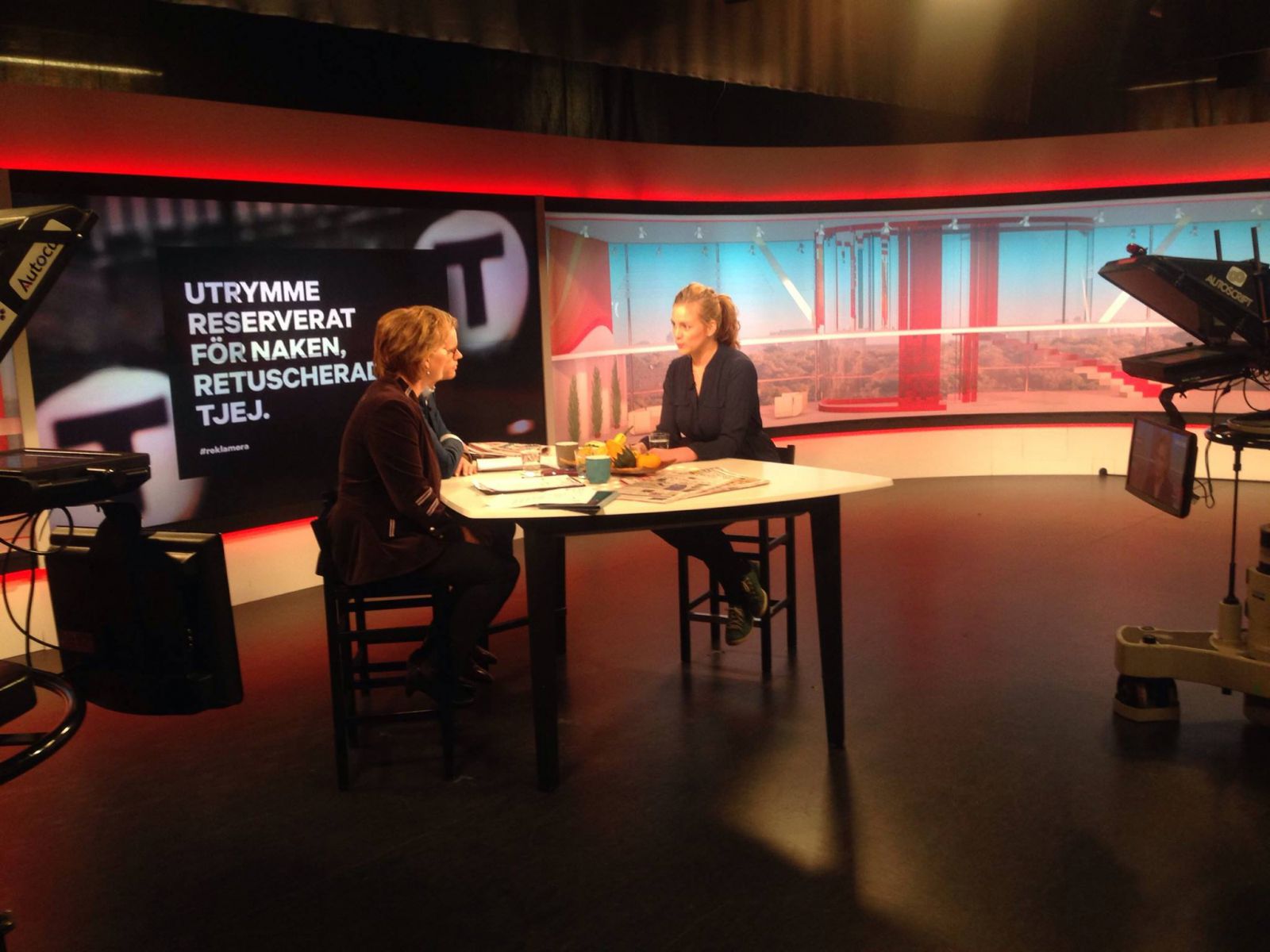 Further reading
The campaign has featured in over 30 interviews and reports in national and local media, as well as numerous blog posts and social media shares, reaching hundreds of thousands of people all over Sweden.
We've all seen the pictures - size zero models with sunken eyes, clinging to men.
Why we care: Girls are exposed to unhealthy stereotypes everyday. 9 out of 10 girls feel bad about their bodies because of sexist ads. They deserve better!
How we're solving this: The subway system in Stockholm, Sweden has become a gallery of sexist ads. Pitch in and help us put up an anti-sexist ads. Let's reclaim public space!
We'll publish anti-sexist ads all over the Stockholm public transportation system. The ads will be inside all of Stockholm's buses, commuter trains, and subway trains for 7 days in a row.
Size zero models, girls posing as porn stars, and subjugated women – this is your typical sexist ad. These images make young girls hate themselves. In a survey carried out by the Swedish Women's Lobby, 9 out of 10 girls say that ads make them feel bad about their weight and looks. Sexist ads lead to low self-esteem, mental illness, and eating disorders. This is a public health issue!
By issuing a public warning, we want to make people aware of the sexism that surrounds them. Together, we can urge politicians to create a change by introducing bans and sanctions against gender stereotypical and sexist ads. We can also encourage companies and the advertising industry to take more responsibility.
Anti-sexist ads have the potential to cause anger, especially at a time when antifeminism is on the rise in Sweden. Mobilizing the public against international corporations and the advertising industry will not be a walk in the park. That is why this campaign is so important.
You can help put an end to sexist advertising. Support our public warning, and together we can raise awareness and create change.