1 year impact report
I'm so much happier and feel so empowered now that I have learned how to make things with my own hands!
This project is critical in empowering victims and their families.
Impact for girls & women
The number of girls and women directly affected by the Project are the 8 individuals participating in the project
Estimated girls & women affected
8
Broader impact
It can be estimated that at least 500 individuals have been affected indirectly by this project, including those who go into the shop, plus all of their family and friends who, later, receive a gift purchased at the shop or, who learn about where the items came from and the stories of the girls who made them. Additionally, it includes the general societal impact which is a result of supporting the project, understanding that learning about the goals and mission of the project, impacts the lives of all who learn about them.
Estimated community members affected
500
From Victims to Survivors!
It's been a year since you chose to support women and girls who have suffered sexual exploitation and trafficking begin a process of rehabilitation, allowing them to begin a new life full of dignity and hope, regaining their human rights and going from victim to survivor!
In that year, the participants have learned to work with others and overcome obstacles, regained their self-esteem, developed professional skills and, now, have been incorporated into the labor market. Each girl has been trained in both theory and practical application of the textile industry -learning how to do alterations, make patterns, sew, and make products such as jewelry, clothes, aprons, bags, customized gift baskets, and much more-! Additionally, the program offered a course on professional skills, teaching them how to write a CV, how to job search, how to interview, and overall, how the work environment functions.
We are proud to say, that due to the integral training and education, combined with the social and emotional support provided through the project, every survivor has been offered an employment contract and is incorporated into the labor market.
Another major accomplishment is both the micro and macro level impact which this project has had. The impact goes beyond the recovery of each participant; changing the lives of every person who has stepped into the solidarity shop, who has received a gift made by the survivors and, who has learned about the project and stories of these girls.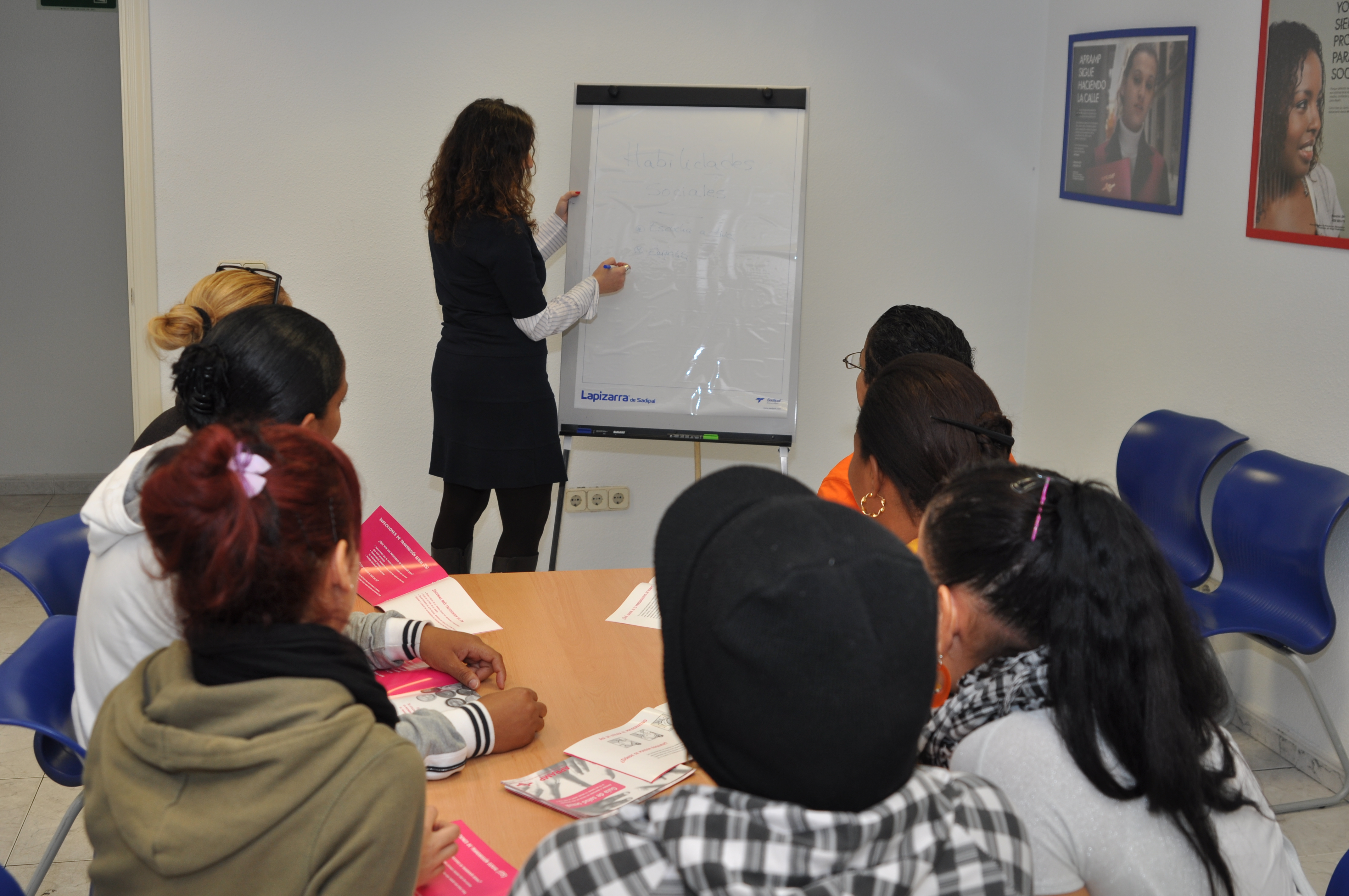 Get personal
"I'm so much happier and feel so empowered now that I have learned how to make things with my own hands!"
"I was very sad and felt helpless before starting the project, but now I feel happy, proud of myself, and know that I'm worthy and can have a new life."
"I love being in the workshop. In fact, the days that I'm not learning, I am wishing I was there!"
"I have learned so much; how to sew, how to make things, but most of all, I have learned how to love myself and that I can dream!" .
Risks and challenges
One of the greatest difficulties in helping these survivors has been the lack of adequate and sustainable policies guaranteeing the rights of victims and facilitating their process of recovery and social insertion. For example, there is a lack of consistent government policies allowing survivors to obtain documentation and regularize their administrative situation. Additionally, we have seen that the awareness of sex trafficking and the reality in which victims experience is crucial for the success of intervention. Slowly but surely, society is becoming more aware of the issue and all of its facets and, as such, the protection, attention and intervention of trafficking victims will continue to improve and reach a point of sustainability.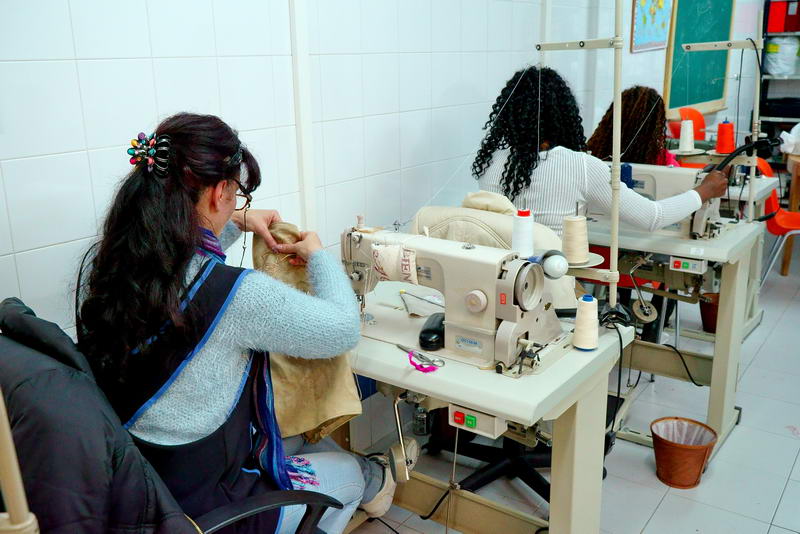 What we've learned
On a daily basis, throughout this entire project, we have had to learn and adjust our interventions. The needs and desires of each girl are distinct and, as our objective is to always provide a specialized and holistic support according to the individual needs of each survivor, every day we evaluated if and when any changes or improvements needed to be made. Based on the results of the project, we can see that our flexible and adaptable intervention method has been quite successful and, therefore, would continue down the same path in future projects
Next steps
This project is just one example of the way APRAMP works with women and girls who have suffered human trafficking and sexual exploitation. Depending on the funding and support we receive, we can continue training, educating and empowering girls and woman in their recovery process through various pre-employment courses, such as in textile, hospitality and geriatric assistance, among others.
In fact, APRAMP is collaborating with a Catapult partner, Chime for Change, and is in need of funds in order to support survivors in their rehabilitation process, and train them in how to help other women in similar situations! Please help us out and share the link! http://www.globalgiving.org/projects/survivors-rescuing-victims-of-human-trafficking/ .
Budget
The final amount of money spent on the Project was $1,697.00 over the initial Budget. In order to cover the additional -unexpected- costs of the 2 sewing machines needed for the Project, APRAMP used its own finances, bringing the total amount spent for this project to $16,577.56 instead of the projected budget of $14,880.00.
Line Items

Projected budget

Amount spent so far

2 Sewing Machines

Annual Scholarships ($1,560.00 per survivor)

Total

$2,400

$12,480

$14,880

$4,097.56

12,480

$16,577
Further Reading
Recently, NPR published the story of a survivor who was trafficked into Spain and who recovered in APRAMP's intervention programs. Read and listen to the report at http://www.npr.org/sections/goatsandsoda/2015/07/13/422542729/sold-into-sex-slavery-the-plight-of-african-women-migrating-to-europe?utm_source=facebook.com&utm_medium=social&utm_campaign=npr&utm_term=nprnews&utm_content=20150713
To read and learn more about the exciting things APRAMP has participated in, visit our Facebook page. .
90 Day Report
Showing off new skills!
October 21, 2014
Progress
Since the start of the project, the eight survivors have acquired many new and exciting skills! They began learning basic theory about alterations, pattern-making, taking measurements, and more;, and, they quickly moved onto the practical application of these skills and the operation of machines. After learning the necessary theory, the girls passed the introductory level of the class and are now participating in the chain of production! They have made products to be sold in our solidarity shop, such as bracelets, earrings, clothes, customized gift baskets – and, have learned everything from hemming jeans to making and altering wedding dresses.
In addition, our participants have acquired social skills and improved their overall psychological state. The girls have been able to recognize themselves as survivors, increase their self-esteem, and learn to trust others. In addition, they've learned to count on the support and example of other survivors, initiate a process of autonomy, and create short-term goals. These girls have accomplished many things and are well on their way to beginning a new life!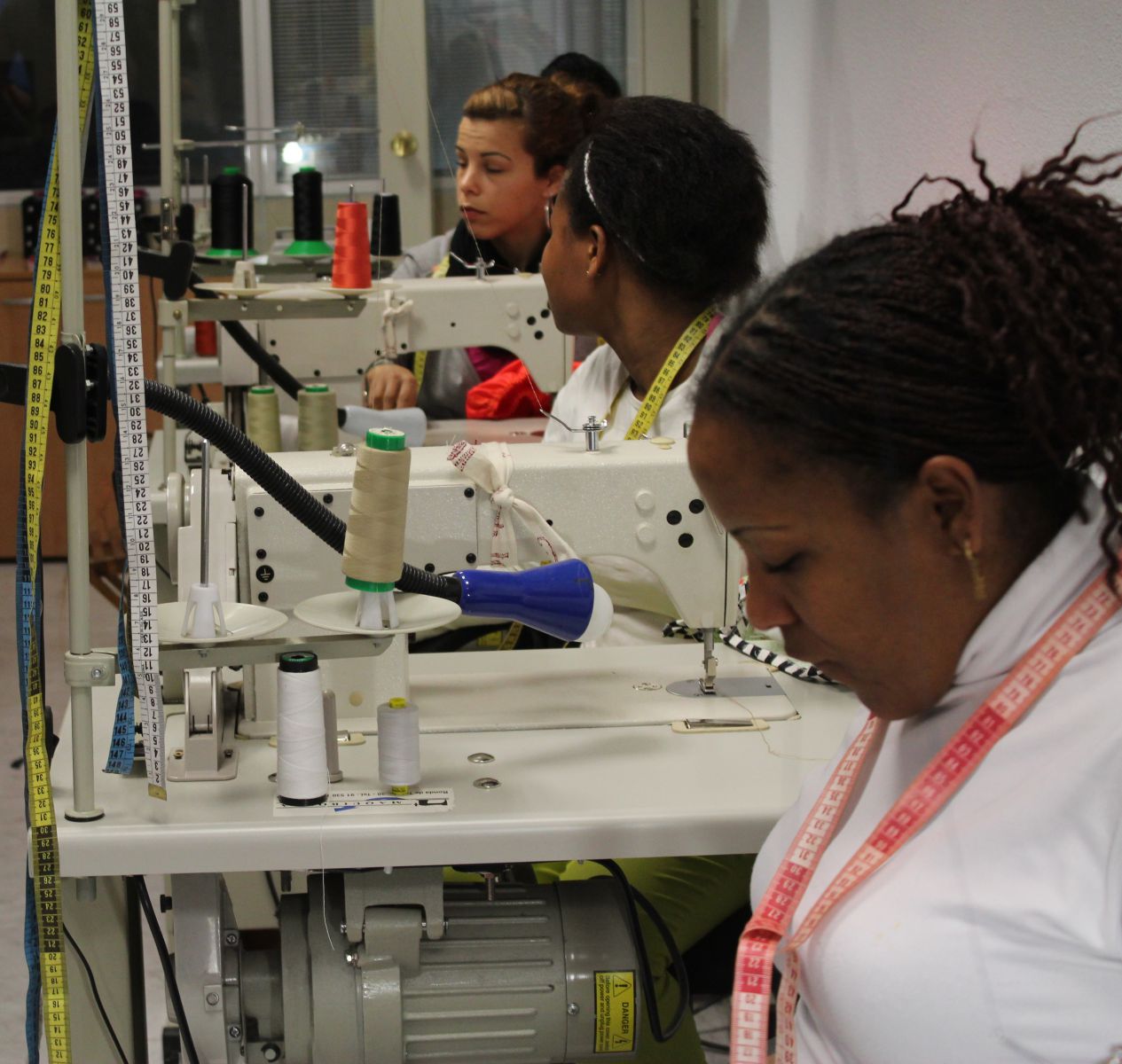 Risks and challenges
One challenge for a project such as this is being able to protect the girls from the criminal networks that were once exploiting them. We work day to day to give them hope for the future and a sense of safety in order to avoid re-victimization.
Also, we have experienced a few technical difficulties, as one of our machines broke due to a short circuit. Nevertheless, the overcoming spirit of the girls has transcended these issues, and they now share the machines in solidarity with one another, helping each other and setting examples of how to work together and overcome obstacles. Despite the challenges, the project has been going very well - the girls have become stronger and more confident, have made beautiful products, and are loving their experience!
Get personal
The girls love their training and always come back to show off what they made. One girl was so excited to learn how to make bracelets and told our staff, "Look at the bracelet I made! I'm going to make one for all of you!"
The girls are also starting to discover the new life ahead of them. One girl, who was exploited as a minor said, "Now I know the future isn't so far. When my mom sees me hemming pants, she's going to be so proud of me. After everything that has happened, now I can be happy."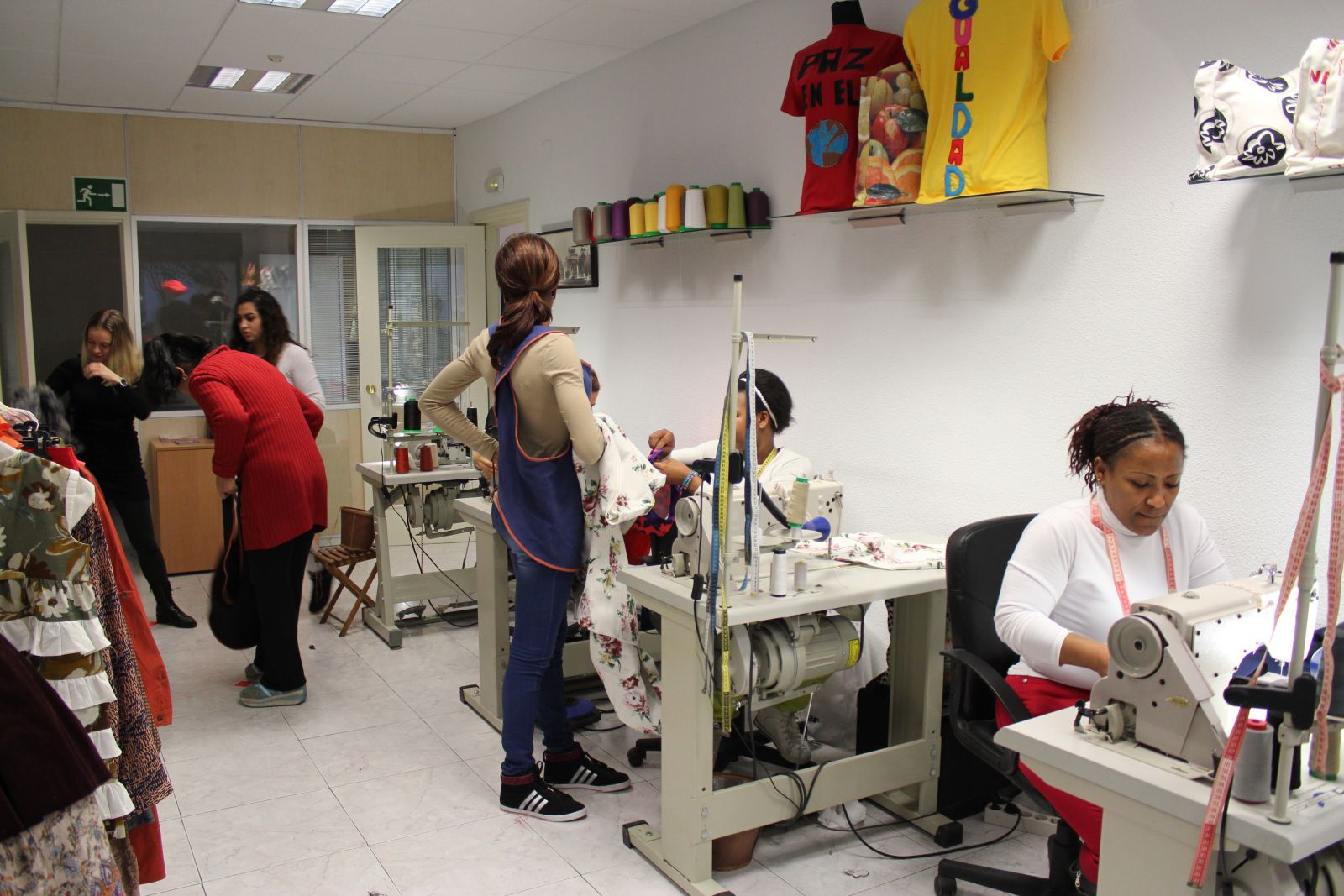 Next steps
For the remainder of the project, the girls are going to continue to discover how to make even more beautiful products. They will learn about the environment, new job skills, safety in the workplace, and how to search and apply for jobs. The last step will be their preparation for and incorporation into the workforce - whether it's on a work contract with APRAMP, or with another local business. The girls are obtaining extremely valuable and necessary skills, and cannot wait for what is ahead!
Budget
Line Items

Original budget

Amount spent so far

Sewing Machines

Annual Scholarships

(Transportation)

(Program Materials)

(Textile Materials)

$2,400

$12,480

$1,419.95

$3,846.23

($2,880.03)

($241.78)

($724.42)
More information
The project, "Weaving a future for survivors" allows for eight women and girls who have been sexually exploited to begin a process that permits them to find employment and to build a new life in Spain. The training program is the first step to, and is complemented by the support and accompaniment of APRAMP's professionals, as well as with the processing of legal documents guaranteeing their rights and their residency in Spain.
Further reading
Over the past few months, APRAMP has been cited and referenced in various articles, interviewed by different radio programs, television shows, newspapers, and more; has participated in multiple seminars; and, has collaborated with the National Police and other public and private entities in the investigation and rescue for victims of trafficking.
To read more about all of these exciting activities and celebrations, visit our Facebook page .
Sewing machines and weaving skills enable women to build new lives.
Why we care: Spain is a major transit and destination country for human trafficking. Most victims are young girls and women, from 14 to 25 years old.
How we're solving this: By training trafficking survivors to sew and weave, enabling them to create a sustainable future.
With your support we'll buy 2 sewing machines and offer 8 scholarships for weaving courses. Through sewing and weaving courses, survivors develop self-esteem and are empowered to overcome their role as victims.
Specialized, engaging, and sustainable trainings help women reintegrate into society, access the labor market, and become self-reliant. We'll host skills training courses on textiles three days a week at our Occupational Training Center, taught by a trained instructor on the subject. Here, women will learn professional sewing techniques, acquire work habits, and receive financial support in the form of scholarships.
The training center is also home to a fair trade solidarity shop where women get first-hand practice of the business skills they learn. They interact socially with customers, surrounding businesses and the overall community
Each year, we help more than 500 human trafficking survivors by collaborating with authorities to strengthen legal frameworks and charting individual plans for women.