1 year impact report
A woman who attended our play declared that she will no longer hide behind taboos in the behavior and education of her nine year old daughter and invited the audience to do the same.
Impact for girls & women
This represents the number of women who attended our performances.
Estimated girls & women affected
1,400
Broader impact
This data is still being collected, and will be added to the project as soon as possible.
Estimated community members affected
0
Changing attitudes and breaking taboos about women
Thanks to your support we were able to promote the rights of women by questioning traditional beliefs and practices with our performance 'Dyali'. We at Theatre Aquarium have put on a total of eleven performances of 'Dyali' for a variety of audiences across the country (some to exclusively female and others to mixed audiences). The performances were able to change perceptions and awareness on sexual education and violence against women.
150 women surveyed became aware of the value of their bodies and the importance of breaking the taboos regarding their sex
Women also stated that they appreciated the professionalism of the text, the production of the piece, and the performance of the actors
Women also said they appreciated the performance's ability to display the reality of Moroccan society while being informative and innovational in uncovering these realities
1,400 women who attended stated that the content of Dyali is a necessary part in the sexual education of women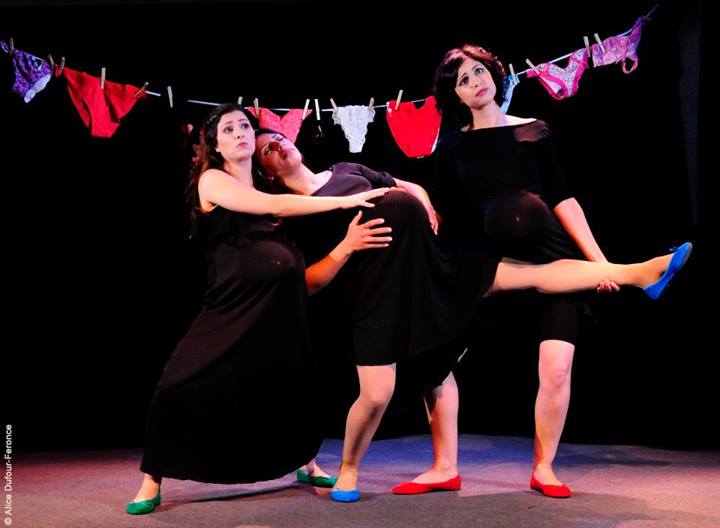 Get personal
One of the women who attended declared that she will no longer hide behind taboos in the behavior and education of her nine year old daughter and invited the audience to do the same. Another woman who attended declared that she will no longer differentiate between the education of her sons and her daughters stating "I just woke up and I will change my behavior!"
Risks and challenges
We faced the challenges of public theatres refusing to host the performance due to the sensitivity of the issues and aggressive attitudes and reactions of conservatives and religious leaders who attacked the content. Thus, special attention was also needed to ensure the safety of the performers at each performance.
What we've learned
We learned to account for religious holidays and events (such as the month of Ramadan) when scheduling performances. In addition, in order to meet our follow-up and reporting requirements, we should have employed a salaried project leader whose time would be dedicated to these activities.
Budget
Line Items

Projected budget

Amount spent so far

Operations

Production

Development and publicity

$4,500

$3,500

$2,000

$4,200

$3,800

$2,000
90 Day Report
Performing for women's rights despite harsh critics
Progress
So far we have put on four performances of 'Dialy', two of which were for an exclusively female audience and the other two for mixed audiences. At the September 13th showing held at Theatre Aquarium in coordination with other local associations, 86 women were in attendance.
Risks and challenges
Our work was described as subversive and disrespectful of the tenets of our religion and the characteristics of our society. This reaction created a media buzz, particularly in social networks, and sparked a debate on the freedom of expression with the main question being: "Are there limits to this freedom?." As a result, public institutions boycotted the show, refusing to host it and to fund it.Despite these difficulties, Theatre Aquarium has taken on the challenge to broadcast the show on a large scale across foreign cultural center and local associations across Morocco and well as at the Theatre Aquarium Center itself with the support of Global Fund for Woman and Catapult.
Get personal
After one performance we were able to see the joy of these women who had never had the opportunity of watching this type of show before. A debate ensued during which the women were able to speak freely about their sexuality and their experiences (off camera however, as most refused to be filmed .. a request that we respected).
Next steps
Two other performances are scheduled for October: 1) A mixed performance on October 13th in Salé; and 2) a performance in Fez on October 15th. During the first week of November, we are happy to be presenting an exclusive performance for women deprived of their liberty at the Rabat Salé penitentiary. We were able to obtain the necessary permits and hope to deliver our message to these women as well as provide them with some entertainment.
Theatre Aquarium is creating a huge buzz in Morocco, by spreading the word that women's rights are real, and stated in the law.
Why we care: Traditional beliefs and practices need to change to support the implementation of more progressive laws on women's and family rights
How we're solving this: The play "Dialy" pushes the boundaries on the traditional beliefs of sexuality and unravels societal stereotypes that degrade women.
Theatre Aquarium produced a highly successful traveling play that reached factories, prisons, hospitals, orphanages, and theaters all over the country, and contributed to the new legal protections for women in the 2004 revised Family Code. The revised and most progressive law on women's and family rights in the Arab world abolishes polygamy, sets the minimum age for marriage at 18 instead of 15 for girls, and gives women the right to divorce, inherit property, and decide who and when they want to marry.
However, the struggle to protect women's rights is not over. Widespread implementation of the revised Family Code law will be difficult until people's traditional beliefs and practices shift. Facing this challenge head on, Theatre Aquarium is thrilled to present the controversial new production, "Dialy." Dialy pushes the boundaries on the traditional beliefs of sexuality and unravels societal stereotypes that degrade women.
On Halima's (name changed) wedding night – during her first sexual experience -- her husband violently choked her with a pillow. This is one of many explosive and emotional skits in Dialy – a play that portrays the stories of 150 real women, and their passions, suffering, happiness, and anger.
By telling the stories of more than 150 Moroccan women, Theatre Aquarium will spread awareness of women's rights, advocate for sexual education in schools, and demand respect for women as human beings and citizens.
The play will run for 75 minutes and result in the following:
Performances at the French, German, Spanish, and Italian cultural institutes in Rabat, Morocco
Once a month performances at Theatre Aquarium in Rabat, Morocco
24 performances in total for 2013
Productions at two foreign play festivals
Total outreach: 10,000 women
Budget
Operations
Author and conception: $500
Set: $1,000
Set designer/producer: $500
Costume designer: $500
Management and monitoring: $500
Public Relations: $500
Actors 150 x 2 x 20 days: $1,000
Production
Set decorations: $500
Make-up: $500
Costumes: $1,000
Rehearsal room: $500
Insurance: $1,000
Development and Publicity
Administrative expenses: $1,000
Posters and flyers: $500
Photos and video (production and assembly): $500