1 year impact report
We are making great strides in empowering more and more potential women witnesses throughout the former Yugoslavia.
Impact for girls & women
This is the number of new participants at the meetings, Feminist Discussion Circles, and seminars.
Estimated girls & women affected
116
Broader impact
This number presumes that each woman participant shared her experiences with at least 3 other women or people.
Estimated community members affected
350
Solidarity is our strength
During the last year, your support was used to continue preparation activities for the initiative for a Women's Court - A Feminist Approach to Justice (WoC) in the former Yugoslavia. The following activities were undertaken:
public presentation of the Women's Court process
seminar on the Women's Court importance
Feminist Discussion Circles as a place for learning, reflection, and exchange on ethics and politics from feminist perspective
individual visiting to potential witnesses
residential meetings with potential witnesses in Serbia, Montenegro and Croatia
meetings of Organizing Committee of Women's Court
video recording of meetings; related media and publishing activities.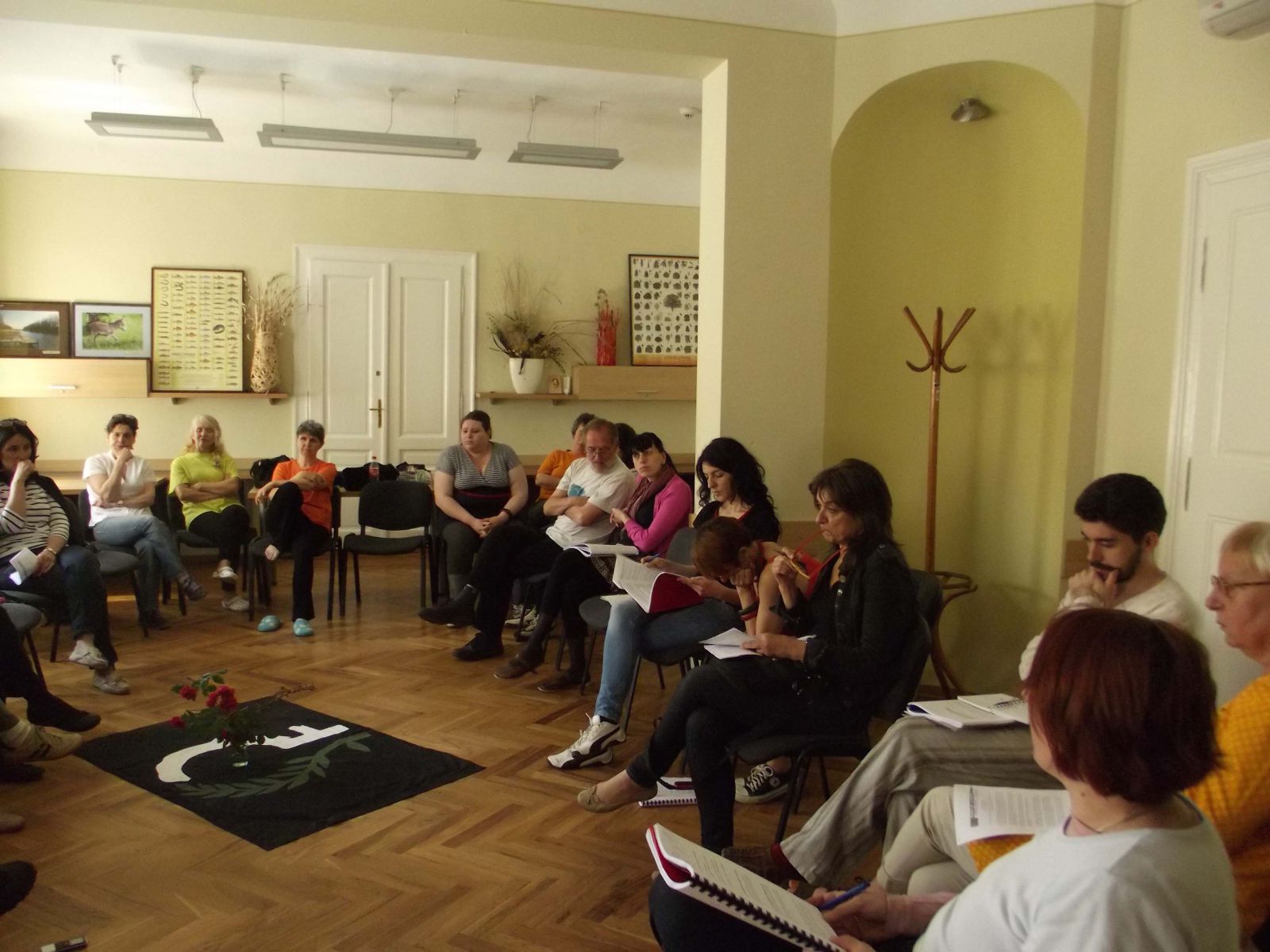 In this process, we had a close cooperation with 10 women's associations and groups - Foundation CURE, Sarajevo, Women's Forum, Bratunac, and Movement of Mothers from Zepa and Srebrenica, Sarajevo (Bosnia and Herzegovina), Anima, Kotor (Montenegro), Centre for Women's Studies and Centre for Women War Victims, Zagreb (Croatia), Kosovo Women's Network (Kosovo), Council for Gender Equality, Skopje, (FYR Macedonia), Women's Lobby, Ljubljana (Slovenia), and Women's Studies, Belgrade (Serbia). Also, we cooperate with more than 200 women's and civil society organizations from more than 100 towns.
Our most important achievement in the process was the empowerment of 15 women from Serbia to be public witnesses in relation to their stories related to war, as well as on ethnic, militaristic, and other structural violence they endured.
Get personal
"Women do not have any support for being witnesses in public. They do not have support aside of the Women in Black circle. Although it is important for women to say what they went through, they are scared of reactions of friends and relatives. We are not stronger than the state and the state is not supporting that idea. We are dependent since the state is forming our lives. So, if I say something against the state, I will probably be encountered with some sanctions - like losing my working place." – A potential witness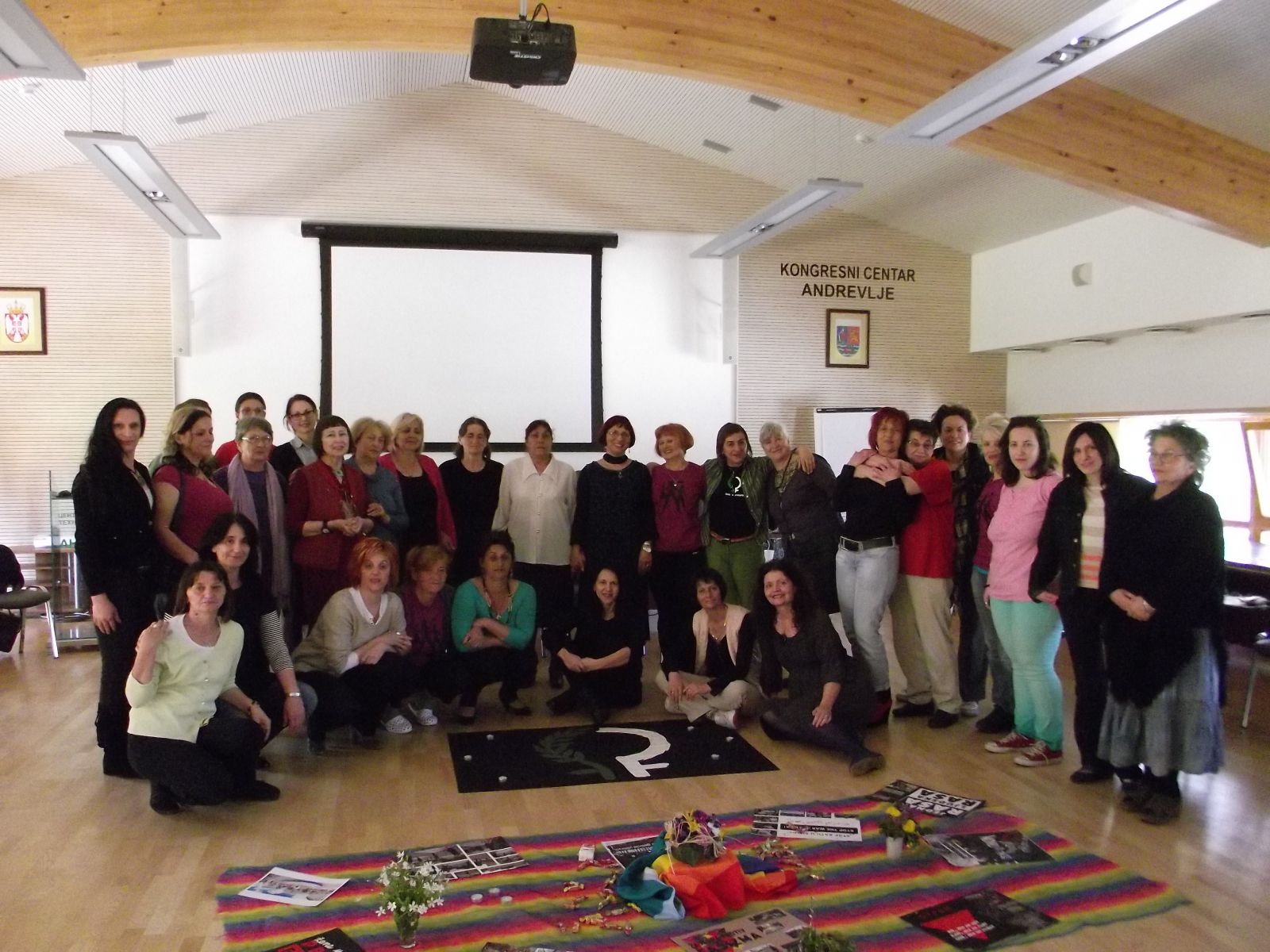 Risks and challenges
The recent elections, empowered nationalism in all countries of former Yugoslavia. Serbia, especially, is looking towards the European Union, with Slovenia and Croatia already there. This has influenced an overall raise of fear and it has raised additional pressure to potential witnesses to be excluded in this process. War and consequences have brought high economic strain to the region. Already existing pressures, either by state, society, community, or family have been elevated to an alarming level. There is raising pressure on women human rights defenders (WiB), which are considered as an open threat proven by media, social network, and direct street assaults. The consequences of the recent floods to the states' wealth have also tightened the space for making critical stands.
What we've learned
When secure space is created and when women's testimonies are treated as valuable knowledge, women become ready to talk. Shared space and experiences are getting a specific value that tightens relationships among all those present. Insights into specific political situations in which women were caught gives them a certain expertise that only comes from experience. Women are aware of the values imposed by the state, nation, and patriarchy. Hierarchies in knowledge are annulled and all participants have felt strong horizontal bonds and value all that is expressed. This erases ethnicity and the hierarchy of pain. Our work is demanding and needs good preparation, but brings out, not only trauma from potential witnesses, but also the hidden traumas of our activists.
Next steps
This was a part of the Regional Initiative for Women's Court in Former Yugoslavia that started in 2011 and should continue through 2015. In 2013-2014 the stress was on the selection and preparation of potential witnesses. Other segments included meetings of experts to give overall context to individual stories, and meetings of the Regional Organizational Board. In the 2014-2015 period we plan to have our witnesses in focus, as well as make final preparations and possible public hearings for all chosen witnesses.
Budget
Line Items

Projected budget

Amount spent so far

Event logistics

Transportation

Leadership Training

Trainers & facilitators

Camera and video production

$2,500

$6,000

$7,500

$2,000

$4,000

$2,500

$6,000

$7,500

$2,000

$4,000
90 Day Report
Self care for witnesses and raising awareness for the Women's Court
posted Nov 25, 2013 by Rati Bishnoi
Progress
Since receiving funding from Catapult and the Global Fund for Women, Women in Black has undertaken Public Presentations, an initiative to organize Women's Court, in order to carry through an integral part of activism, which is researching and gathering information and suggestions regarding the vision of justice that make up Women's Court. Additionally, Women in Black has been supporting potential witnesses with the Feminist Ethics of Care workshops. We have undertaken 12 regional workshops.
A meeting with the Organizing Board for Women's Court – Feminist Access to Justice was held. There were participants from all over the former Yugoslavia. They presented a report about their work, identified potential witnesses for Women's Court, agreed on the next steps for the near future, etc. In order to increase visibility for the court, we have also screened several feature films that address violence against women in times of war, as well as street art and performances for peace and against militarism.
Risks and challenges
In our field activities so far, and primarily with potential witnesses at the Women's Court, there have been high expectations. Namely, a tremendous need surfaced for clear political articulation of the causes of war and post-war violence. The participants in the process believe that individual criminal accountability is of paramount importance, yet insufficient for justice to be served. Therefore, they put forward requests for establishing new forms of accountability/criminal liability, above all collective, which will apply to the states, the media, and cultural and religious institutions. These expectations pose serious challenges, our main source of concern being whether we will be able to meet their expectations to the full.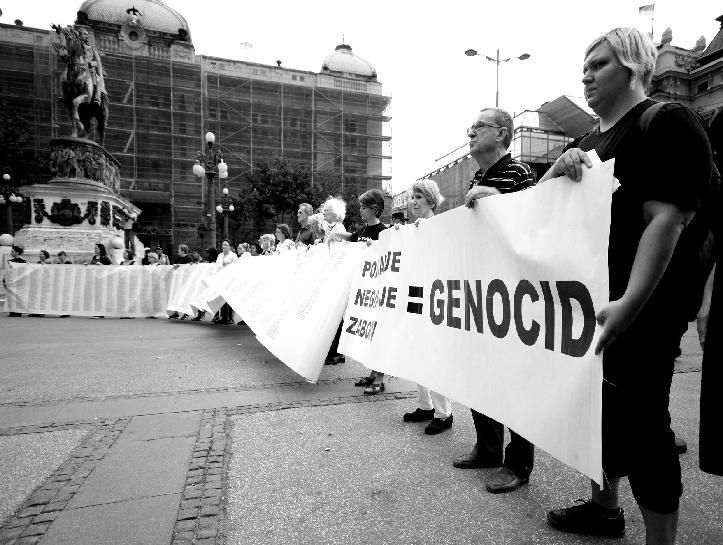 Up Close
"The Court is very important for me personally, and for our region. It will be heard throughout the country that the women who live here do not want this ever to happen again. It is not only about what we will say, but also about what we will do. We must not remain locked inside our grief, because then we won't be able to change the world. I am proud to be part of what Women in Black have been doing." - Savka, member of the Organizing Committee of the Women's Court, Skopje, Macedonia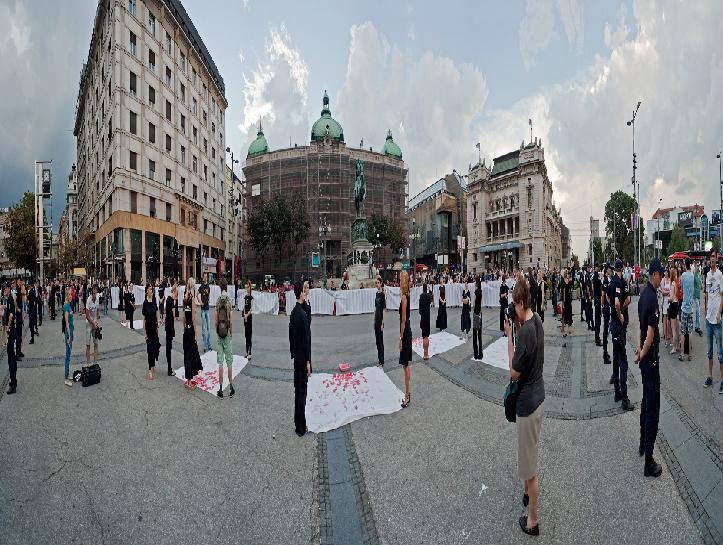 Next steps
We have planned a large number of activities until the end of 2013: including meetings with experts, trainings on feminist ethics of care for potential witnesses in Preševo, southern Serbia and in Belgrade, as well as some operational meetings with court organizers.
Budget
Out of this grant in the amount of 22,000 dollars, in the period from June 2013 until the end of October, we have spent $17,350 dollars.
Belgrade-based Women in Black has led the Women's Court Initiative to empower women to redefine and achieve justice on their own terms.
Why we care: Twenty years after wars in the Balkans, many women survivors of war rape and war crimes have yet to achieve justice in courts and in communities.
How we are solving this: Launching a public outreach campaign and women's leadership trainings throughout the former Yugoslavia to enable women to redefine and achieve justice.
"Women paid the highest price of war and violence, and proved to be the force that strongly influenced changes. The Women's Court will be the space where voices of women and their testimonies are heard and where their contributions to peace and justice are recognized." – from the inaugurating statement of the Women's Court Initiative
When the war in Bosnia ended in 1995, the toll was staggering: two million displaced, 100,000 dead, and an estimated 20,000 women systematically raped, although the real number will never be unveiled due to heavy stigma. This was the bloodiest conflict on European soil since World War II, and was one in a series of wars that broke up the former Yugoslavia in the 1990's.
Despite convictions in an international court and prosecution through state legal systems, injustices from the past, including war rape, have not been adequately addressed. Furthermore, distrust remains among the former Yugoslav countries, keeping the region volatile.
In response, Belgrade-based Women in Black has led the Women's Court Initiative to empower women to redefine and achieve justice on their own terms. Under the initiative, women's groups have already combined forces to mobilize communities and empower women across ethnic, religious, and national lines—in Bosnia and Herzegovina, Croatia, Kosovo, Macedonia, Montenegro, Serbia, and Slovenia. In 2011 alone, about 200 women's groups organized over 100 events, mobilizing over 2,000 participants in cities throughout the Balkans to raise visibility of the Women's Court.
Now, with women's court proceedings set to begin in 2014, Women's Court Initiative is on its last push to ensure women get justice. This year, the Initiative will provide 16 leadership development trainings in 7 countries to prepare 45 women witnesses and prosecutors to testify about their experience during and after war. Women in Black will also work with court witnesses and lay prosecutors to develop recommendations for addressing gender-based violence in war and peace, and how to improve on initiatives for healing individuals and communities.
Overall, the Women's Court represents a seminal moment in history because of its potential to redefine how international and national bodies deal with achieving justice and reconciliation for gender-based violence.