1 year impact report
"I attended both the breakfast trainings in Strasbourg and in Brussels, and was greatly impressed by how the attendance had grown so significantly between just the first and the second trainings. It was very encouraging to see the progression and evolution of the project between just the first and second training sessions, and following this inspiring start, I am very excited to see the further expansion of this training programme." Marion, EWL Staff Member
Impact for girls & women
40 women (Members of the European Parliament, assistants, staff members of political parties and of the EWL) took part in our two breakfast trainings on women's rights and gender equality! This is the first time ever such training was organised within the European Parliament and we are very proud of the number of participants who actively contributed to the sessions.
Estimated girls & women affected
40
Broader impact
European Parliament's work has a concrete impact on the life of millions of citizens. In the same manner, gender equality benefits to all women and men! We hope our trainings sessions sensitised decision-makers and will contribute to European policies which promote equality for all and women's rights.!
Estimated community members affected
250000
Supporting women leaders to bring change in Europe!
In 2014, you chose to support young women leaders in Europe to make a change in the lives of millions of girls and women! One year after the beginning of this innovative and very exciting project, we have some good news for you!
In October and December 2014, we organised two training events on gender equality and women's rights addressed to women Members of the European Parliament (MEPs). Both sessions were attended by a staggering number of participants from several political parties, including future young women leaders such as assistants and advisers.
We already shared the outcomes of the first training with you in our 90-day report. In December 2014, we organised a second breakfast training at the European Parliament (EP) in Brussels. The content was similar to the one we held in Strasbourg in October. The objective was to reach out to new participants and in particular, MEPs and assistants who are not members of the European Parliamentary Committee on women's rights and gender equality (FEMM Committee). Although December is an extremely busy time at the EP, we are very proud that more than 20 participants attended our event! 5 MEPs and 13 assistants and EP staff members, as well as 3 mentees of the EWL European Political Mentoring Network actively contributed to the training session, which is great advancement compared to the first training!

Get personal
"I attended both the breakfast trainings in Strasbourg and in Brussels, and was greatly impressed by how the attendance had grown so significantly between just the first and the second trainings. It was very encouraging to see the progression and evolution of the project between just the first and second training sessions, and following this inspiring start, I am very excited to see the further expansion of this training programme." Marion, EWL Staff Member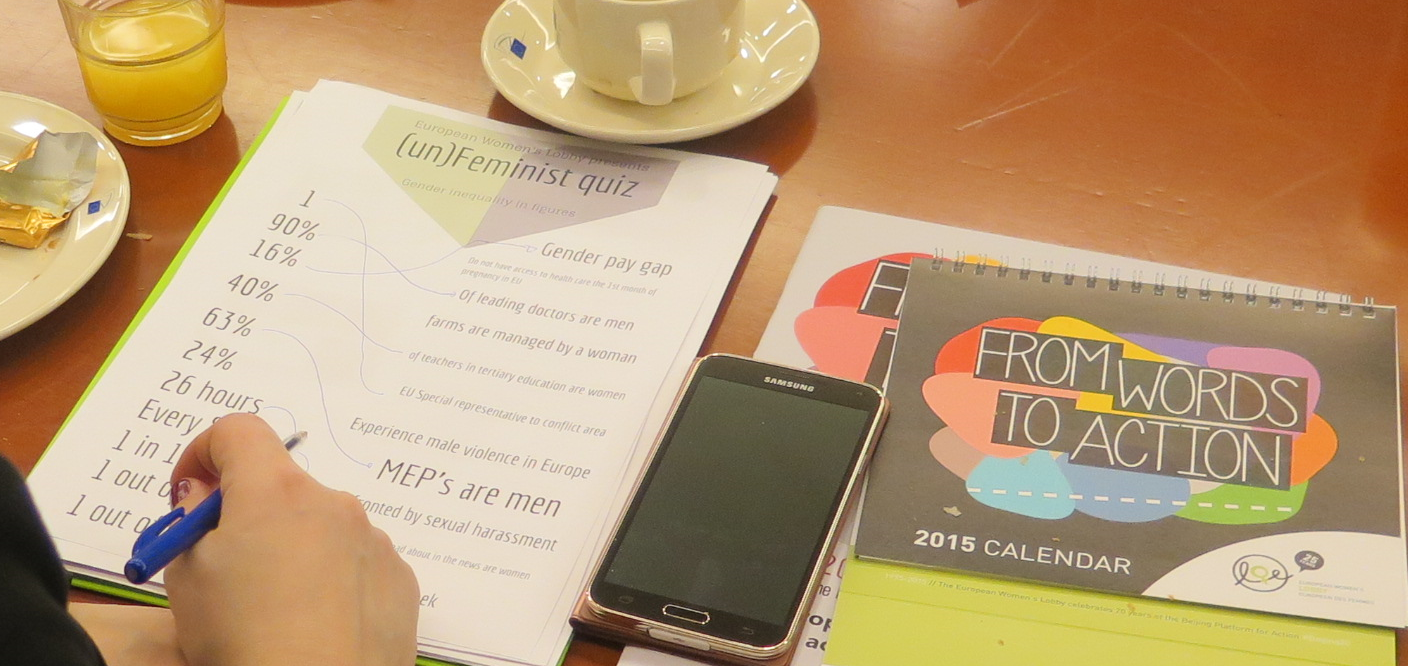 Risks and challenges
Risks and challenges are quite similar to the one encountered during the first training. We therefore used new strategies to address them!
We already mentioned the very busy schedule of the participants. In December, this key challenge was overcome by investing time to send personalised invitations and tweets to all women leaders and encouraging participants in the first training to invite their colleagues. We are very proud to have almost doubled the number of participants!
The other challenge was to ensure the participation of women leaders who never worked on women's rights. We sent targeted invitation to advisers on various issues (budget matters, international development…) and we managed to reach new potential allies.
Next steps
After two general training sessions, we would like now to target gender mainstreaming focal points at the European Parliament (EP). Indeed, in each EP Committee, one member is responsible for the application of gender mainstreaming into the work of her/his Committee. However, we are not sure all gender mainstreaming focal points have the necessary tools to fulfill their missions. We are therefore planning to organise a training session targeting them and providing them with tips and advices to make women's rights and gender equality a reality in Europe! We will also organise sessions in different committees, to address for example the role of women in agriculture, women and energy, etc.
Budget
We spent the budget as planned, except that we had to increase the amount for the coordinator, as organising the two trainings required more work time from our staff.
Line Items

Projected budget

Amount spent so far

Communication tools and translation

Training module / organisation

Coordinator

Total

$2500

$9000

$6000

$17500

$2500

$3000

$12000

$17500
More information
Article about the second training session on our website: http://www.womenlobby.org/news/ewl-news/article/excellent-participation-to-our?lang=en
90 Day Report
Start your day with a European Women's Lobby breakfast training on women's rights and gender equality!
October 29, 2014
Progress
The project had a very exciting start this October with the organisation of our first breakfast training on women's rights and gender equality. The training was held in an emblematic location - the European Parliament in Strasbourg, and was attended by seven committed and dynamic women, Members of the European Parliament (MEPs) and four assistants from four of the main political groups. The training was delivered by two of our staff members, who shared their outstanding experience of promoting women's rights at the EU level.
With the help of our training, the participants learned about practical ways to become a spokesperson for women's rights in their daily work. As they work in various aspects of European policies (economic and social affairs, civil liberties, agriculture), we believe that this first session convinced them to become leaders in promoting women's rights and the voice of women's rights organisations in these areas.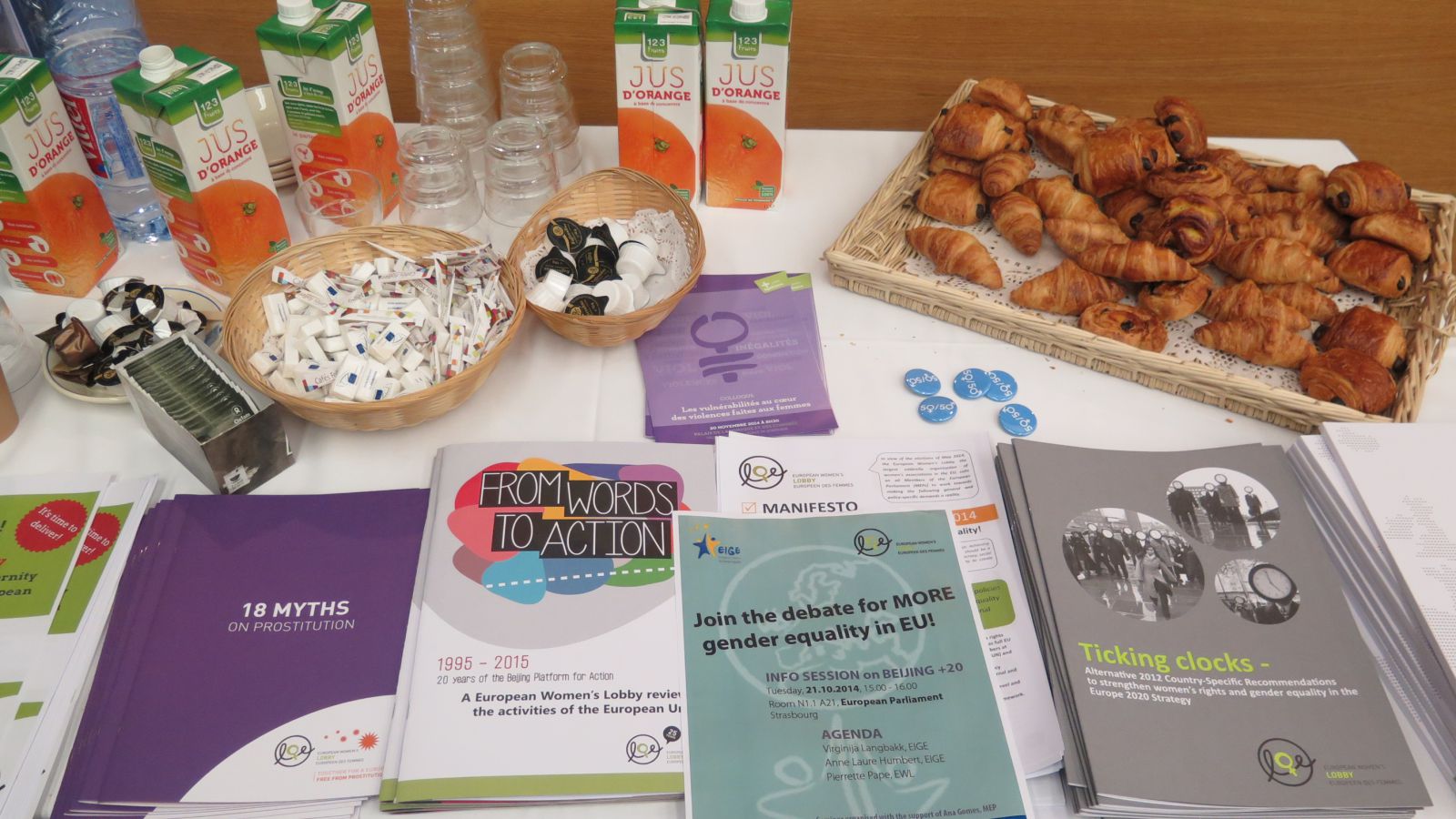 Risks and challenges
The main challenge was the busy schedule of the participants. To make sure that the greatest possible number of members of parliament was available, we decided to hold the training early in the morning. We also allowed their assistants to attend. We are satisfied with the level of attendance, as several of the parliamentarians who declined the invitation expressed their willingness to take part in future trainings.
Another challenge was to ensure the participation of members of parliament who do not work on women's rights. All in all, the majority of participants were already in contact with us before the training. However, we also reached new women who are also potential allies. A last challenge was the strong interest provoked by the project. We therefore decided to open it to all women members of parliament.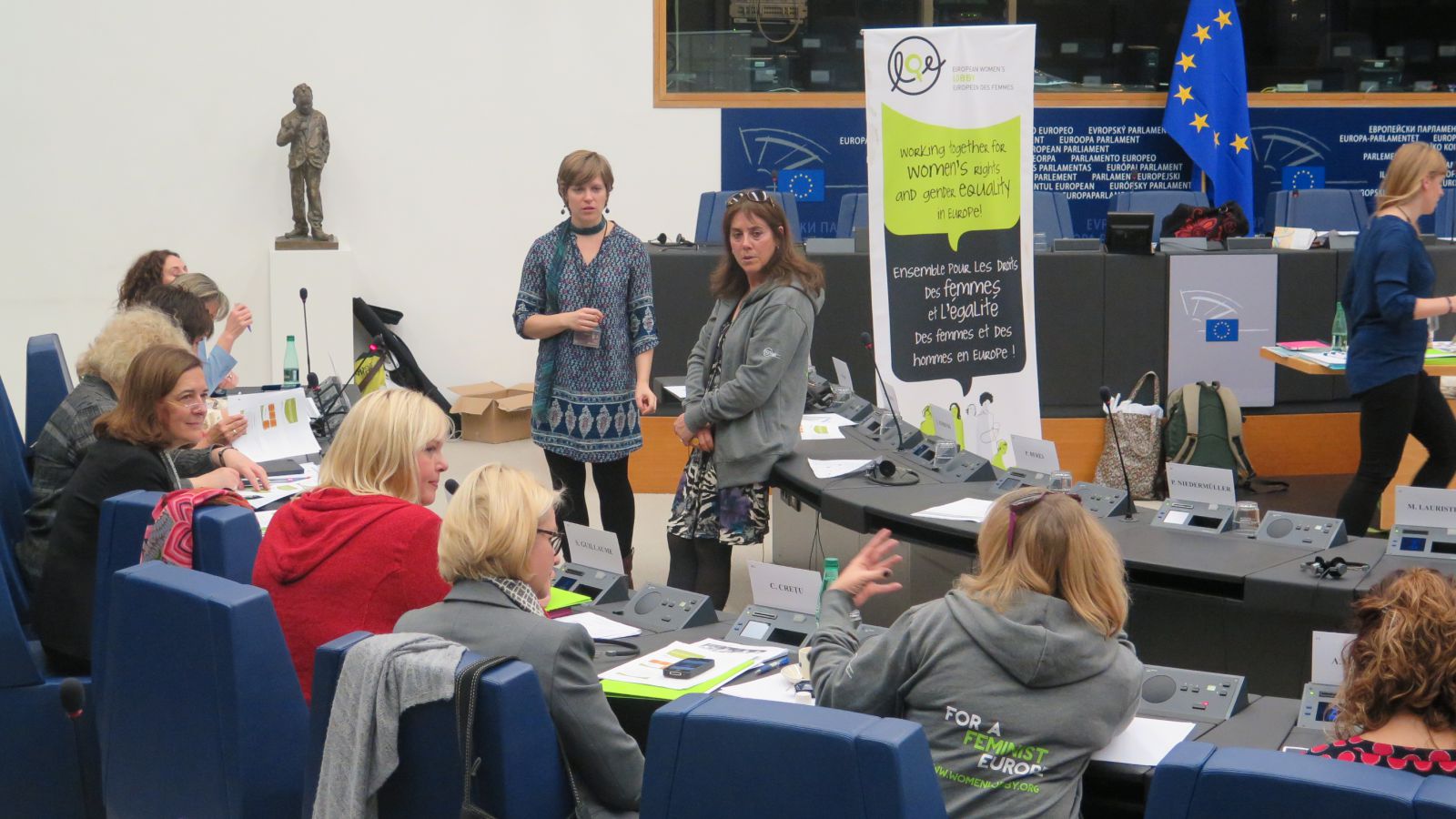 Get personal
"The training with young women leaders was a very inspiring experience: we had the opportunity to present the voice of women's organisations and give ideas for them to become leaders in women's rights. The parliamentarians seemed to clearly see, after the training, how they put our proposals into practice, and reinforce the gender equality perspective in their work. As a trainer, I really enjoyed this experience and felt that the women leaders left the session with a great sense of empowerment." – European Women's Lobby trainer
Next steps
We are planning to organise another training by the end of the year. Whereas the content of the first training was quite general and provided an overall picture on how members of parliament can act for women and girls, next time, we would like to organise a few short sessions dealing with more specific topics. Participants were distributed evaluation questionnaires where they shared suggestions for future trainings, such as multiple discrimination and cooperation between women and men for gender equality.
Further reading
Other quotes and pictures are available on our website.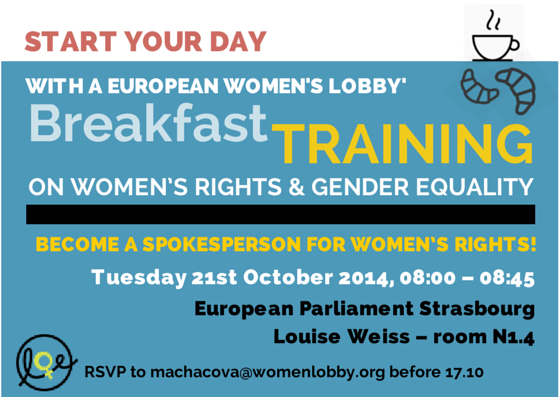 Help young women parliamentarians become allies in the realisation of gender equality.
Why we care: If committed to women's rights, young women leaders can make a difference for women and girls in Europe.
How we're solving this: By making gender equality a priority for young women leaders through innovative training that strengthens their knowledge of women's rights and gender equality.
We'll develop training modules on leadership and women's rights, which we will deliver in the autumn of 2014 to the young women newly elected to the European Parliament in Brussels.
Thanks to our training, young women leaders will be able to make a change towards a brighter future for girls and women in Europe. We know how important it is to have committed allies at the European level to push for gender equality and promote and support initiatives upholding women's rights in Europe.
For example, in the last term, thanks to our advocacy work, the European Parliament adopted a resolution on violence against women with concrete legislative recommendations to the European Commission. Last November, the Members of the European Parliament supported our views on gender equality and pushed for more women on boards in a European Union directive.
This project is innovative because by investing in the European Women's Lobby training modules, you invest in a Europe that cares about gender equality. By helping us to develop these modules for young women leaders, you are making a contribution to long-term change and supporting the voice of women's organisations in Europe.
We'll work with a coordinator to develop the training modules and communication tools. In addition, the modules will be used by our members at national level, reaching decision-makers of different democratic structures.
Our workshops will bring gender equality and leadership tools to young women leaders in Brussels. As a result, they will become more visible in their field and bring the voice of girls and women in Europe to debates and policies. We hope that more young women leaders will commit to women's rights and making a change in the European leadership world towards gender equality. In the long term, these women will act as role models for other young women.